Features
Money Heist: What to Watch Next
What do you do with your life now that Money Heist is over? Try one of these shows!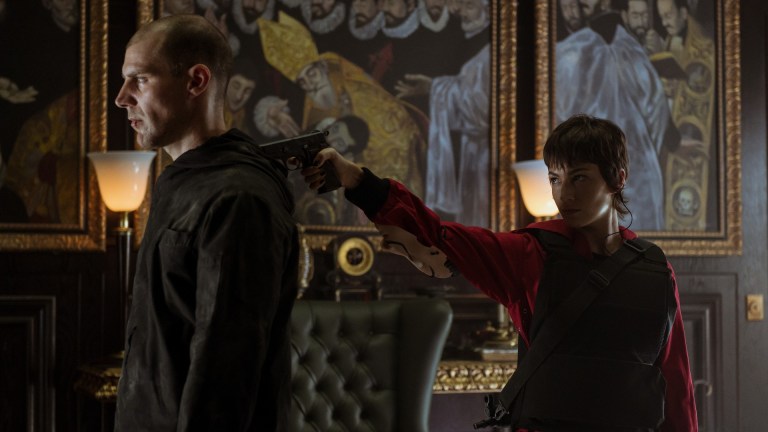 So you've finished "A Family Tradition" – the concluding episode of Netflix's global blockbuster series Money Heist. It's like finally getting off the wildest rollercoaster ride ever, right? So many twists and turns, so many powerful scenes that put our hearts in our throats, so many feels…and now it's over.  
From the very start, no one knew where this show was going to go. The original Spanish TV series La Casa de Papel (The House of Paper) would have disappeared into obscurity when it was cancelled had not Netflix picked it up. But there, the gang stole the hearts of the world, was one of Netflix's most popular foreign language titles, and became an international symbol for resistance movements. Tokyo (Úrsula Corberó) said it best in her ultimate narration, "When this story began, nobody could've imagined…"
The final fifth season was broken into two parts over 2021. Part 1 was released last September. The final five episodes came out on December 3. By the next day, Money Heist was back in the #1 slot for Netflix again.  
Although the cast and crew have definitively said this was the final season, Money Heist's "life is going on." If you're a fan of the show, here's where you can get your fix of the gang.
Money Heist: From Berlin to Tokyo Volume 2
Where to Watch: Netflix
Just like with season 5 part 1, Netflix released another behind-the-scenes documentary concurrent to the release part 2. When you finish the finale, Netflix's 'next episode' function automatically directs you here. It's a fitting denouement with the stars and showrunners sharing their feelings and insights about ending the beloved series. 
DO NOT WATCH THIS BEFORE FINISHING THE SERIES. Just like in volume 1, it's packed full of spoilers and meant to be watched afterwards.
La Casa de Papel: El Legado (the Legacy)
Where to Watch: YouTube
On November 3, a fan event celebrated the end of the series at Palacio de Vista Alegre in Madrid, Spain. It was a star-studded gala with the cast trading their red jumpsuits in for stunning red carpet attire and answering questions from the audience and fans around the world. Cecilia Krull opened the show with a live rendition Money Heist's opening theme song "My Life is Going On" and there were a few surprise announcements about upcoming Money-Verse projects (to be discussed next). There's even a quirky parody video by Ed Sheeran, a skit about how he would audition for a British redux of Money Heist. 
The two-hour "Final Event" was live-streamed on YouTube and is still available there on the Money Heist channel. It's in Spanish but an English translation is available through a link provided by the channel.
Money Heist Korea
Where to Watch: Netflix (but not yet)
Amongst the surprise moments at El Legado came from a video message from Park Hae-soo. Park discussed the upcoming Korean adaptation of Money Heist.  This 'K-Heist' redux was announced back in November 2020 for Netflix Korea. Park Hae-soo will be playing the Korean version of Berlin. In the video, he thanks Pedro Alonso, who originated the role of Berlin, for sending him an iconic Money Heist Salvador Dali mask. Park says that the Korean series has a different mask and he's looking forward to returning the favor to Alonso by sending him one when it is revealed in the redux premiere. 
Netflix subscribers will recognize Park from his role as Cho Sang-woo, the investment broker in Squid Game. Ironically, Squid Game has been accused of poaching their iconic mask and red jumpsuit from Money Heist. Last September, Squid Game dethroned Bridgerton to become the most watched Netflix series to date (Money Heist currently ranks at #7). And we thought the Money Heist gang were the thieves. 
Other cast members of Money Heist Korea include Yoo Ji-Tae (OldBoy) as the Professor, Jeon Jong-seo (Burning) as Tokyo, and Park Myung (Parasite) as a hostage. Given his notoriety and the roles that Park typically plays, he's a likely candidate for the Korean Arturo.
Season 1 of Money Heist Korea will have 12 episodes and is slated to premiere in 2022.
Berlín
Where to Watch: Netflix (but not yet)
Even more exciting was the El Legado announcement of a prequel spin-off series Berlín. Berlin was one of the main masterminds behind the heists, but he didn't survive the first one. He was suffering from a terminal illness and sacrificed himself  so that the others could live. However, he appears throughout the second heist in flashbacks. 
The teaser trailer was just clips from Money Heist so little is known about this new project, except for that it is scheduled for 2023. Although the showrunners often claim that they are writing Money Heist at the last minute, Berlín feels like an orchestrated play akin to one of the Professor's back up plans. Season 5 delved into Berlin's backstory in depth. It introduced Tatiana (Diana Gómez), one of Berlin's 5 ex-wives, and Rafael (Patrick Criado). And given that The Professor is Berlin's brother, we can only hope that Álvaro Morte will reprise his role for this.
Money Heist: The Experience
If you're lucky enough to live near the right host city, Money Heist: The Experience is an immersive installation show touring the world. Participants engage in a 60-75 minute experience with costumes, actors, and a plot to carry out a heist like the gang. Afterwards, participants can hang out in a themed bar with appetizers, custom cocktails, and of course, merchandise. The installation began in Paris in July 2021, and has been staged in London, Miami, Mexico City, and New York City. Future city hosts (or 'under future threat' as their publicity says) include Berlin, Madrid, Milan, Lisbon, Los Angeles, Rome, Sao Paulo, and Singapore. 
Where to See More of the Gang
Snake Eyes
Where to Watch: Available for rental or purchase on the usual suspects (Amazon, Google Play, etc.)
Úrsula Corberó plays The Baroness in this 2021 ninja spinoff of the G.I. Joe franchise. Although she plays a side character in this film, she vamps it up in a black leather catsuit and severe stiletto heels and steals the show like the thief she is. And the end of the film sets her up as a major character if a sequel is ever greenlit. 
The Wheel of Time
Where to Watch: Amazon Prime Video
Álvaro Morte appears as Logain Ablar a.k.a. 'The False Dragon' in Amazon Prime's new adaptation of Robert Jordan's epic fantasy novel series. Ablar is a powerful channeler of magic who commands an army of followers bent on conquest. He first appears at the very end of episode 3 "A Place of Safety" and his character is in four of the nine episodes of season 1. The show is led by Oscar nominated actress Rosamund Pike and is currently Amazon Prime's number one show. 
The Tree of Blood (El Árbol de la Sangre)
Where to Watch: Netflix
This artsy 2018 Spanish film stars both Úrsula Corberó as Rebeca (the lead character) and Najwa Nimri (Inspector Sierra) as Macarena. It's a complicated story of a young couple writing their intertwined life stories together that jumps back and forth through time in a poetic tale of sex, madness, murder, suicide, love and the Costa Nostra. 
The Tree of Blood is a tour de force for Corberó, who delivers a terrific performance that is layered and authentic. It comes as no surprise to Money Heist fans that Corberó is a powerful actress and one to watch. It is currently available on Netflix.
Sky Rojo
Where to Watch: Netflix
Sky Rojo doesn't star any of the cast of Money Heist, but it is another project by Álex Pina and Esther Martínez Lobato, the creators of Money Heist. The show is reminiscent of Thelma & Louise, but instead of a waitress and housewife on the run, it's three prostitutes who killed their pimp. It has some of the same style of Money Heist with its over-the-top sensibilities and emotionally corroding characters, but it's far more gratuitous with graphic sex and violence. Sky Rojo is a gritty crime spree under a thin guise of a sexy neon veneer. 
The first two 8 episode seasons of Sky Rojo are available on Netflix with the third final season on the way.
Spanish TV and Film
Given that the gang are Spanish speakers, much of their recent roles are on Spanish TV and film. Najwa Nimri has a lead role in another Álex Pina and Esther Martínez Lobato series Vis a Vis: El Oasis. Morte appears 4 episode mini-series Boundless (Sin Límites). Raquel Murillo (Lisbon) is the lead in the first season of Intimidad. Jaime Lorente (Denver) played the legendary Spanish swordsman in a TV series on El Cid. Miguel Herrán (Rio) led the crime thriller film, Sky High (Hasta el Cielo). And coincidentally Paco Tous (Moscow) will be in a series about Salvador Dali's chef Esperando a Dali.
Long Live Money Heist… and Viva la Resistencia!
The Final Season of Money Heist available on Netflix now.