Features
Shetland Series 7 Ending: Douglas Henshall's Exit Left DI Jimmy Perez a Hero 
Who was the eco-terrorist bomber? Who killed Connor, Bryd and Bill Rogers? Did Jimmy and Meg get together? With major spoilers, we break down the Shetland Series 7 ending.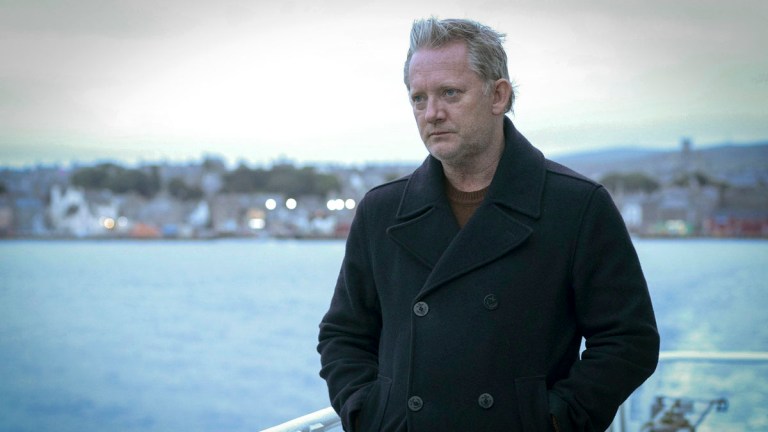 Warning: contains spoilers for the Shetland Series 7 finale.
DI Jimmy Perez didn't die! He wasn't, as many suspected, killed in an eco-terrorist explosion, nor did he leap in front of a bullet to save Cassie, Tosh, Sandy, Billy or any of his other beloved Shetland family. Douglas Henshall's goodbye after seven series of the BBC crime drama adapted from Anne Cleeves' book series left his character alive and well and laughing with his new love Meg. Jimmy had resigned from the police, having sacrificed his career for a noble act, and was ready to move on to pastures new.
Shetland will return for series eight with a different lead and a different series-long investigation, but the same picturesque scenery, gentle feel and familiar faces. We break down Douglas Henshall's final episode and answer Series 7's questions, from the identity of the killer(s), to what happened to extradition candidate 'Lloyd Anderson' and, most important of all, the fate of Sandy's cheese roll…
Who Killed Connor Cairns and Bryd Fleming?
Jamie Neary, the publisher of Connor's graphic novel The Wulver. Before the 1983 Braer oil disaster, Jamie's father had run a wildlife tour company that went out of business as a result of the spill. That started Jamie on the path to anti-oil activism, which put him in contact with fellow activist Catrina Johnson.
Catrina was a photographer friend of Jamie's who was working as an anti-oil campaigner in South Sudan in 2017 when she was killed as a result of her activism. Catrina's death radicalised Jamie to want to go further than just staging an anti-oil publicity stunt in Shetland and to explode a bomb at an oil company headquarters. When American Bill Rogers infiltrated the group to move their protest to the next level, Jamie swallowed it whole.
When Connor got cold feet about the direction the group was heading and wanted to call off their explosive scheme, he confided in Jamie, who felt he couldn't let Connor ruin the plan. When Connor – whose chemical engineering experience meant he was the group's bomb-maker – wouldn't tell Jamie where the explosive-containing caravan was, Jamie kidnapped and tortured Connor and Bryd. He tied them up at the abandoned kirk using coconut fibre rope he'd taken from the Flett fishing boat, and eventually killed them both and attempted to frame Connor for Bryd's murder and stage his suicide.
But Jamie Didn't Kill Bill Rogers?
No, that was Alison Woods, who did it to protect her beloved husband Lloyd. American art teacher Lloyd's real name is Walter Edwards. He'd been living for decades under a false name after escaping America where he was framed for the murder of a Texan police officer. Lloyd/Walter was totally innocent of that murder and of the recent Shetland deaths. He was, as his wife Alison told Jimmy, a gentle soul incapable of causing another person harm, and the best person she'd ever met.
In an extraordinary coincidence, US eco-terrorist Bill Rogers and Lloyd/Walter were schoolmates back in Texas and one day both ended up in the same Lerwick supermarket. They recognised each other, prompting Lloyd/Walter to tell Alison about his secret past. When Bill came looking for Lloyd/Walter the next day, he met Alison. Bill threatened to expose Lloyd/Walter if he said a word about Bill's presence on the island, and so, to protect her man, Alison killed Bill with a hammer and disposed of his body in a suitcase. That's why the case contained traces of artist's oil paint – they were from Alison, not Lloyd.
Once Jimmy had worked out that Bill had driven to Lloyd and Alison's place on the day he disappeared, and that Alison's alibi didn't stack up, he confronted her and she confessed it all.
What Happened to Lloyd/Walter? 
He was being held at the station while they awaited his extradition orders from America. Once there, Walter would likely be put on death row for the murder he didn't commit. Unable to let a good, innocent man suffer such a fate, Jimmy chose to sacrifice his career and let Walter go. He gave him his passport and released him, advising Walter to take an early flight and to disappear so that Alison's sacrifice wouldn't be in vain. Jimmy did this in full knowledge that it would cost him his job, but it was a price he was willing to pay. As he told his trusty sidekick, "He's innocent, Tosh, and he doesn't stand a chance over there."
Jimmy's team knew exactly what he was planning, as we saw in the look exchanged between Sandy and Tosh towards the end of the episode. Tosh tried to remind Jimmy of everything he had to lose, but he'd made his decision. It's one fans saw foreshadowed in his behaviour at the end of Series 6, when he also disregarded the letter of the law in favour of the moral right of the Duncan/Donna situation. He left the station, said his goodbyes and whispered in Billy's ear to look after the other two. Then Sandy was left with the famous blackboard wiped symbolically clean. It's the end of an era.
Did Jimmy and Meg Get Together?
They ended happily ever after and snogging on a wall! The will-they-won't-they frisson Jimmy shared with palliative care nurse Meg (who came to Shetland in Series 6 to care for scheming, dying Donna Killick) was looking more 'they won't' as Series 7 went on. Meg was concerned that Jimmy's job was too central to his life, that it had made him emotionally closed-off and pessimistic. When she saw him marching towards Jamie Neary's explosive in the Series 7 finale, she'd all but decided that she couldn't cope.
Luckily for Meg, Jimmy came to the conclusion that he'd reached the end of the line work-wise. When he saw the chance to do the right thing and save Lloyd's life, Jimmy knew it would cost him his job, but was happy to let it go. And without the job, there was no barrier to being with Med. Jimmy followed Tosh's advice and told Meg how he felt, and off they went into the sunset.
So Carol-Anne Was Dodgy After All?
Yes! Tosh wasn't just acting jealous and mistrustful of Donnie – his ex-girlfriend Carol-Anne was using him. Carol-Anne was one of the eco-activists planning what she thought would an anti-oil company publicity stunt. When Connor disappeared and he and Bryd's bodies were found, Carol-Anne sought out Donnie (who was caring for his and Tosh's baby daughter) to try to pump him for information on Tosh's caravan explosion, the progress of the case and whether it had led back to the group's other members. Tosh's instinct strikes again!
Who Else Was Part of the Eco-Terrorism Cell?
Connor, Bryd, Bill Rogers, Carol-Anne, Ally Flett and Jamie Neary. They were communicating via circled words in books borrowed from Lerwick library and plotting to stage a bomb threat to an oil company in protest at the environmental impact of the oil industry. Bill Rogers and Jamie Neary though, were willing to take things much further than the others.
What Was Martin the Photographer's Real Identity?
He's undercover counter-terror officer DI Calvin Walker. He was stationed on Shetland to pose as a wildlife photographer but was really on a surveillance operation to track US terrorist Bill Rogers.
And Finally, Did Counter Terrorism Eat Sandy's cheese Roll?!
Or did he manage to get his name on it in the fridge before the outlanders could have a nibble? That's the main unanswered question of series 7. The people demand answers!
Shetland Series 7 is available to stream on BBC iPlayer in the UK. Previous seasons are available to stream on Britbox UK.