News
Save Me Too: why was Grace put in Jody's place?
Actor Olive Gray answers a question fans are asking about Sky Atlantic's Save Me Too. Major spoilers ahead...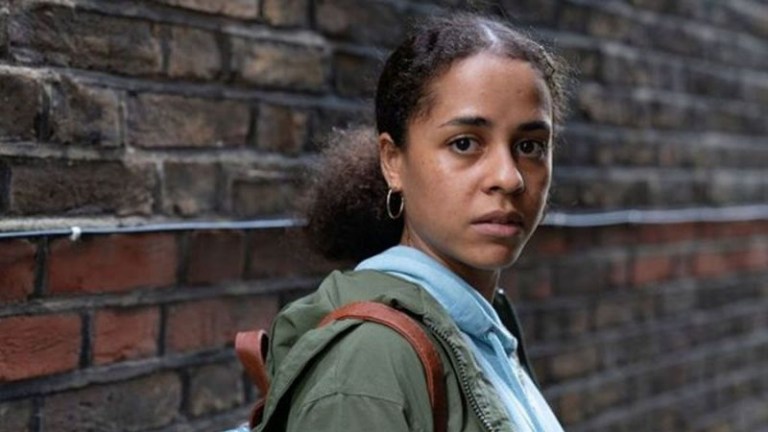 Warning: contains spoilers for Save Me series 1 & Save me too episode 2
Hit 2018 Sky thriller Save Me revolves around a father's search for his abducted child. South London wastrel Nelly Rowe (Lennie James) dedicates himself to finding his estranged 13-year-old daughter Jody, who was lured into a child sex abuse ring by somebody posing as him online.
By the end of the six-part series, Jody is still missing. Wanting to subvert audience expectations and avoid a tidy, predictable ending, James instead shows Nelly's search leading him to the discovery of another girl – Grace (Olive Gray).
After infiltrating the child abuse ring that took Jody, Nelly is led to a caravan where he finds Grace (who bears a superficial resemblance to Jody), chained up. Nelly rescues her, and the search for his own daughter continues.
Viewers assumed that Nelly's discovery of Grace was accidental and that she was another victim of child sexual trafficking, abducted and exploited like Jody – which is in many ways, the case.
In follow-up series Save Me Too currently airing on Wednesdays at 9pm on Sky Atlantic and available as a boxset on NOW TV however, that assumption has been corrected. Grace was deliberately planted in the caravan by abuse ringleader Gideon Charles (Ade Edmondson), for Nelly to find. What viewers are wondering, is why?
Den of Geek asked Olive Gray, who plays Grace in the series, for her interpretation:
"If Nelly had found Jody [in the caravan], Nelly would also have found out who had Jody and told the police. So because they swapped Jody for Grace […] he was still looking for her, so therefore he didn't want to tell the police."
When Gideon Charles realised that Nelly was on Jody's trail and had come as far as infiltrating the auction at which Jody was sold to her abuser, in order to throw him off the scent, Gideon 'sacrificed' another of his victims – Grace, who was around the age of 16 when Nelly rescued her.
Series two episode two spoilers ahead
As viewers discover in Save Me Too episode two, during the trial of Gideon Charles, years earlier at the age of 13, Grace had been groomed by Gideon and made to think he was her 'boyfriend'. He gave her heroin and trafficked her to other child abusers under the pretence that she was doing 'favours' for him out of love. Pretending to be Jody was Grace's last favour to Gideon, says Gray.
"She was asked to be there, and that would be the last favour for her. She definitely knew that whoever was going to find her wasn't then further going to traffic her, because that would be the end of it, she'd be able to go after that last favour."
Why did Grace's abuser Gideon discard her in favour of Jody? Because compared to 13-year-old Jody, says Gray, Grace was no longer what the abusers wanted and had lost 'value'.
"Within the world of sex trafficking there is an idea of being 'used goods', and that was why there was such a high bidding for Jody. When Gideon used Jody as a product to sell, he said she's new, she's never ridden… Grace is seen as old goods, used goods because she's not new."
Save Me Too continues on Wednesdays at 9pm on Sky Atlantic. The complete box-set is available to stream on NOW TV.