Features
Mädchen Amick on Directing the Unexpected Riverdale Season 4 Finale
Mädchen Amick discusses going behind the camera for tonight's previously unplanned Riverdale finale.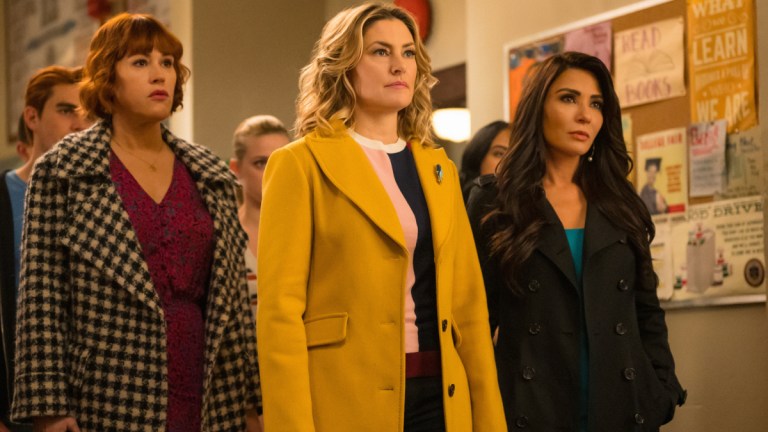 It's no spoiler to say that tonight's season 4 finale of Riverdale is packed with twists and shocks. After all, those story elements have been a core part of the popular CW series since it premiered in 2017. What you may not realize however is that this episode was never intended to be the final installment of the show's fourth year. There were to be 22 episodes of this season, which would have most likely wrapped with Archie, Jughead, Betty, and Veronica graduating high school. But due to Covid-19, production was shut down during the 20th episode…leaving the season unfinished.
Fortunately, the final episode to be completed was "Killing Mr. Honey," an episode that switches between joyous romp and gripping suspenser at a breakneck pace. We will have a full review and post-mortem on the episode after it airs this evening, but let it be known now that, truncated season or not, this is a more than satisfying conclusion to the last 18 weeks of Riverdale storytelling.
A huge reason for the success of this episode is Mädchen Amick. Already giving the series one of its most compelling characters in the form of the ever-harried Alice Cooper, Amick makes her episodic television directing debut here. We had the opportunity to talk with her about how she brought this episode to life.
To chart her involvement in this episode, it is best to go back to the beginning of Amick's career.
"I've been in the business since I was 16, fresh out of Reno, Nevada I moved to Hollywood. So since 1987 I've been in front of the camera and working really hard at my career." Amick says. "I got to soak in David Lynch. One of the masters of all time, and I was introduced to film-making through him as my mentor. So that gave me an interesting colored lens to see through the rest of my career and the rest of Hollywood."
Lynch may be the best known auteur of whom she worked with, but Mädchen Amick's path was also influenced by other talented women in the industry.
"Starting in my 20s, I worked with Diane Keaton. She was one of the directors on the original Twin Peaks. Lesli Linka Glater, who's another amazing female director, she also worked on Twin Peaks and I continued to work with her through Gilmore Girls and different projects.
"There was this little bug in my mind that said 'women can be directors, this is something I can do – put in my vision, and see it through to fruition.'"
Amick's desire to direct lined up with the general environment of inclusivity that the CW celebrates. "I think it just ended up being a really nice opportunity with this big wave that the CW is doing," she says. "Berlanti Productions, (producer) Sarah Schechter, and Roberto (Aquirre-Sacasa) our producer are very much about seeing that we are bringing in diversity — whether its other ethnicities or having females behind the camera. So I just felt comfortable finally saying 'I would really love it if you gave me the opportunity to direct one of our episodes.'"
It was a request that her Riverdale producers did not ignore.
"I started putting a bug in their ear in season two, and then season three Roberto called me up and said 'hey do you want to direct and if so let's do it in season 4?' And so that's how it finally all came together."
But to get behind the camera on a network television series meant going through some rigorous training and getting directorial experience, something that Amick was eager to do.
"A lot of hard work went behind that. I directed some music videos, I directed a docuseries, I went through the Director's Guild workshop, I did my shadowing. I did everything that I needed to do,"
All of her effort paid off, resulting in an episode that will be just as satisfying to fans as it was Amick herself. "They just don't hand over the home to anyone," she told us, before adding "I'm just so super thankful and it was such a great experience."
You can see the gripping results for yourself tonight at 8pm EST when the Riverdale season finale airs.