Reviews
Katy Keene Episode 8 Review – Chapter 8: It's Alright Ma (I'm Only Bleeding)
The complicated nature of family is explored in a thoughtful outing of Katy Keene.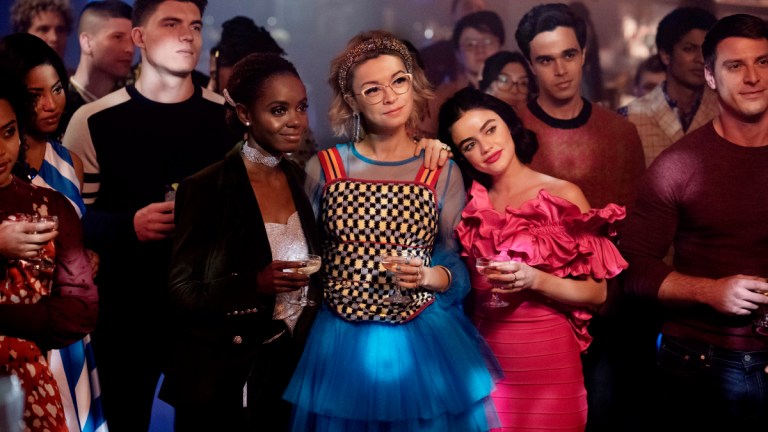 This Katy Keene review contains spoilers.
Katy Keene Episode 8
"When a crisis hits, a family comes together…no matter what."
There's a great line in Noah Baumbach's Mr. Jealousy about how a character in that underrated romcom often "knocks on the door of profundity and runs away." It's a sentiment that frequently ran through my brain during this latest Katy Keene, an episode that took several moonshots at addressing everything from the importance of chosen families to the necessity of LGBTQ+ acceptance without any actually leaving the stratosphere.
Don't get me wrong, the series continues to have its heart in the right place (on Katy's sleeve, to be exact). It's just that last week's episode felt like such a turning point for the series that to gloss over the aftermath of Jorge and Bernardo's gay-bashing felt like a cop out. Yes, that storyline provides the impetus for the dramatic tension between Jorge and his father Luis (Frank Pando) here, but for a lighthearted show to suddenly take on such a serious issue and then immediately roll it back is disappointing.
You see, Jorge isn't the main character, but he is the only main LGBTQ+ character. This matters a lot. How did the violence inflicted upon them impact Bernardo and Jorge's relationship? Are they suffering PTSD from the attack? These are questions that could have been dealt with. And should have, seeing how these are the only truly impactful things happening on this series.
Yes, I realize that this is a breezy show and one that doesn't aim to have the weight of a program like Pose. The feeling remains though that the fallout of the attack should have been dealt with just as much as Jorge's conflict with his father was. (A subplot that was, for the record, handled beautifully). "It's not selfish Dad, this is me," Ginger declares. And there's real meaning behind it. Jorge and Ginger are living their truth, echoing Anthony Rapp's famous declaration that "there's only one you for all time, fearlessly be yourself." Those words reverberate here as if shouted through a megaphone. Even with LGBTQ+ characters on television more than ever, to a person hearing these sentiments for the first time they can be quietly revolutionary.
Issues of family also crop up again in the other subplots of this episode. After K.O. arrives to lend support to Jorge following the attack, Katy decides the time has come for them to try to see if they can truly be just friends. The short answer? Nope. Not yet anyways. The problem is that while they both have moved on, their past still binds them together in so many ways. They aren't just exes, but, wait for it, family! Katy gets flustered and unreasonably upset when she discovers that K.O. is posing for the Cabot family's underwear line. Meanwhile, K.O. takes Katy's side over that of current girlfriend Alexandra in a squabble involving one of Guy's custom-made dresses. While they aren't physically still together, the mental codependency they share is screwing up their current lives and relationships. This is a problem that seemingly is resolved by episode's end, but as with everything involving K.O. and Katy, the future is uncertain.
While Josie continues to have her fate juggled by the members of the Cabot family (more on that below), Pepper too has her own problems with the ties that bind. She's attempting to dodge Ms. Freesia (returning guest star Bernadette Peters) and keep her out of the Pepper Plant. Some crucial information about Pepper is confirmed tonight — she truly views her artist's enclave as a shot to go legit and support all of her friends. Turns out she is a grifer with a heart of gold. She was raised in NYC, and Ms. Freesia was essentially her surrogate mother. These facts lead to the biggest reveal of the episode: Pepper's dad is the doorman at the Georgia. The very same one she gave the expensive Lacy's watch to a few episodes back. Being that Katy Keene is a longform narrative television series, these huge disclosures raise plenty of new questions. In due time friends, in due time.
Fashionable Facts
Let's get to the most exciting thing that happened in this episode — the tease for the return of Josie and the Pussycats. Since the characters of Valerie (Hayley Law) and Melody (Asha Bromfield) haven't appeared on Riverdale in ages, this would be the ideal time for the band to reunite. Plus, did you see the look of excitement in Josie's eyes when this possibility was presented to her by Alex?
No Gloria or Lacy's scenes tonight? Scandalous.
Tonight's episode gets its name from the excellent Roger McGuinn song. Seriously, check it out.
"Archie and I keep in touch, but he's all the way in Riverdale." – Josie, providing you with your weekly reminder that she used to be on the CW's other Archieverse show.
When it comes to the removal of Josie's low-budget music video from streaming services, I definitely was on Team Alex here. He may be a screw-up in nearly every way, but he does have decent business acumen.
It's likely that by season's end Alexandra will be friends with all of our core characters. (A development that I've gone on record as being a huge supporter of). Her softening continues in this episode. First she tells Josie that she genuinely liked her EP, then there was the sincere heart-to-heart with Katy in the Molly's Crisis bathroom. If we can only get a Sebastian cameo next.
Exactly how much did Ms. Freesia fleece Chad Gekko for? Also, Freesia…Fleece ya? Hmm.
Other Pepper questions: What happened to her mother? Is the British accent even remotely real? How long has she been pulling scams? Will Ms. Freesia taking the cash from the Pepper Plant's sole investor and subsequently fleeing doom the project? Is there even a market for such an idealistic boho endeavour? When will Bernadette Peters return to the show? Will her friends other than Josie ever realize she is full of shit? Inquiring minds want to know!
Is this show really setting up a love triangle between Buzz, Bernardo and Jorge? Because there's no contest, Bernardo all the way.
Given what a fairytale this series is, I am genuinely surprised that Ginger's parents weren't at her rally here.
Josie wants to get her material on Apple Music….so she sends them a cassette.
Was Jorge quoting someone when he said "when life gets scary you don't hide, you reach out?" If so, who?
Alex's questioning "what kind of a con" that Pepper was running by telling both Alexandra and Josie they could play the Spider Woman on Broadway was this episode's most meta moment.
Raj's directorial skills are terrible. But then again, the characters on this show probably think that Mark from Rent is a great filmmaker.
"The paint on the walls is literally still drying." Pepper, I know you are a con artist and all, but do you honestly expect anyone to believe that you had those dirty ass walls painted?
Katy Keene will return on April 9th. Until then check out our archive of Katy Keene news and reviews here.