News
Riverdale Season 4 Musical Episode is Hedwig and the Angry Inch
This year's musical episode of Riverdale is shaping up to be the best one yet, with Hedwig and the Angry Inch!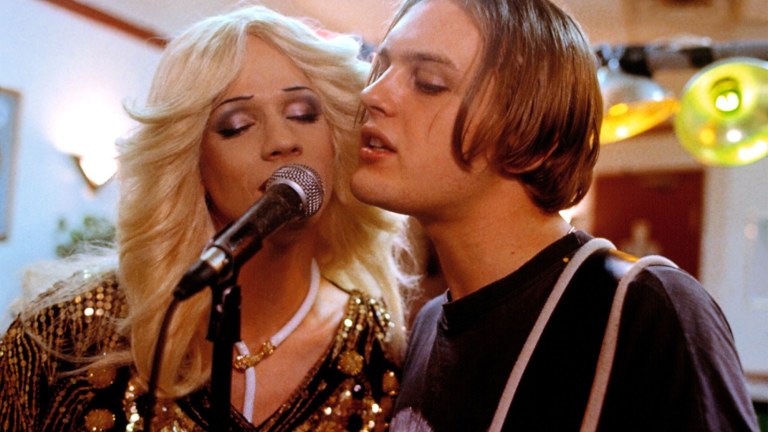 That scream you just heard that shook the heavens? That was my response to learning that Hedwig and the Angry Inch will be the focus of this year's musical episode of Riverdale.
Originally performed Off-Broadway in 1998, the show, created by Stephen Trask and John Cameron Mitchell (who stars in the titular role), chronicles the hilarious and poignant experiences of Hedwig Schmidt — a genderqueer performer whose band is on a tour of dive venues that piggybacks the itinerary of Hedwig's rock star ex.
It's about a whole lot more than that though, and part of the fun of Hedwig and the Angry Inch is how it peels back the layers of Hedwig's story literally and figuratively. What results is a captivating look at love and identity, one that has resonated deeply with the LGBTQ+ community, this writer included.
After a successful Off-Broadway run, Hedwig was transferred to London's West End. Regional productions followed, as did a 2001 film adaptation that became a cult phenomenon. Eventually, the production went full circle, returning to New York City in 2014. Only this time, Hedwig and the Angry Inch hit Broadway. Mitchell once again portrayed Hedwig, as did other high-profile performers ranging from Neil Patrick Harris to Michael C. Hall. The sold-out run eventually won a Tony Award for Best Revival of a Musical and it continues to be produced around the world to this day.
Next up, Riverdale.
On Wednesday, April 8 the episode will premiere, and from the provided synopsis is sounds like it will be a much different viewing experience than Riverdale's previous musicals:
After the previous debacles of "Carrie" and "Heathers," Kevin Keller has decided to revive Riverdale High's tradition of hosting a Variety Show! But when Mr. Honey forbids him from performing a number from "Hedwig and the Angry Inch," Kevin and our gang rallies against their principal—by each performing a number from "Hedwig," turning the Variety Show into a full-fledged musical that, as always, reflects our characters' inner lives and struggles. And amidst all the drama, one forbidden "showmance" begins to blossom…
As for the matter of exactly which of the characters will be performing, The CW has given us a tease by dropping this graphic on us: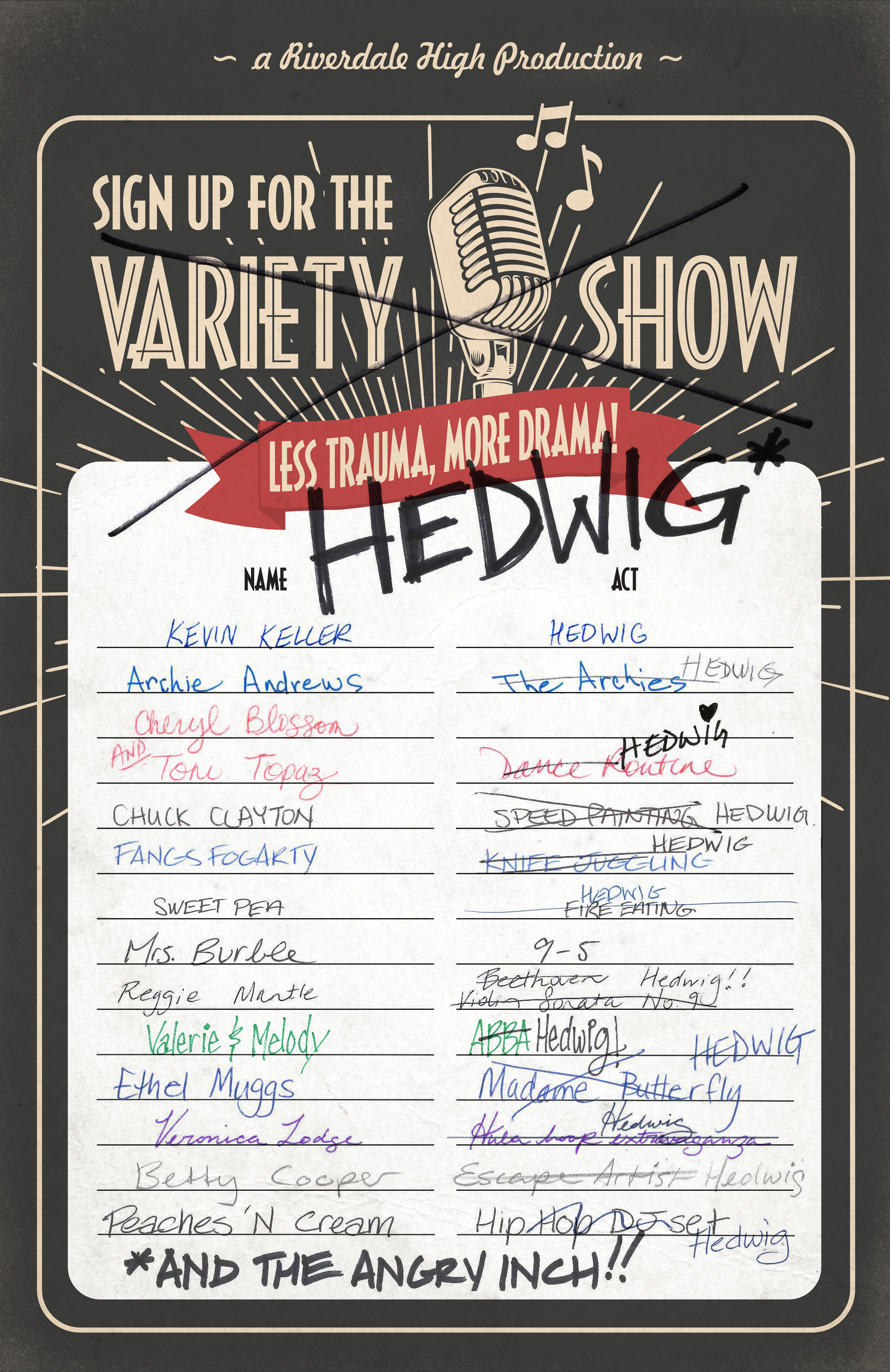 Now its likely that we won't see all of these characters perform (although it is great to see former Pussycats Valerie and Melody mentioned here, and is especially hilarious to think of Veronica doing a "hula hoop extravaganza"), but you can guarantee that we will be treated to songs from our leads.
Showrunner Roberto-Aguirre Sacasa — who recently delivered a knockout third season of Chilling Adventures of Sabrina — discussed why Riverdale and Hedwig are a great match:
Musical episodes have become a yearly tradition on 'Riverdale,' but this year, we wanted to try something different," said creator Roberto Aguirre-Sacasa, "When we heard that Stephen Trask was a fan of 'Riverdale,' we thought—is there a way we can do 'Hedwig' and still have it tie into the stories we're telling? Doing a deep dive, we figured out a cool way to use classic songs like 'Wicked Little Town' and 'Midnight Radio' that made total sense and are just amazing and iconic. And bonus, 'Hedwig' is literally Cole's favorite musical!"
It's one of mine, and likely, yours, as well. Which is why we will have much more on this episode as April approaches.