Reviews
The Quantum Leap Reboot Leaps Past the Original in One Major Way
Ben embraces the friendly skies and beyond in Quantum Leap season 1's penultimate episode.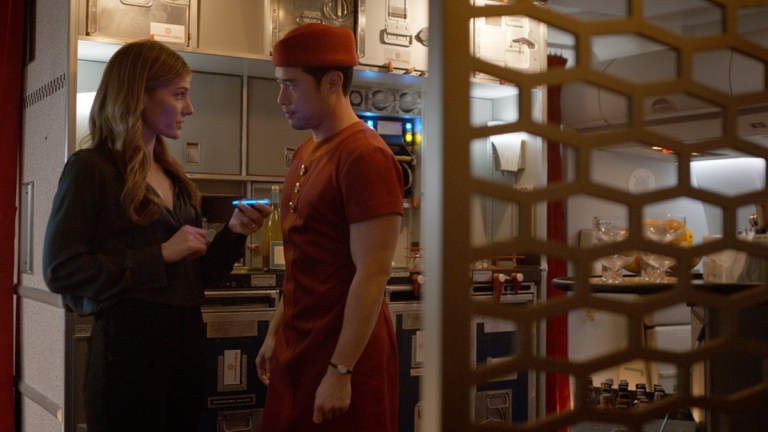 This Quantum Leap review contains spoilers.
Quantum Leap Episode 17
Dr. Ben Song (Raymond Lee) lands this week on an international luxury airliner and in the body of a rookie stewardess neatly coiffed and tucked under a pill-box hat. Ben's service-with-a-smile includes offering potent drinks, slicing rare beef and figuring out how to save all the passengers from the crash that takes all their lives in the past. The cause of the plane crash was unknown, so it's up to Ben to figure out why the plane went down and how to prevent that from happening (again).
This episode jives with some of the best that Quantum Leap offered this season with its twists and turns, whodunits and MacGyver strategies, such as "O Ye of Little Faith," "Fellow Travelers," "Leap, Die, Repeat" and "S.O.S." In fact, Ben is nothing if not an unconventional problem solver, and we see that this week when he manages to neutralize two armed hijackers, puts the copilot and his girlfriend-accomplice to sleep in order to access the cockpit and stabs someone in the neck. Ben deserved that opportunity after receiving such a stab himself in the last episode, "Ben, Interrupted."  
Ben's ability to get out of the worst jams is remarkable, but so is his ability to relate to the folks in his leaps, encourage them and ultimately convince others to do what's right, even when that's the hardest thing to do. I will forever stand corrected in my observation after the Quantum Leap pilot that Ben Song is not charismatic. Perhaps it was difficult to like a guy who abandons his fiancé, Addison Augustine (Caitlin Bassett), whose love language may very well be this simple—information.
Information is one thing that fans don't have a lot of as we prepare for the season finale next week. Ben's brain is still too swiss-cheesy to get much out of him and Janis has been little help. Ziggy is shut down due to its potential to spy on the team and report to the future, so even the team is relying on analog info to solve the leaps and keep Ben alive. Information may still be scarce, but those details are what propels Ben through his coordinated leaps and sling-shots him to the location where the finale will take place.
Ben goes back to the future at the end of "Friendly Skies," but he sails past his own time and lands in a nuclear winter where an aged Dr. Ian Wright (Mason Alexander Park) awaits him. Interestingly, the location he leaps into is the Quantum Leap project's HQ, complete with a gaping hole in the roof and Ziggy signage that shows the AI is not just shut down but dead. Ian recognizes Ben, whoever he leaps into (or maybe he is himself), right away, which begs the question: who is Ben hosted by in the future and how does Ian know with certainty that it's Ben?
While it seems like a nuclear holocaust may be exactly the thing that Ben leaped to save everyone, including Addison, from experiencing, apparently nothing wrong about the past has been put right enough to prevent this disaster from impacting the earth since it's still part of the future. What could Ben learn by going there…a desolate, dying place with Ian dressed in burlap sacks instead of their regular couture? All we know for sure is that Ben's leap to the future is a first…why he wanted to go there and what difference it might make in the past are all questions that the season finale is tasked with answering.
Quantum Leap airs Mondays at 10 p.m. ET on NBC. The sequel's episodes, as well as all five seasons of the original show, are available to stream on Peacock.