Reviews
What Happens When Quantum Leap Meets a Time Loop?
"Leap. Die. Repeat." boldly goes where no Quantum Leap episode has gone before.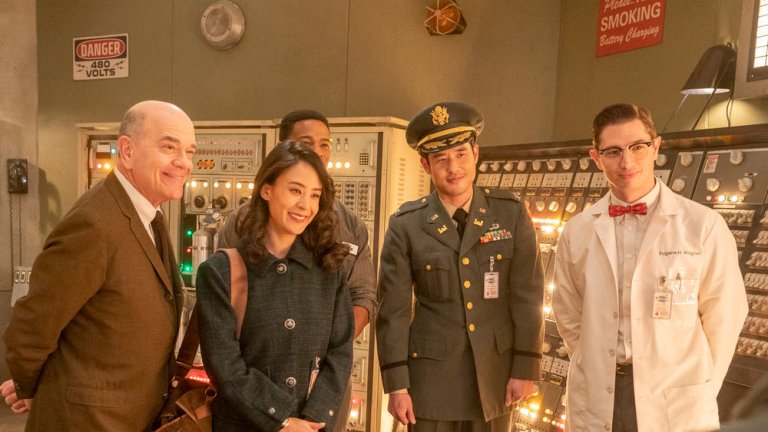 This Quantum Leap review contains spoilers.
Quantum Leap Episode 11
After a two-week hiatus, Quantum Leap returned on Jan. 30 with a bang. More than one, in fact. After the last episode's setting in a hospital, where Dr. Ben Song (Raymond Lee) was a fish out of water, our quantum leaper lands in a facility housing a nuclear reactor, which is exactly his element.
Not only does Ben, once again, leap outside his own lifetime, landing on Sept. 12, 1962, the day of President John F. Kennedy's famous speech on technology and the race for space, he also gets stuck in a time loop that's not nearly as benign as Phil Connor's (Bill Murray) Groundhog Day. What the Quantum Leap project team at first believes is a once in a trillion lifetimes' phenomenon (where the interaction of nuclear energy and a quantum time traveler creates a unique collision of two volatile forces that resets until the leap is mastered and things are made right) ends up being a contained loop of finite leaps that runs out when Ben runs out of bodies to leap into. That means Ben has only five leaps to fix what's wrong.
And who is it that saves the day and figures out how many leaps Ben actually has left? None other than the imprisoned Janis Calavicci (Georgina Reilly). While Ian (Mason Alexander Park) deftly discovers that Janis wrote a paper on time loops as a Ph.D. student and advocates for her helpful inclusion, it takes the team some time to come around to her presence and input, and when they finally get over their emotions, Ben only has two leaps left.
As the title of this episode implies, Ben does die—more than once. For the first time in Quantum Leap history, our leaper's life ends, and he is reborn four times in "Leap. Die. Repeat." There are some great moments in this episode that highlight the best of what the revival series has done so far and promises a wealth of good story, acting and directing to come.
Addison (Caitlin Bassett) and Magic (Ernie Hudson) share a private and powerful conversation about grief. Addison recognizes that she has been mourning Ben all along, that he feels like a ghost to her. But it's when he physically dies the first time that the grief hits her hard. Magic counsels her to let herself experience the grief but to not allow it to consume her—to always hold onto hope. Addison then asks Magic if that's how he thinks of Dr. Sam Beckett (Scott Bakula). While Magic refuses to admit that his commitment to the Quantum Leap project is about Sam, he recognizes that he isn't ready for Sam to go into that final white light of the afterlife. Magic holds onto the hope that Sam is still out there and may be found again.
A real tongue-in-cheek moment in the episode is worth noting, perhaps as an homage to all the commentary on social media about how Ben talks so openly to Addison in his leaps and no one else seems to notice it all that much. On Ben's fourth leap, he sits with Addison in the main control room and carries on a long, in-depth conversation with her and shows complete disregard for the other people sharing their close quarters. When the camera pans quickly to the rest of the people listening to him apparently talking to himself, their reactions are priceless. Ben is only saved from their chagrin by one final bang that resets the leap and erases their memories.
Meanwhile, Janis juggles whiplash between the project team's evaluation of her as super-villain or savior and, in that tussle, they all begin to trust each other just a little bit more. Magic put his faith in Janis in "Leap. Die. Repeat." and forces everyone else on the team, Addison and Jenn (Nanrisa Lee) especially, to do the same.
Janis doesn't let their trust in her go unrewarded. She makes a promise at the end of this episode that has the potential to unfold the truth and bring a new player into the project. Or could it be an old player? Like Magic, none of us are letting Sam go into that final goodbye anytime soon.
Quantum Leap airs Mondays at 10 p.m. ET on NBC. The sequel's episodes, as well as all five seasons of the original show, are available to stream on Peacock.