Reviews
Quantum Leap Welcomes Back a Major Voice
Dr. Ben Song is tasked with healing a family as Quantum Leap gives a member of its original family an exciting new role.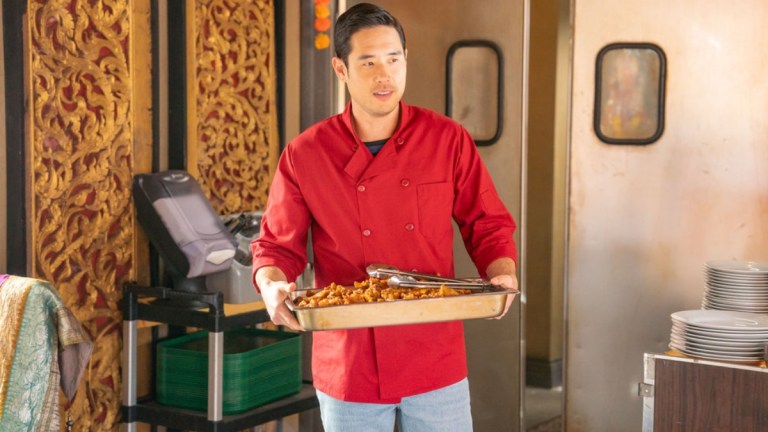 This Quantum Leap review contains spoilers.
Quantum Leap Episode 13
Quantum Leap episode 13 "Family Style" is groundbreaking for the revival and the original in two ways. First, Deborah Pratt, head writer of the original and current executive producer, finally gets a chance to direct an episode!
As the new Quantum Leap story arc develops, Pratt provides continuity between old and new in her day-to-day involvement with the sequel series. In December 2022, NBC greenlit a second season for Quantum Leap, and Pratt is already hands-on with filming the second season's premiere and meeting about subsequent episodes. While Pratt is undoubtedly the expert in preventing contradictions between the new show and the old, she also supports going beyond canon through the exploration and creation of new ideas:
"I want Martin [Gero], Dean [Georgaris] and the writers to have the freedom to explore all the history of Quantum Leap," Pratt told UPI. "I want them to create new canon."
In addition to Pratt's fresh directorial leadership on "Family Style," the show also features an Indian cast, writer (Aadrita Mukerji), and cultural focus for the first time in either Quantum Leap series. Dr. Ben Song's (Raymond Lee) mission in this episode is to alter family dynamics, establish better communication, and sow empathy between the relatives all the while interacting with a violent, pyro-maniac landlord who threatens the lives and livelihood of the family operating the Masala Garden restaurant in the year 2009.
In "Family Style," Ben takes over the body of Dee Dee Prasad, a woman whose family restaurant is in trouble due to an unscrupulous landlord and the stubbornness of her mother, Sonali (Nandini Minocha). Adding further pressure to the cooker is the family's loss of their patriarch, the father who was the glue and the primary restaurateur prior to his death just one year ago. Like many grieving widows who find themselves running a family business, Sonali tries to hold onto old ways and is formidable when it comes to change or accepting outside help, even from extended family members.
Dee Dee's sister, Manisha (Anisha Jagannathan), longs to be a chef and to create authentic, regional Indian fare, but Sonali resists giving up control and allowing Manisha to revitalize the menu. She resists so much, in fact, that Manisha and Sonali get into a fight that results in a terrible family rift that threatens to be irreconcilable.
All this family drama is difficult for anyone to land in the middle of but, for Ben, it's especially triggering as Sonali reminds Ben of his own mother and her sudden death. It's emotional for Ben. The writing, directing, and acting in "Family Style" is spot on as viewers realize that when Ben speaks from his heart through Dee Dee to Sonali, he says what he wishes he could say to his own mom. Ben gets in touch with his own feelings and expresses them in this episode. His ability to do that saves Sonali from a heart attack (in the original timeline and predicted by Ziggy) and reunites the Prasad family, not just the immediate members, but a whole extended network of family who wish to lend a hand and be connected in ways that Sonali previously didn't allow.
This week's episode leaves Janis Calavicci (Georgina Reilly) out of sight, but not out of mind. It seems that despite the help she recently provided, she is still behind bars and restricted from engaging with the Quantum Leap project, even when they need her help. Team lead, Magic (Ernie Hudson), requires Dr. Ian Wright (Mason Alexander Park) to take a personal day due to their stress level after learning that Ian leaps in the future and sets off the chain of events that prompts Ben to rogue leap in the first place.
When Magic suggests that Ian take some time, Ian responds by asking "where" they should go to decompress. Magic says it not about the "where," but the "who." This advice from the boss prompts Ian to reach out to their former partner, the one they had to leave behind to fully immerse in the work of the Quantum Leap project.
The icing on top of the sweet, sweet cake that is "Family Style" is that this fictional partner is played by Mason Alexander Park's real-life partner, Alice Kremelberg. One can only hope that this role is recurring because Kremelberg is a powerhouse, most recently starring as Percy Muldoon in season 4 of The Sinner.
Quantum Leap keeps giving fans more reasons to tune-in and join the journey through spacetime.
Quantum Leap airs Mondays at 10 p.m. ET on NBC. The sequel's episodes, as well as all five seasons of the original show, are available to stream on Peacock.