Reviews
Quantum Leap Returns With Some Agatha Christie-Worthy Twists
After a midseason finale cliffhanger, NBC's Quantum Leap continuation digs into some lore and pays homage to Kevin Costner.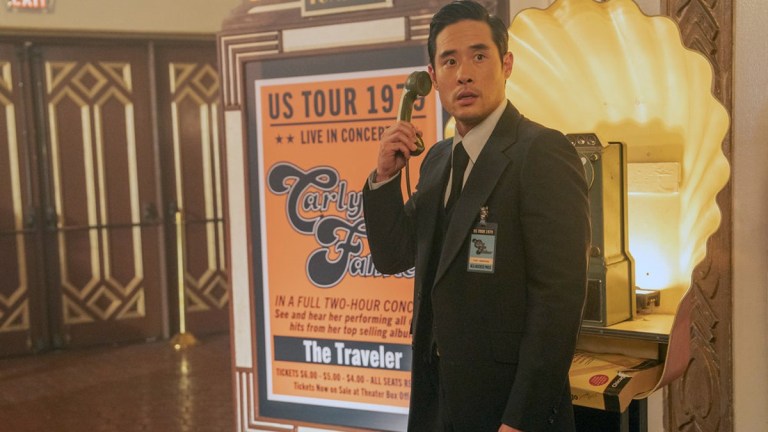 This Quantum Leap review contains spoilers.
Quantum Leap Episode 9
Quantum Leap returned to screens on Jan. 2, 2023 with episode 9 "Fellow Travelers" after an episode 8 cliffhanger and a long holiday break. At the end of the midseason finale, Ben (Raymond Lee) remembers why he leapt: to save Addison (Caitlin Bassett). Viewers standing on that cliff are right to wonder: what cliff are we hanging from?
When Ben first rogue jumped into the past without the knowledge of the Quantum Leap Project's team, he said then that his reason was bigger than the project and more important than honesty with Addison, his new fiancé. Since then, Ben and Addison have been working hard to get through eight leaps and heal their rift, slowly reconnecting as Ben's memory returns.
Yet, Ben's big reveal causes "Fellow Travelers" to begin with a return to the drawing board on relationship trust issues. Addison is madder than ever now that she realizes that she is at the center of all the risks Ben is taking. Ben didn't consider that she would've wanted a choice in how to protect herself, whatever the threat.
That threat may be closer to home than anyone realizes. Security expert Jenn Chou (Nanrisa Lee) and tech wizard Ian Wright (Mason Alexander Park) use Ziggy and the future-predicting code that Janis Calavicci (Georgina Reilly) infected Ziggy with so that she could calculate the Quantum Leap Project team's next moves to reverse engineer a prediction on Janis' whereabouts. So far, the bug-code has kept Janis one step ahead of the team. Even with Ian's handiwork, the list of possible places that Janis could be hiding out is extensive. But Jenn is able to narrow down the list to one location that has no extradition treaty with the U.S., a look-the-other-way customs protocol, and is close to a nuclear power plant: Belize.
Jenn thinks like a security pro with a criminal underbelly, and it's no surprise that she tracks Janis down easily at a beachside bar where they chat…until Janis realizes that Jenn's government-funded deep pockets turned into Janis' own security detail. Jenn and the traitor bodyguards take Janis into custody to be turned over to Quantum Leap headquarters. Janis' capture and conversation is intriguing enough to leave one certainty—someone at Quantum Leap can't be trusted or else why would Ben have kept the team in the dark and turned instead to the chip-on-the-shoulder daughter of Al Calavicci for help?
While all this is going on in the present, Ben is chasing the trail of a would-be murderer in 1979 as he takes on the body of a bodyguard himself. As Ben enters the leap, the bodyguard theme is deeply underscored by Whitney Houston's "I'm Every Woman" and a not-so-subtle homage to the 1992 film The Bodyguard starring Houston and Kevin Costner. Ben lands in a man tasked with protecting the famous singer, Carly Farmer, on the eve of a big concert in Chicago. Coincidence or not, Kevin Costner played Frank Farmer in the film and shares the last name of this leap's target.
Like Houston's and Costner's characters in the movie, Ben and Carly are Black and white respectively and on the verge of love. The threat to Carly is set right away when stage lights crash down during the soundcheck. The near miss is credited to Ben knocking the singer out of harm's way at the last possible moment. The mystery of the would-be murderer changes multiple times and is worthy of an Agatha Christie novel. Putting things right on this leap is reminiscent of Quantum Leap's engrossing Halloween episode, "O Ye of Little Faith," with all its twists, turns and surprises.
As "Fellow Travelers" winds down, it's unclear what special tricks Magic (Ernie Hudson) might have up his sleeve for prying information out of the tightlipped Janis, but he promises to use them. Whether Janis knows who on the project team is the untrustworthy one or not, getting the story of Ben's rogue journey out of her will be a challenge. It seems the truth may be the most menacing threat to Ben's success at saving Addison and leaping home again.
Quantum Leap airs Mondays at 10 p.m. ET on NBC. The sequel's episodes, as well as all five seasons of the original show, are available to stream on Peacock.