Features
Prime Video's Fifteen-Love Is Fiction, But The Tennis Abuse Scandal Is Real
It's not a true story, but the underage abuse scandal at the heart of Fifteen-Love has multiple real-world parallels.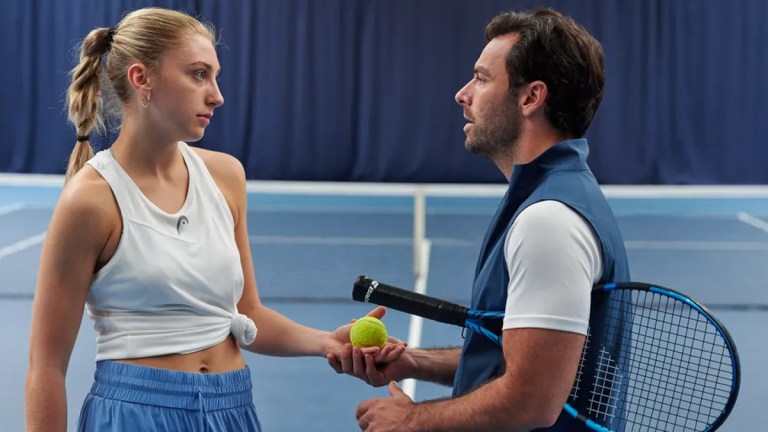 Tennis star Justine Pearce and elite coach Glenn Lapthorn, the lead characters in new Prime Video series Fifteen-Love, are works of fiction. Their story is not. After decades of silence and whispers, allegations of predatory sexual behaviour and abuse perpetrated by tennis coaches on young players are finally being voiced, and the consequences finally being felt.
In the new British TV drama, 24-year-old newcomer Ella Lily Hyland is outstanding as Justine, a physiotherapist whose promising tennis career ended at age 17, following an injury. 40-year-old Aidan Turner (Poldark, The Hobbit) plays her former private coach Glenn, a married father of two whom Justine reports to the police for multiple counts of historical sexual assault. Glenn denies any wrongdoing, calling Justine a fantasist harbouring a bitter grudge. What really happened in the run-up to the 2018 French Open tournament unspools over six tense episodes.
While Fifteen-Love takes care not to pin itself to a single real-world parallel (Longwood Tennis Academy is an invention, and while you'll hear talk of "the tournament" and SW19, the word "Wimbledon" is never actually mentioned), its story is a depressingly familiar one in real life.
Real-World Tennis Coach Abuse Parallels
In July 2017, Daniel Sanders, the 42-year-old former head coach at Wrexham Tennis Centre in Wales, was sentenced to six years in prison for eight counts of sexual activity with a minor. Like Aidan Turner's fictional character in the Prime Video drama, Sanders had once been a promising player, and had partnered Tim Henman in doubles matches as well as coaching stars including Jamie Murray.
Unlike Turner's character in Fifteen-Love, Sanders pleaded guilty to all counts of his crimes, but his behaviour appears to have gone unchecked for many years. In 2012, the parent of a Wrexham Tennis Centre player raised concerns about Sanders' aggressive and predatory behaviour and his sexualised conduct towards young female players, but he continued to coach at the centre. Sanders was found to have been controlling and manipulative, and to have groomed young female players, until his eventual arrest for engaging in sexual activity with an underage girl.
In 2016, Leeds-based tennis coach Derek Munro, then aged 58, was charged with a string of historical sexual assault charges, including against minors. Munro pleaded not guilty to the assault charges, but admitted to having been in a "relationship" with one of his alleged victims when she was over the age of 16.
In 2007, Claire Lyte a coach at the Lawn Tennis Training Academy in Loughborough was sentenced to two years and nine months after being found guilty of multiple counts of sexual activity with a child she had been coaching. Lyte had competed at Wimbledon as a player but retired, like Fifteen-Love's Justine character, due to a wrist injury. She denied the charges, claiming that the girl's mother had invented the allegations in spite because of her daughter's lack of professional prospects in the sport.
"Relationship" or Abuse in a Position of Trust?
As dramatised in Fifteen-Love, what characterises many such instances of sexual activity between minors or young players and their much older coaches is the players' belief at the time that they are not the victim of abuse, but in a loving relationship. Only years later does the trauma and inappropriate nature of these "relationships" between a trusted adult and the young person in their care emerge. That was the case with former professional tennis star turned broadcaster Pam Shriver, who wrote in 2022 in The Daily Telegraph that while she didn't consider herself a victim of sexual abuse by her married 50-year-old coach Don Candy when they had a sexual relationship when she was 17 years old, it was traumatic, stunted her emotionally and had a negative effect on her professional game.
"I believe abusive coaching relationships are alarmingly common in sport as a whole," says Shriver. "My particular expertise, though, is in tennis, where I have witnessed dozens of instances in my four-and-a-bit decades as a player and commentator. Every time I hear about a player who is dating their coach, or I see a male physio working on a female body in the gym, it sets my alarm bells ringing."
Shriver was among many in the tennis world who sent her support to French-Belgian player Fiona Ferro in 2022, when Ferro's former coach Pierre Bouteyre was accused of multiple counts of rape and sexual assault alleged to have taken place when Ferro was in Bouteyre's care and aged between 15 and 18.
Once again, Bouteyre is reported to have recognised that the "relationship" took place but denies having coerced Ferro, describing their sexual activity as a consensual love story.
As Fifteen-Love takes pains to point out, until June 2022, sports coaches in the UK were not legally considered to be "in positions of trust" for under-18s, in the same way as doctors, teachers and carers were. It was not, therefore, illegal for them to engage in sexual activity with under-18s in their care. In the TV drama, when Justine first reports Glenn to the police, she's told that because the alleged abuse took place between the ages of 16 and 18 and before the law change, Glenn's actions would not have been considered against the law in the UK. Now, they would be.
The abuse scandal goes back a long way – as far back as 1993, US writer Michael Mewshaw's non-fiction book Ladies of the Court: Grace and Disgrace on the Women's Tennis Tour detailed serious exploitation of young athletes at the hands of some coaches, physios and doctors.
The combination of predatory adults having intimate access to and control over the bodies of young athletes, added to the intensity of international competition and travel that isolates those young people from family and friends, has allowed abuse to flourish. Tennis is far from the only sport affected – football, athletics, gymnastics (as told by excellent documentary Athlete A)… and more are all playing out real-life versions of Fifteen-Love's story.
Fifteen-Love is available to stream in full on Prime Video.