Features
Power Rangers: Once and Always – Who is Harvey Garvey?
The Netflix Power Rangers special brings back original Rangers and a character you'd never suspect or even remember!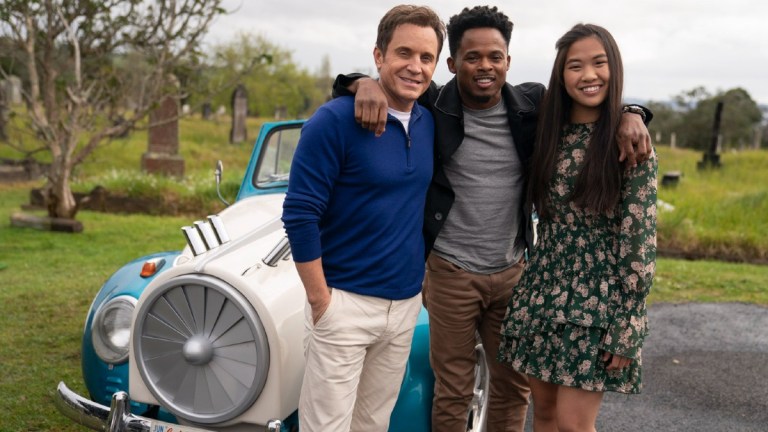 This Mighty Morphin Power Rangers: Once and Always article contains spoilers.
Near the beginning of the Netflix special Power Rangers: Once and Always, the Rangers fight Robo Rita and her newly rebuilt monsters of Minotaur and Snizzard in a graveyard. The Rangers are barely able to hold their own but original Black Ranger Zack leaps into the fray to help Billy the Blue Ranger. This angers Minotaur so much he smashes a gravestone that reads,
"Harvey Garvey. 1953-2022."
That sure is a name, right? Only in Power Rangers. The shot of the gravestone is held on for just enough time to clue the audience in that this isn't just a random gravestone placed there by the production team. This is a reference. A deep cut reference at that. Yes, Harvey Garvey is a character in the Power Rangers universe. He's not a Ranger. He's not a mentor. He's not an interstellar ninja from an evil UFO. He's not even a civilian sidekick.
He's a talk show host.
All the way back in the Mighty Morphin Power Rangers season 2 episode, "Lights, Camera, Action," the Rangers were set to make their first national television appearance (in suit) on "The Harvey Garvey Show." This was in part to spread a message about, "the power of education." Harvey Garvey must be the David Letterman of the Power Rangers universe if he was able to score the first on-camera interview with the Rangers!
On the show itself, Harvey Garvey, played by frequent Power Rangers voice actor Kim Strauss, introduces the Rangers by letting them show off some flips and pyrotechnics. He then gets down to business, allowing the Rangers to share the "timeless" PSA of "the way to be cool is to stay in school!" This leads to Harvey's interview where he asks them if staying in school helped them become Rangers, which cues up a clip show of past episodes. (Did Harvey somehow get footage of these battles?!) Later on in the show the Rangers try to teach Harvey how to do a Ranger kick, which he fails horribly at. This allows Harvey to share a message that real-life parents were probably desperate to hear the franchise address.
"Kids, trust me, don't try this one at home."
The Rangers had to leave the interview early after Zedd transformed one of Harvey's cameras into Showbiz Monster. This didn't seem to hurt the show's ratings which, according to the Rangers' teacher, was shown all over the world. It was even picked up in Switzerland, where former Rangers Jason, Zach, and Trini were at the time. Damn, the wedding of Princess Diana ain't got nothing on this!
In a Netflix special filled with callbacks, Easter eggs, and a love for the franchise, Harvey Garvey is truly the most deep cut imaginable. While it's sad to learn that (in universe) Harvey Garvey passed away, we can only imagine that his show lives on in the hearts of viewers across Earth in the Power Rangers universe.
Hopefully the 35th anniversary special will reveal who Harvey Garvey's musical guests were on that episode. I bet Crash and the Creeps from Power Rangers Turbo were available!
Mighty Morphin Power Rangers: Once and Always is now streaming on Netflix.