Features
Our Flag Means Death: Stede Bonnet Really Was a Gentleman Pirate (With an On-Ship Library)
Now we can finally watch Our Flag Means Death in the UK, how much of this comedy, starring Rhys Darby and Taika Waititi, is based on a true story?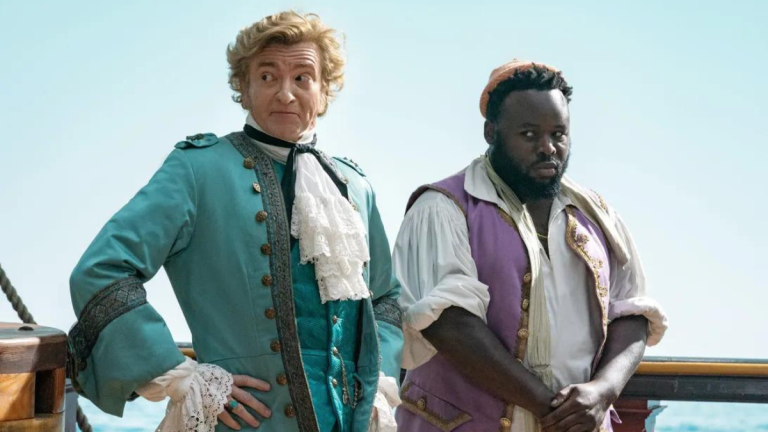 Warning: this feature contains major spoilers for Our Flag Means Death
The much-anticipated UK release of pirate comedy Our Flag Means Death is finally here: BBC Two is airing episodes on Wednesdays at 10pm, and the binge-inclined among you can also watch the whole boxset on BBC iPlayer.
The HBO show has rightfully earned a huge fan base since it premiered in the US in 2022, thanks to its all-star cast – including Taika Waititi, Rhys Darby, Con O'Neill, Vico Ortiz, Joel Fry, Rory Kinnear… the list goes on and on – and distinctly feel-good vibes. It's also been praised for its excellent LGBTQ+ representation, earning it the affectionate nickname 'the gay pirate show'.
But just how much of the show is based on real history? Taika Waititi's Blackbeard is one of the most famous pirates of all time (no shit, Sherlock) but how much of the rest of the show is rooted in fact might come as a surprise to some…
Yes, Stede Bonnet Is Real
Those who've studied swashbucklers (or had a passing interest in pirate history) are probably familiar with Stede Bonnet – aka The Gentleman Pirate – who is one of piracy's more notable names due to his eccentric ways and unusual backstory.
Most pirates didn't exactly choose their profession; they were forced into it by circumstance. Stede Bonnet, on the other hand (as Our Flag Means Death correctly depicts) was a wealthy landowner in Barbados with a wife and children who – for reasons historians have never fully uncovered – had a bit of a midlife crisis and abandoned his family to become a pirate.
He Really Did Pay His Pirates a Wage
In general, pirates only earned a share of whatever loot they successfully pillaged, but Stede was clearly not a 'zero hours contract' kinda bloke, and – as the show suggests in episode one – he really did insist on paying his crew a regular wage.
His highfalutin' piracy practices also extended to how he got his beloved ship, The Revenge: while most pirates acquired their vessel by… well, nicking it, Stede Bonnet really did pay to have his own ship made from scratch, a dozen massive cannons and all.
Stede Bonnet's Library Is Also Real
Yes, really. He might have run away from his comfortable life in Barbados, but Stede Bonnet wasn't ready to give up all his creature comforts, so he did what any reasonable bloodthirsty pirate would do and installed a full library on board his ship.
A report in The Boston News Letter literally describes him as walking about on deck 'in his morning gown', before retiring below 'to his books of which he has a good library aboard.' That's right, even his fancy pirate PJs were real.
Stede Bonnet and Blackbeard Really Did Sail Together
Bonnet's crew reportedly first met Blackbeard in 1718, hit it off and agreed to cruise together. Some historians claim Blackbeard really did take over the ship while Bonnet was recovering from an injury.
Blackbeard even mentored Bonnet in a way, teaching him to be a more ferocious pirate, and he also even carried out the events seen in Our Flag Means Death's series finale, marooning the crew on a desert island. As far as we know, however, this wasn't because of a broken heart – Blackbeard was just a double-hard bastard. That said…
Blackbeard and Stede Might Even Have Been In Love
Okay, so there's no official historical record confirming this, but hear us out.
One thing we know for sure is that in the eighteenth century, the rules of life out at sea were much less strict and narrow-minded than they were on land. Books like Sodomy and the Pirate Tradition make a clear case for same-sex relationships on the high seas being a common occurrence, and there was even a kind of pirate gay marriage called matelotage.
Blackbeard and Stede Bonnet had a long and complicated history together – so given the information above it's not as huge a jump as you might think that they could have been romantically linked.
Just how much of Stede Bonnet's remaining life story will be covered in Our Flag Means Death Series 2? Let's wait and see, but – spoiler alert – things don't exactly end well for him.
Our Flag Means Death is available to stream on BBC iPlayer in the UK and HBO Max in the US