Features
How Did Not Going Out Become The Second-Longest Running British Sitcom?
Lee Mack and Sally Bretton's BBC comedy is going into its thirteenth series – and Not Going Out is not going anywhere just yet. What's the secret to this sitcom's success?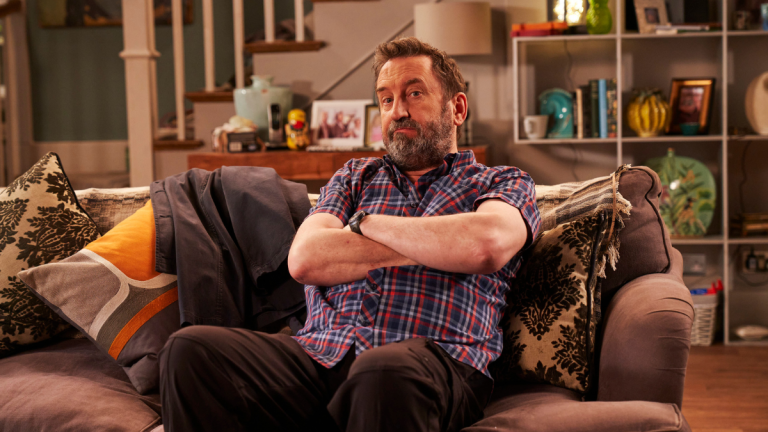 WARNING: This contains spoilers for Not Going Out
Back in 2015, during a BBC Breakfast interview about series seven of Not Going Out, presenter Bill Turnbull asked Lee Mack: "Did you ever imagine when you first got that pilot that you'd get seven series?"
"I didn't think we'd even get a series," Mack answers incredulously, explaining that even going from script to a pilot episode felt like "the biggest hurdle".
And yet, eight years later (17 since the show began in 2006), Not Going Out has now almost doubled its series from seven to 13, still regularly pulling in audiences of over four million, with the newest series arriving on BBC One on Friday 23rd June at 9pm. As ever, the show will focus on Lee Mack as a fictionalised version of himself, alongside his landlady-turned-wife and sparring partner Lucy (Sally Bretton, Beyond Paradise), and their eventful and often farcical life together.
Series 13 will also cement Not Going Out as the second-longest running British sitcom of all time, beaten only by Last of the Summer Wine, and overtaking the likes of Birds of a Feather (12 series), Red Dwarf (12 series and a film) and My Family (11 series).
So how has Not Going Out endured long enough to earn this lofty accolade?
A big part of it is its simplicity: Lee Mack is a standup by trade (though his Not Going Out persona is generally unemployed), so he knows a thing or two about telling good jokes, and he stuffs Not Going Out so full of them that it's almost half-sitcom, half-standup routine. We already know from his time as team captain on panel show Would I Lie To You? that Mack has one of the quickest wits in the business, and he's also spoken of being deeply influenced by Eric Morecambe, and there's a definite sprinkle of Morecambe & Wise-style wit to the back-and-forth humour in Not Going Out.
This gives the show a timelessness, its relentless one-liners evoking good old-fashioned entertainers like the Two Ronnies and Tommy Cooper, and while we're yet to see if Not Going Out stands the test of time on quite the same scale as these greats, it certainly shares many elements of their comedic style.
Mack and his co-star Bretton might not be a classic double-act in the style of Morecambe & Wise, but their on-screen partnership is undeniably successful, with their will-they-won't-they tension lasting seven series until they married in the 2014 Christmas special. Mack makes sure to give Bretton just as many zingers as himself in the script, so they can continuously volley back and forth, and Bretton more than holds her own.
Mack has also been smart enough to recruit some of the best classic joke-tellers in the business, from his character's best friend Tim (played by Tim Vine, whose one-liners have twice won the Edinburgh Festival's "funniest joke" prize), his neighbour Toby, BAFTA-winning comedy actor Hugh Dennis (Outnumbered), and his on-screen father, the much-missed Bobby Ball, who was one half of the legendary double comedy duo Cannon and Ball. The show has also benefited from great performances by comedy talent like Ghosts' Katy Wix – who played Tim's dim-witted girlfriend Daisy – and Miranda Hart (Miranda), who was Lee's cleaner and confidante Barbara.
The show's timeless feel is helped greatly by Not Going Out being one of the few remaining sitcoms to be filmed in front of a live studio audience, giving it even more of that "live comedy" essence. While classic sitcoms like Only Fools and Horses and Blackadder used live audiences, it's nowhere near as fashionable these days, but Mack sees this as an advantage:
"The people who tell you what you should be thinking and doing are all saying, 'Don't do a studio-based sitcom.' Great, that's a massive advantage for me. Keep saying that, please! Because it stops all of the new comics who could be doing it. As long as they are doing lots of shaky camera, nuanced, whimsical stuff and not making sitcoms, then I'm all right."
Mack also previously said he thought the greatest threat to comedy was realism: "Since The Office, everyone has this idea that comedy is only good if it reflects the way people really speak. But that's nonsense – and it's a problem that's unique to comedy. If you went to a Picasso exhibition and said, 'I love this painting of a horse,' and someone chirped up, 'It doesn't look anything like a horse – it's not real,' they'd be seen as a real heathen."
Indeed, Not Going Out's real magic comes when it's at its most farcical, from the time Lee appeared on popular British quiz show Pointless and wrestled Richard Osman under his desk, to the 2018 live Christmas episode, where – during a talent show for the local school – Mack ended up standing in for a knife-thrower and chucking swords at his on-screen wife Lucy on a spinning wheel, and their friends Toby and Anna (Dennis and Abigail Cruttenden, The Theory of Everything) did a version of the Elements Song with some inventive and eye-wateringly fast-paced new lyrics. The show doesn't seem afraid of veering into the absurd, and that gives it endless possibilities.
When it comes to longevity, Not Going Out remains second only to Last of the Summer Wine, which had a whopping 31 series in its 37-year reign. It's unlikely Not Going Out – or possibly any sitcom — will ever beat this, but there's still time yet.
Not Going Out returns to BBC One for series 13 on Friday 23rd June at 9pm