News
New on Netflix UK January 2021
Cobra Kai season 3, Nicolas Cage on swear words, Pieces of a Woman and new episodes of Disenchantment are on their way to Netflix UK this month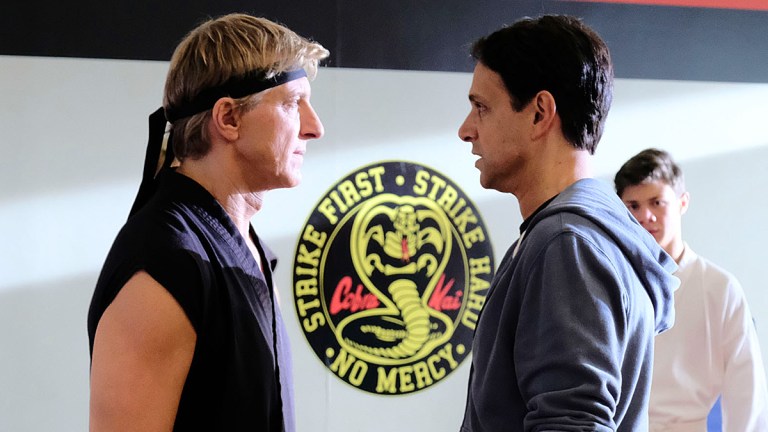 "Kickstart 2021 like a total badass", suggests the season three trailer for The Karate Kid spin-off Cobra Kai, backed by a metal version of Auld Lang Syne. Don't mind if we do. And after the spin-kicks and punching arrive on Friday the 1st of January, there's a Nicolas Cage special on the history of swearing on the 5th, which sounds educational.
Later in the month, remember those lanky Winx fairy dolls from the early 2000s? They've turned human for a new supernatural TV series about magical powers and so on. Could be fun, from Friday the 22nd. On the same day comes a grown-up drama that's already attracting early buzz. Adapted from Aravind Adiga's 2008 Booker Prize winner, The White Tiger tells the story of a poor villager rising through the ranks to become a wealthy and successful entrepreneur in modern-day India.
All that, and plenty more including the return of The Office: An American Workplace. As the rest of the January 2021 arrivals are announced, we'll add them to the list below.
1 JANUARY
Cobra Kai Season 3 (New)
Headspace Guide to Meditation (New)
Monarca Season 2 (New)
The Minimalists: Less Is Now (New)
What Happened to Mr. Cha? (New)
All About Nina (2018)
Arizona (2018)
Around the World in 80 Days (2004)
Bathtubs Over Broadway (2018)
Dredd (2012)
Full Out 2: You Got This (2020)
My Sister's Keeper (2009)
Semi-Pro (2008)
Shoot 'Em Up (2007)
Running Man (2020)
The Circle USA (2020)
Wild Target (2010)
Valiant (2005)
2 JANUARY
Asphalt Burning (New)
3 JANUARY
All Is True (2018)
5 JANUARY
Gabby's Dollhouse Season 1 (New)
Nailed It! Mexico Season 3 (New)
Nicolas Cage's History of Swear Words (New)
6 JANUARY
Surviving Death (New)
7 JANUARY
Pieces of a Woman (New)
Tag (2018)
8 JANUARY
The Idhun Chronicles Season 2 (New)
Lupin (New)
Stuck Apart/Azizler (New)
I Am Woman (2019)
Inside the World's Toughest Prisons Season 5
10 JANUARY
Instant Family (2018)
11 JANUARY
Crack: Cocaine, Corruption & Conspiracy (New)
13 JANUARY
Night Stalker: The Hunt for a Serial Killer (New)
15 JANUARY
Disenchantment Part 3 (New)
Double Dad (New)
Outside The Wire (New)
21 JANUARY
Call My Agent Season 4
22 JANUARY
Fate: The Winx Saga (New)
The White Tiger (New)
27 JANUARY
50M2 (New)
Penguin Bloom (New)
29 JANUARY
The Dig (New)
We Are: The Brooklyn Saints (New)