News
New on Netflix: January 2023
Here's what's new on Netflix in January 2023 including Vikings: Valhalla, That '90s Show, and more!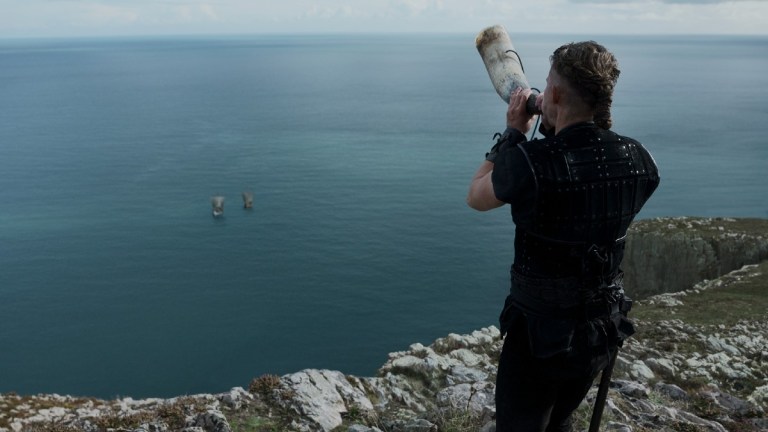 2022 represented Netflix's 25th (!!) year of operations as a company. Unfortunately, the streamer celebrated its 25th birthday with some earnings losses, massive cancelations, and a whole host of bad press. What will year 26 hold for the little Blockbuster killer that could? We now have a good idea thanks to Netflix's list of new releases for January 2023.
Netflix is kicking off 2023 with some muscular original series…and in one instance we mean literally muscular. Vikings: Valhalla season 2 will premiere on Jan. 13, bringing some much needed Norse mayhem back to television. Other titles of note include Ginny & Georgia season 2 (Jan. 5), and That '90s Show (Jan. 19). The most intriguing option, however, might be what Netflix is choosing to open its year with. Kaleidoscope premieres on Jan. 1 and will present a heist story that will be told in a random order for each Netflix viewer.
Meanwhile, the true crime machine continues apace for Netflix in 2023. Jan. 4 sees the arrival of Madoff: The Monster of Wall Street while Jan. 10 makes way for The Hatchet-Wielding Hitchhiker. In terms of original films, The Pale Blue Eye starring Christian Bale premieres on Jan. 6 and the Jonah Hill and Eddie Murphy-vehicle You People arrives on Jan. 30 … whether you want it to or not.
The usual influx of library titles to Netflix began to fall off a bit in 2022. But in the first month of 2023, the streamer is getting some really exciting stuff for a change. Jan. 1 sees the arrival of: Brokeback Mountain, The Conjuring, Minority Report, Scott Pilgrim vs. The World, Top Gun, and more.
Here is everything else coming to Netflix this month.
New on Netflix: January 2023
TBD
JUNG_E 🇰🇷– NETFLIX FILM
Physical: 100 🇰🇷– NETFLIX SERIES
January 1
Kaleidoscope — NETFLIX SERIES
Lady Voyeur 🇧🇷– NETFLIX SERIES
The Way of the Househusband: Season 2 🇯🇵– NETFLIX ANIME
The Aviator
Barbershop 2: Back in Business
Blue Streak
Brokeback Mountain
The 'Burbs
Closer
The Conjuring
Daddy Day Care
Fletch
Forrest Gump
G.I. Joe: The Rise of Cobra
Grease
I Know What You Did Last Summer
Jerry Maguire
King Kong
Leap Year
Life
Minority Report
National Security
New Amsterdam: Season 1
The Nutty Professor
The Nutty Professor II: The Klumps
Old Enough!: Season 2
Parenthood
Reservoir Dogs
Resident Evil: Afterlife
Road to Perdition
Rocky
Rocky II
Rocky III
Rocky IV
Rocky V
Scott Pilgrim vs. the World
Survivor: Season 18
The Taking of Pelham 123
This Is 40
Top Gun
Transformers: Dark of the Moon
Transformers: Revenge of the Fallen
Twins
January 4
How I Became a Gangster 🇵🇱– NETFLIX FILM
The Kings of the World 🇨🇴– NETFLIX FILM
The Lying Life of Adults 🇮🇹– NETFLIX SERIES
MADOFF: The Monster of Wall Street — NETFLIX DOCUMENTARY
January 5
Copenhagen Cowboy 🇩🇰– NETFLIX SERIES
Ginny & Georgia: Season 2 — NETFLIX SERIES
Woman of the Dead 🇦🇹– NETFLIX SERIES
January 6
Love Island USA: Season 2
Mumbai Mafia: Police vs The Underworld — NETFLIX DOCUMENTARY
The Pale Blue Eye — NETFLIX FILM
Pressure Cooker — NETFLIX SERIES
The Ultimatum: France Season 1 Part 2 🇫🇷– NETFLIX SERIES (new episodes)
The Walking Dead: Season 11
January 9
VINLAND SAGA: Season 2
January 10
Andrew Santino: Cheeseburger — NETFLIX COMEDY
The Hatchet Wielding Hitchhiker 🇬🇧– NETFLIX DOCUMENTARY
January 11
Noise 🇲🇽– NETFLIX FILM
Sexify: Season 2 🇵🇱– NETFLIX SERIES
January 12
Kung Fu Panda: The Dragon Knight: Season 2 — NETFLIX FAMILY
The Makanai: Cooking for the Maiko House 🇯🇵– NETFLIX SERIES
Vikings: Valhalla: Season 2 — NETFLIX SERIES
January 13
Break Point — NETFLIX DOCUMENTARY
Dog Gone — NETFLIX FILM
Sky Rojo: Season 3 🇪🇸– NETFLIX SERIES
Suzan & Freek — NETFLIX DOCUMENTARY
Trial by Fire 🇮🇳– NETFLIX SERIES
January 17
The Devil to Pay
January 19
Junji Ito Maniac: Japanese Tales of the Macabre 🇯🇵– NETFLIX ANIME
Khallat+ 🇿🇦– NETFLIX FILM
The Pez Outlaw
That '90s Show — NETFLIX SERIES
Women at War — NETFLIX SERIES
January 20
Bake Squad: Season 2 — NETFLIX SERIES
Bling Empire: New York — NETFLIX SERIES
Fauda: Season 4 🇮🇱– NETFLIX SERIES
The action-packed series returns for a new season.
Mission Majnu 🇮🇳– NETFLIX FILM
The Real World: Season 28
Represent 🇫🇷– NETFLIX SERIES
Şahmaran 🇹🇷– NETFLIX SERIES
Shanty Town 🇳🇬– NETFLIX SERIES
January 23
Minions: The Rise of Gru
Narvik 🇳🇴– NETFLIX FILM
January 24
Little Angel: Volume 2
January 25
Against the Ropes 🇲🇽– NETFLIX SERIES
Begin Again
January 26
Daniel Spellbound: Season 2 — NETFLIX FAMILY
Record of Ragnarok: Season 2 Episodes 1-10 🇯🇵– NETFLIX ANIME
January 27
Kings of Jo'Burg: Season 2 🇿🇦– NETFLIX SERIES
The drama returns for a new season.
Lockwood & Co. 🇬🇧– NETFLIX SERIES
The Snow Girl 🇪🇸– NETFLIX SERIES
You People — NETFLIX FILM
January 30
Princess Power — NETFLIX FAMILY
January 31
Cunk On Earth 🇬🇧– NETFLIX SERIES
Pamela, a love story — NETFLIX DOCUMENTARY
Leaving Netflix: January 2023
January 6
Bulletproof 2
January 8
L.A.'s Finest: Seasons 1-2
January 12
CHIPS
January 15
Steve Jobs
January 17
Yummy Mummies: Season 1
January 26
Z Nation: Seasons 1-5
January 29
She's Funny That Way
January 31
Addams Family Values
Battle: Los Angeles
Love Jacked
Newness
Rambo
Rambo: Last Blood
The Borgias: Seasons 1-3