Features
New on Amazon Prime Video UK December 2020
New episodes of The Expanse, a crime movie starring The Marvelous Mrs. Maisel's Rachel Brosnahan, and a lot of premier league football will be streaming on Amazon Prime Video UK this December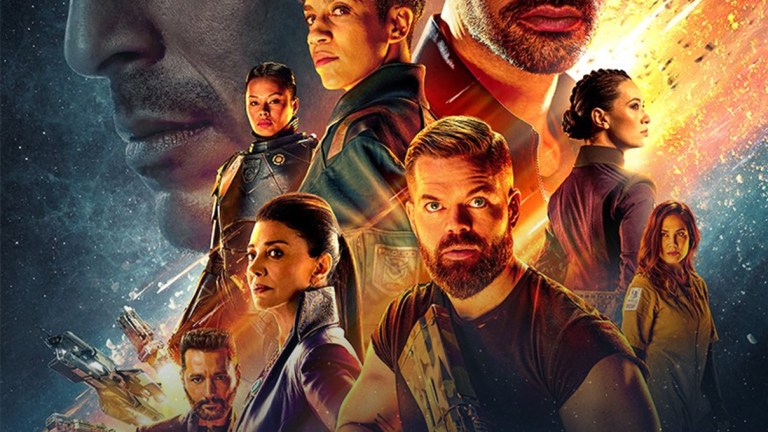 At this end of the year, a lot of people's watch schedules lean towards already-seen-but-comforting festive fare. If that's your bag, then the streaming services have you covered with a stack of Christmas movies new and old. (In addition to the UK festive specials on traditional channels we've collected for you here.) You can watch any number of Scrooges learning the true meaning of Christmas and puppies of all stripes save Santa, whenever you feel the need.
If you don't feel that need, then here's what else Amazon Prime Video UK has lined up for December 2020. Basically, good news if you're a premier league football fan, or into sci-fi series The Expanse…
Weekly Episodes
The Walking Dead: World Beyond season 1
Brand new episodes of The Walking Dead spin-off arrive on Fridays. Catch up with our spoiler-filled reviews here.
This is Us season 5
New episodes of this US family melodrama land on Tuesdays.
TV Series
The Wilds – Friday 11th of December
This 10-episode US mystery drama follows a group of teen girls who have to survive on a desert island after a plane crash, but the trailer suggests there's more going on than meets the eye.
The Expanse season 5 – Wednesday 16th of December
À la The Boys, we're going to get the first three episodes of sci-fi drama The Expanse season five at once, and then we'll have to wait for one a week after that like good little girls and boys.
Grand Tour: A Massive Hunt – Friday 18th of December
The Top Gear-turned-Grand Tour presenters (Clarkson, May and Hammond) return for another series of car-based shenanigans, with a totes hilar subtitle.
The Legend of El Cid – Friday 18th of December
Jamie Lorente, star of Money Heist and Elite, will play a legendary Spanish hero from medieval times in this five-episode historical drama.
New Movies
I'm Your Woman – Friday 11th of December
Rachel Brosnahan of The Marvelous Mrs. Maisel fame stars in this 1970s-set crime drama about a woman forced to go on the run when her husband betrays the dangerous people he's working with.
Sylvie's Love – Friday 25th of December
Marvel and Westworld's Tessa Thompson stars in this period drama about a young woman who falls for a saxophonist in 1950s Harlem.
Live Sports
Two rounds of Premier League football fixtures are streaming live from Tuesday 15th to Thursday 17th of December, and from Monday 28th to Wednesday 30th of December. See the full list here.
Coming to Amazon Prime Video UK in January
American Gods season 3 – Monday 11th of January
The Sound of Metal – Friday 29th of January (according to IMDb)