Features
New on Netflix UK December 2020
Chadwick Boseman starring in Ma Rainey's Black Bottom, David Fincher's Mank and the final Chilling Adventures of Sabrina episodes are all coming to Netflix UK this December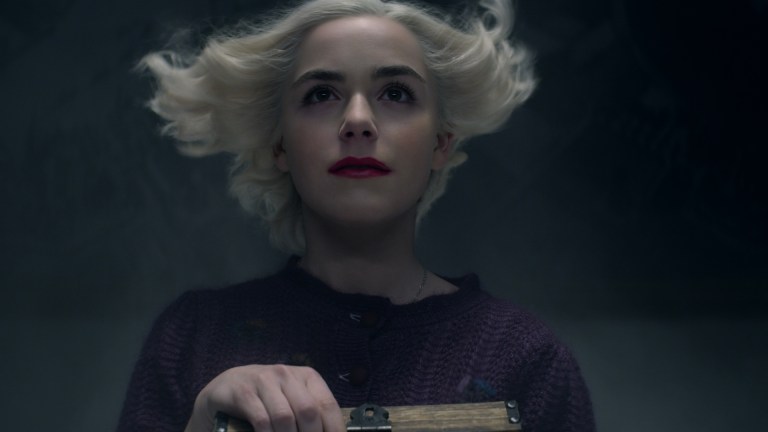 It has begun. The steady trickle of films about Labradors who save Christmas, American girls marrying European princes, and parents learning that their kids are more important than their jobs, is with us. Netflix is responsible for a good proportion of the above, with several new festive titles arriving over the next few weeks. 
If that does nothing for you, then you might be more interested in the arrival of three non-tinsel films on the service this month. There's David Fincher's Mank streaming from December 4th, followed on the 18th by Ma Rainey's Black Bottom, featuring the much-missed Chadwick Boseman, with George Clooney-starring The Midnight Sky landing a couple of days before Christmas on the 23rd. 
TV-wise, there's a new season of animated comedy Big Mouth on December 4th, the debut of slick-looking Shondaland period drama Bridgerton on the 25th, and right at the end of the month, the final episodes of Chilling Adventures of Sabrina.
Here's that, plus a lot of cartoons and festive bits and pieces that we're expecting to see arrive on Netflix UK in the month of December. We'll keep this list updated as new titles and release dates are confirmed.
1 December
Angela's Christmas Wish
The Holiday Movies That Made Us
Super Wings season 2
Thomas and Friends season 23
2 December
Alien Worlds
Ari Eldjarn: Pardon My Icelandic
Hazel Brugger: Tropical
Fierce
3 December
Chico Bon Bon and the Very Berry Holiday 
Just Another Christmas
Break
Between Maybes
The Whistlers
4 December
Mank
Big Mouth season 4
Kings of Jo'burg
Leyla Everlasting
Christmas Crossfire
Selena The Series
Captain Underpants: Mega Blissmass
5 December
Detention
Mighty Express: A Mighty Christmas
6 December
The 2nd
The Front Runner
7 December
Ava
The Claus Family
Stage Mother
100 Days My Prince
8 December
Mr. Iglesias season 3
Super Monsters: Santa's Super Monster Helpers
Emicida: AmarElo – It's All For Yesterday
9 December
Rose Island
The Surgeon's Cut
Ashley Garcia: Genius in Love: Christmas
The Big Show Show: Christmas
10 December
Alice in Borderland
11 December
The Prom
Giving Voice
A Trash Truck Christmas 
The Mess You Leave Behind/El Desorden Que Dejas
14 December
Tiny Pretty Things
15 December
Song Exploder Vol II
16 December
Anitta Made in Honorio
The Ripper
18 December
Ma Rainey's Black Bottom
22 December
London Hughes: To Catch a D*ck
23 December
The Midnight Sky
25 December
Bridgerton
31 December
Chilling Adventures of Sabrina season 4
Coming in January 2021
We Can Be Heroes
Cobra Kai season 3
Pieces of a Woman
The White Tiger
PS This list is subject to change. Sometimes, Netflix UK moves stuff around, decides against streaming something or adds a new show or movie randomly.