News
Sky Cinema: What's New in December 2020?
Time to get an eyeful of what Sky Cinema has lined up for December.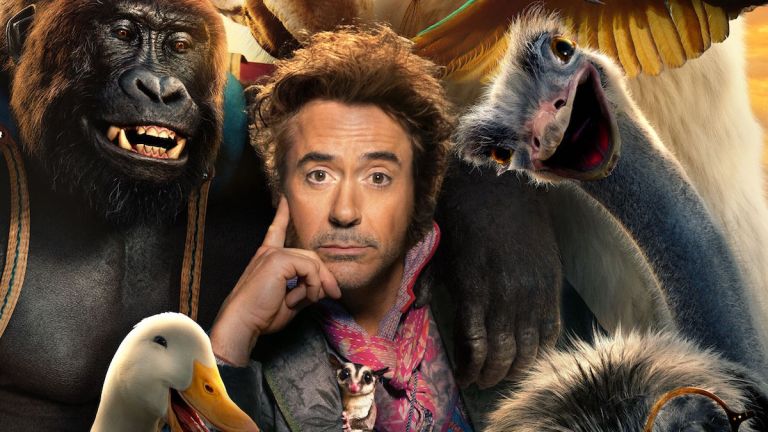 In December on Sky Cinema, Robert Downey Jr. talks to the animals, Sonic the Hedgehog has gotta go fast, and Cats arrives in all its glory.
Check out the full December line-up below…
Premieres
Dolittle (2020) – 4th December
Robert Downey Jr. followed up his long run as Marvel's Iron Man with this family adventure film based on the kids books by Hugh Lofting. Despite a big supporting cast that includes Emma Thompson, Michael Sheen, Rami Malek and Tom Holland, it's not brilliant. Any Downey Jr. completists will want to check it out regardless.
Emma (2020) – 5th December
Anya Taylor-Joy leads this new adaptation of Jane Austen's novel playing Emma Woodhouse, a gal who spends so much time setting up the people she knows with 'happily ever after', she forgets about her own romantic possibilities.
Critical Thinking (2020) – 6th December
This 90s-set drama focuses on the story of Cuban-American teacher Mario Martinez and the national championship-winning chess club he ran at Miami Jackson High School.
A Christmas Feast (2019) – 7th December
The Oliverio family prepares their Feast of the Seven Fishes, a centuries-old Italian tradition while Tony Oliverio (Skyler Gisondo) opens his heart to the world.
Love Sarah (2020) – 9th December
Mimi (Celia Imrie) opens a new bakery in Notting Hill with the help of three generations of women.
Little Women (2019) – 11th December on Sky Cinema and the Sky Cinema Pass on NOW TV
Directed by Ladybird's Greta Gerwig, this latest version of of Little Women by Louisa May Alcott is a slam dunk, as a huge cast helps retell the story of the March sisters. Saoirse Ronan, Florence Pugh, Emma Watson, Laura Dern, Timothée Chalamet and Meryl Streep star.
Sonic The Hedgehog (2020) – 18th December
Go Fast You! Blue Hedgehog. Sonic gets his first live-action movie as he battles against Jim Carrey's Dr. Robotnik. It is …surprisingly watchable!
Misbehaviour (2020) – 20th December
The 1970 Miss World pageant made history when the Women's Liberation Movement interrupted its live TV broadcast. Emma Corrin, Keira Knightley, Gugu Mbatha-Raw and Suki Waterhouse help revisit those events in this comedy-drama.
Moomins and the Winter Wonderland (2017) – 21st December
The Moomins return for a Christmas special filled with love, adventure, friendship and kindness. Just what the doctor ordered!
Clemency (2020) – 23rd December
Prison warden Bernadine Williams has been through countless inmate executions at the jail where she works, but as she unravels from the nature of her job, she makes a connection with a new death row inmate that could change everything.
Like A Boss (2020) – 24th December
Rose Byrne, Jennifer Coolidge and Tiffany Haddish star in Like a Boss, a comedy about two mismatched friends who decide to launch a beauty company.
Trolls World Tour (2020) – 25th December
Poppy and Branch are back in this sequel to Trolls, which ended up causing a stir as one of the first big films to go straight to streaming during the early events of 2020.
Cats (2019) – 26th December
Andrew Lloyd Webber's musical gets a hilariously bad makeover. This is your chance to witness the pure pandemonium of Cats, a movie that became an internet sensation for all the wrong reasons.
Downhill (2020) – 27th December
Will Ferrell and Julia Louis-Dreyfus lead the cast of this remake of Force Majeure. When a family barely escape an avalanche during a skiing holiday in the Alps, the incident escalates into a bit of an existential nightmare.
Collections
Christmas – Ongoing
Sky does Christmas right with a collection of new bangers and some absolute yuletide classics.
Highlights: Love Actually, Last Christmas, Die Hard, The Polar Express, Gremlins, It's a Wonderful Life, Black Christmas, The Holiday, the complete Harry Potter and Fantastic Beasts series
Harry Potter – 19th December to 3rd January
The Harry Potter franchise lingers for the holiday season, so you can still get your fill of witches and wizards.
Highlights: The complete Harry Potter series
5 Star Movies – 31st December to 6th January
This collection only contains movies that have scored 90% or above on Rotten Tomatoes, so you know you won't end up wasting precious Chrimbo time on a clanger.
Highlights: E.T, Wizard of Oz, Little Monsters, Corpus Christi, Blood Diamond, Alita: Battle Angel, Psycho, Groundhog Day, Forrest Gump, The Lion King, The Big Lebowski