Features
Never Have I Ever Season 4 Needed More Ethan Morales
Michael Cimino brought real heart to bad boy Ethan Morales on Never Have I Ever. So why wasn't there more of him in the final season?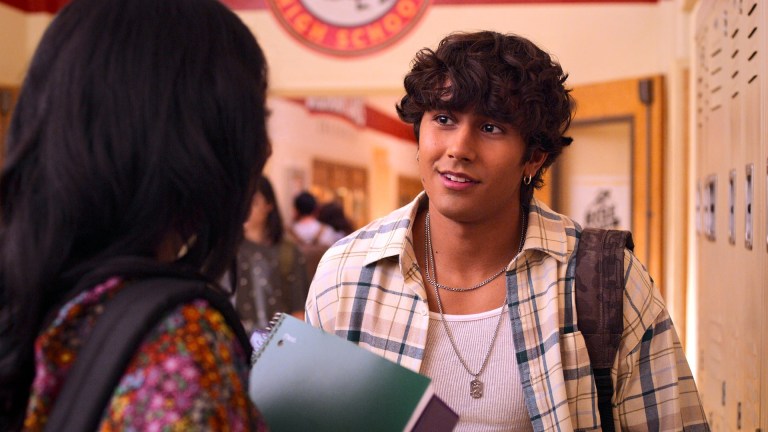 This article contains spoilers for Never Have I Ever season 4.
Devi Vishwakumar (Maitreyi Ramakrishnan) has had a lot of love interests throughout Netflix's comedy-drama series Never Have I Ever. From the love triangle of her, Ben Gross (Jaren Lewison), and Paxton Hall-Yoshida (Darren Barnet), to the intermediary love interest of Des (Anirudh Pisharody) in season three, Devi has no issues attracting young men of all types. It made complete sense then that the show brought another heartthrob into the picture for the first half of the final season. Ethan Morales (Michael Cimino) is a bad boy in every sense of the word. Ethan likes to vandalize vehicles, manipulate situations to his advantage, and win women over with his incredible smile and toned physique. He also showed he was capable of empathy and being a good partner to Devi throughout his short stint on the show. 
This is why his miniscule presence in the fourth season was a glaring "what if?" as the show came to a close. Ethan was used as a plot device for Devi, showing her growth and better sense of judgment throughout the show. Most of the time in the earlier seasons, Devi wouldn't be able to resist a man like Ethan. His tempting orbit would attract even the most focused of people, and certainly someone so excited to join a romantic union like Devi. He served his purpose as a distraction while Devi wrapped her head around Paxton being in her past and Ben being in her future. But considering the acting talents of Cimino and the vital Latino representation of the character, perhaps Ethan's flat characterization should have been rounded out much better. 
The casting team behind Never Have I Ever made sure they had one thing in mind when choosing Cimino to play Ethan Morales: they must pick someone who is otherworldly beautiful … and that's the end of the requirements. Even the straightest male on the planet can see that Cimino is no mere man, but a young actor who has charisma and physical traits that are God-given. 
Still, boxing him in or typecasting him as the hunk without a brain is really selling him short, especially if you're a fan of LGBTQ+ television. Cimino played one of the most vital roles in recent queer television history when he portrayed Victor Salazar, the 16-year-old confused yet courageous gay teenager on Love, Victor. This spinoff of the 2018 rom-com Love, Simon is still one of the only shows on any streaming service that tries to authentically display the struggles, and the triumphs, of a twice-minority adolescent living in a Latino household. 
Cimino is the exact opposite of Ethan Morales in the skin of Victor Salazar. Victor tries to do the right thing, he isn't the main catch in school, and many different aspects of his character are examined beyond just his love life. This allowed Cimino to show off a lot more range, yet the team behind Never Have I Ever took a completely contrarian route in their depiction of Ethan. By the nature of Cimino's ethnicity, he's one of the only Mexican-American actors on this show. Just like Devi's experiences as an Indian-American teen are brought to light, if they would have used Ethan for more than just eye-candy, we could have been a lot more informed about why he makes the decisions he does. Maybe his struggles as a racial minority contribute to his behavior in school. Perhaps racism or bullying are a factor in his outcome. There's not a lot of time to perform a deep dive on a brand new character in the last season of a 10 episode show, but then maybe you shouldn't put novel actors into a program in the first place if you're not going to do them proper justice.
It's also somewhat troubling that Cimino is struggling to achieve greater fame after delivering a vital and inspiring performance in a queer television series. Joe Locke of Heartstopper, for example, landed the role of Wiccan in the Disney+ series Agatha: Coven of Chaos. It would be nice for actors of color such as Cimino, who have equally impressive LGBTQ+ roles under their belts, to be desirable and portrayed with thematic theft in other series instead of cardboard side shows in the shadow of the protagonist. 
The issue with Ethan is just one example of the ways Never Have I Ever struggled to show the entire picture of their talented cast throughout season four. Many noticed that Devi's friend Aneesa (Megan Suri) and Kamala's (Richa Moorjani) love interest Manish (Utkarsh Ambudkar) were also left out to dry in the last batch of episodes. Mindy Kaling is a brilliant television creator, but these weaknesses that are sprinkled throughout her coming-of-age rom-com's climactic act were a disappointing vibe check for the audience. There's no easy way to end a show, but something as unique as Never Have I Ever deserved all of its characters to get to see a happy ending, no matter how big or small.
All episodes of Never Have I Ever are now streaming on Netflix.