Features
Netflix's Never Have I Ever: Great TV Comedies to Watch Next
10 great TV show recommendations for fans of Mindy Kaling and Lang Fisher's Netflix teen comedy Never Have I Ever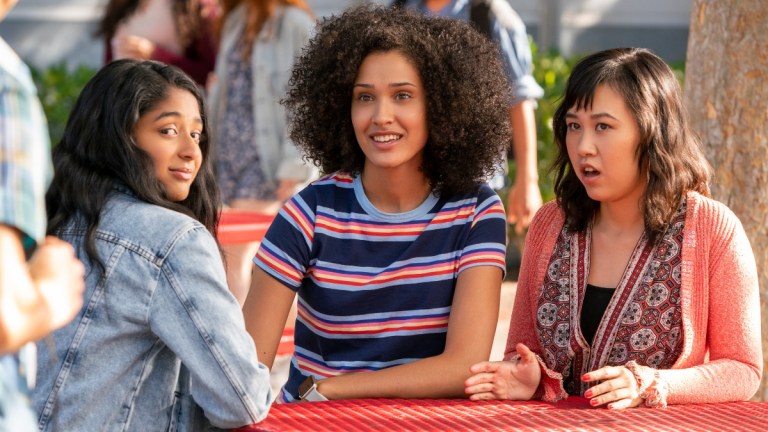 If there's justice in this world, high school comedy Never Have I Ever will return for at least a third season. The story of 15-year-old Devi Vishwakumar, a Los Angeles teen reeling from her beloved father's sudden death while trying to navigate all the usual boys/school/friendship mess of adolescence, deserves to continue long into the future. (Here's our spoiler-free season two review.)
While fans wait for news on a third season commission, the 10 great shows below are well worth discovering or (re)discovering. They're not all teen shows, nor are they all strictly comedies, but somewhere along the line, they share some DNA with Mindy Kaling and Lang Fisher's Never Have I Ever. Add your own additional recommendations below.
Fresh Off the Boat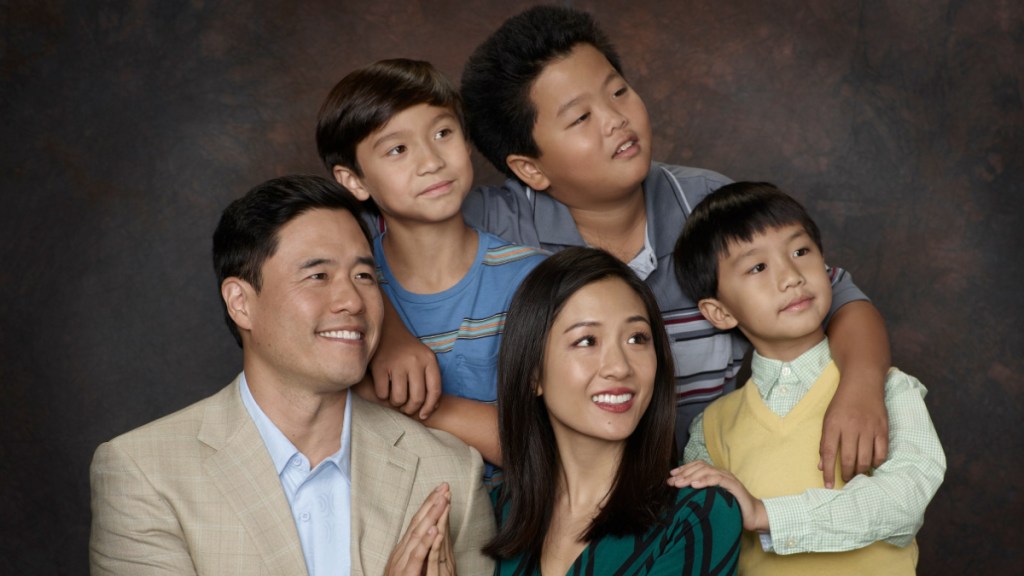 Six seasons (2015 – 2020)
Since the cruel early cancellation of her show Don't Trust the B**** in Apt. 23 (Krysten Ritter's funniest performance to date) it's pretty much mandatory to watch anything Nahnatchka Khan makes. Fresh Off the Boat was her follow-up comedy for ABC, based on the early life of celebrity chef Eddie Huang as his family moved from Washington DC to Orlando. It's set in the 90s and concluded last year after six seasons. The cast is great, in particular Randall Park (WandaVision, Always Be My Maybe) and Constance Wu (Crazy Rich Asians) as young Eddie's Taiwanese immigrant parents, each of whom has very different mileage on adjusting to life in the US.
The Mindy Project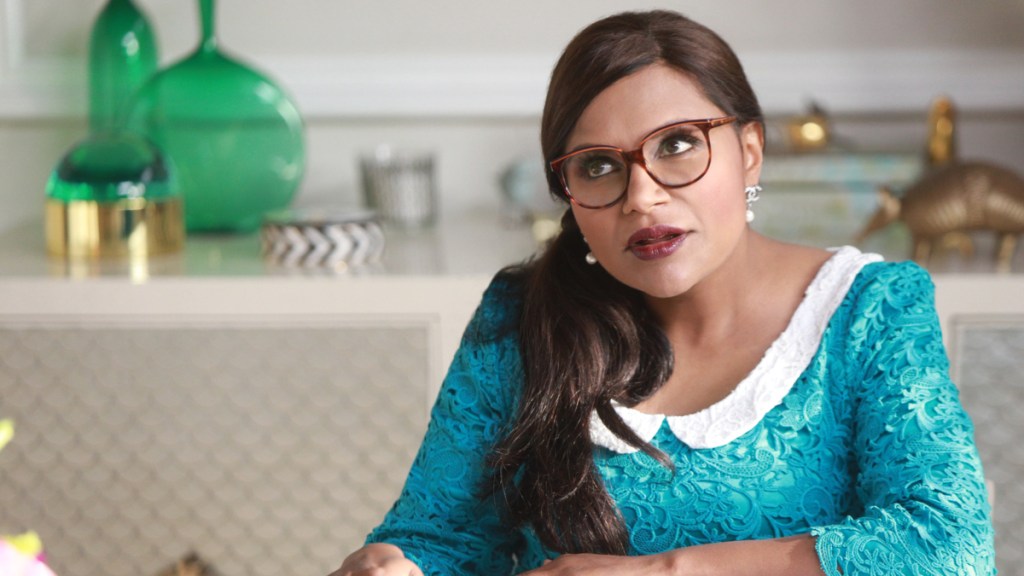 Six seasons (2012 – 2017)
This romantic comedy was Mindy Kaling's post-The Office project – the story of self-absorbed, pop-culture obsessed, lovable OB/GYN Dr Mindy Lahiri (Kaling) and her search for love in Manhattan. After some cast changes in its first season, it really found its feet and settled into a sharp workplace comedy with a great ensemble. It survived a post-season three cancellation by FOX thanks to being picked up by Hulu for a further three seasons, and ended in 2017. US comedy fans can enjoy playing actor bingo too, thanks to appearances from many of Kaling's The Office co-stars, including writer-producer B.J. Novak, Ellie Kemper, Ed Helms and more.
Crazy Ex-Girlfriend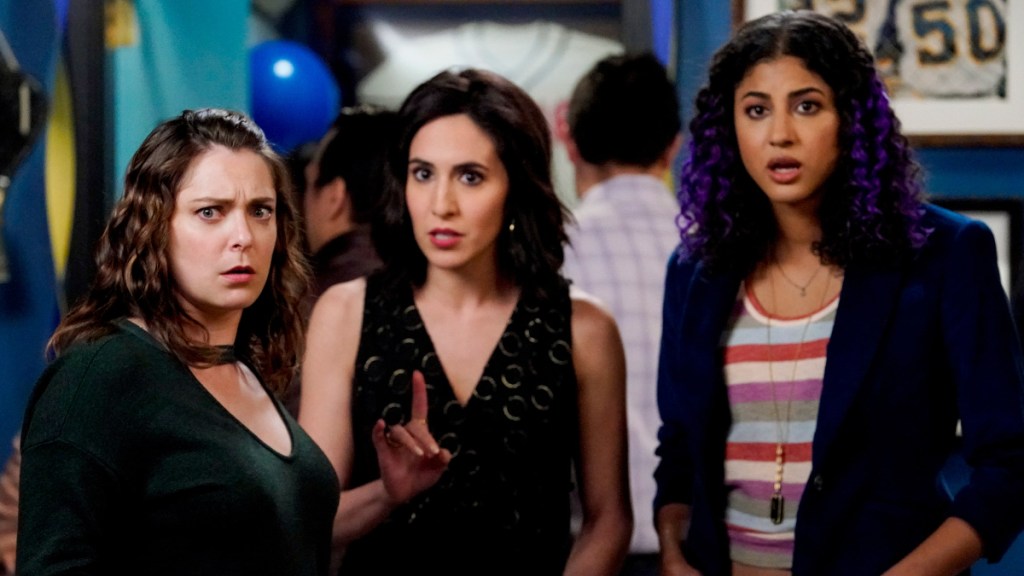 Four seasons (2015 – 2019)
Rachel Bloom and Aline Brosh McKenna's comedy-musical series is inventive, boundary-breaking and packed to the rafters with talent. Like a few of the shows in this list, it's distinctly adult in theme and not a high school comedy but still shares the wit, high-key colour and bold approach to life's harder moments as Never Have I Ever. It's the story of high-flying NYC lawyer Rebecca Bunch, who gives up everything to move to a backwater Californian town to pursue her summer camp first love Josh (Vincent Rodriguez III). Rebecca's love of musical theatre bleeds into the show, turning it into a mental health musical complete with funny, original, sharply written song-and-dance routines.
Popular
Two seasons (1999 – 2001)
The debut series from super-producer Ryan Murphy (American Horror Story, Pose, Glee, Nip/Tuck) co-created by Gina Matthews, Popular is the story of Brooke and Sam, two high school sophomores from opposite ends of the popularity spectrum who are forced together when their single parents become a couple. It ran for two seasons on The WB before being cancelled, and has since attracted a cult following for Murphy's characteristically sharp blend of comedy, romance and serious themes. It landed in the 90s, so yes, the teens are played by 25 year olds, the unpopular nerd (Carly Pope) has model good looks, it's not exactly diverse (though there is LGBTQ representation) but it's seminal in Never Have I Ever's genre.
Sex Education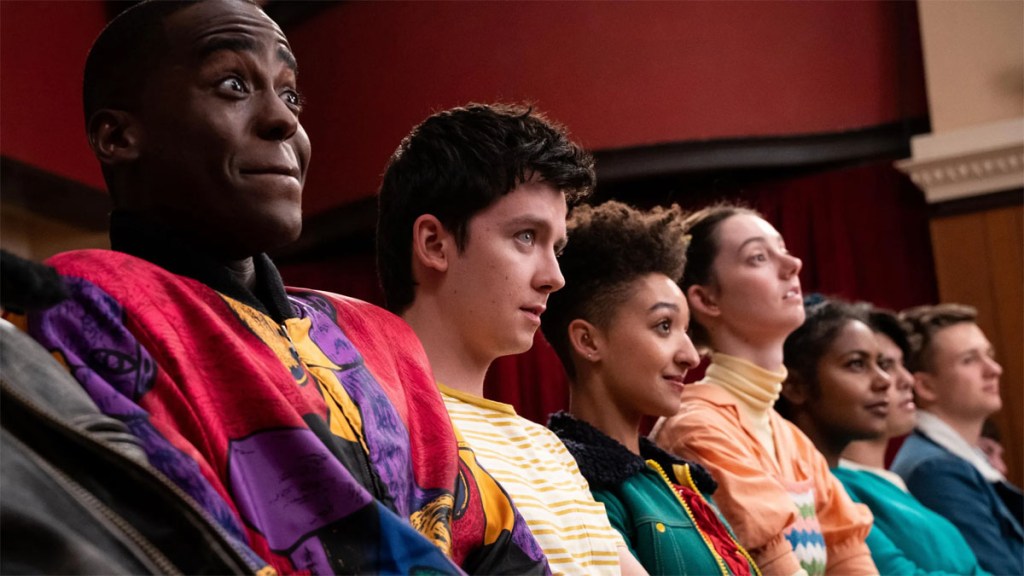 Three seasons so far (2019 – )
Laurie Nunn's charming British comedy-drama is a frank and funny look at sexual hang-ups and teen relationships. It has a great ensemble cast led by Otis (Asa Butterfield), a shy teen embarrassed by his sex therapist mother's forthright attitude to all things physical. When Otis teams up with 'bad girl' Maeve to offer anonymised sex therapy to their schoolmates, he discovers that he's not the only one with issues. It's a bright and funny high school series with characters to invest in, a stand-out performance by Ncuti Gatwa as Eric, and oh, the sex therapist mother is played by Gillian Anderson. Season three arrives on Netflix this September.
Freaks & Geeks
One season (1999 – 2000)
A must-see high school comedy. Paul Feig and Judd Apatow's 1980s-set series is most discussed these days for the outstanding cast of unknowns gathered by Allison Jones (who went on to cast The Office, Parks and Recreation, The Good Place, Arrested Development, Veep and basically every US sitcom worth watching). The prematurely cancelled NBC series kick-started the careers of Seth Rogen, Jason Segel, Martin Starr, Busy Phillips, Linda Cardellini, James Franco and more. It's the story of Cardellini's Lindsay Weir, a maths star who crosses social boundaries from 'geek' to slacker 'freak' after the death of her grandmother. It's brilliant, weird, funny and painful, and a total antidote to mainstream, slick, rich-kid Beverley Hills 90210 high school glamour, so of course, hardly anybody watched it, the network didn't get it, and it was cancelled well before its time.
The Wonder Years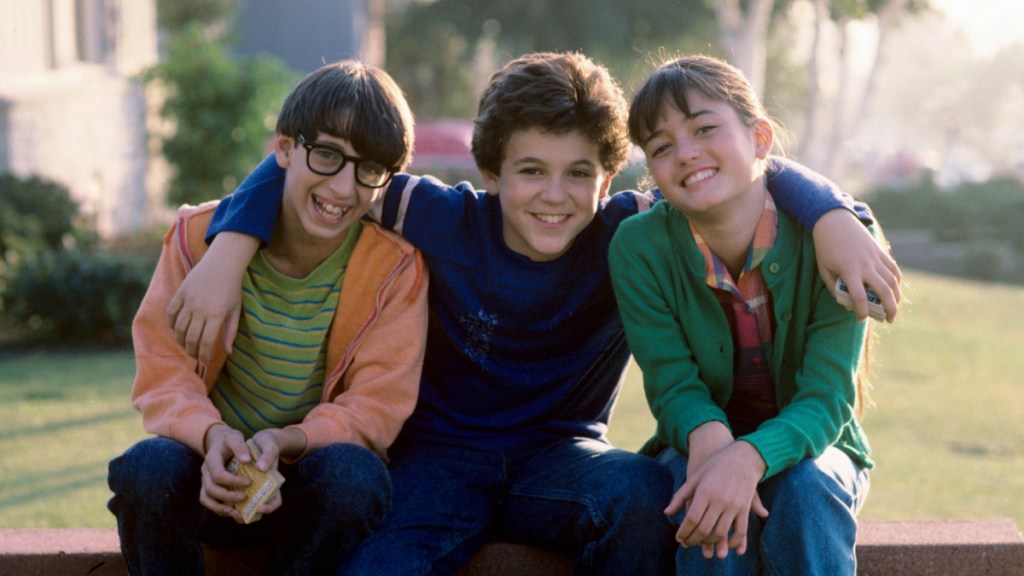 Six seasons (1988 – 1993)
Husband and wife team Neal Marlens and Carol Black created a classic in The Wonder Years, a coming-of-age story about Kevin, the youngest son of a suburban American family, growing up against the backdrop of the Vietnam War and the hippie movement. It's fuelled by nostalgia and the sweet romantic yearnings of its young lead Kevin Arnold (played by Fred Savage, now a top comedy director-producer), but doesn't gloss over life's more serious moments. Never Have I Ever's choice of John McEnroe as its wry adult narrator may well have been influenced by Daniel Stern's role on The Wonder Years. It's available to stream now on Hulu in the US.
Skins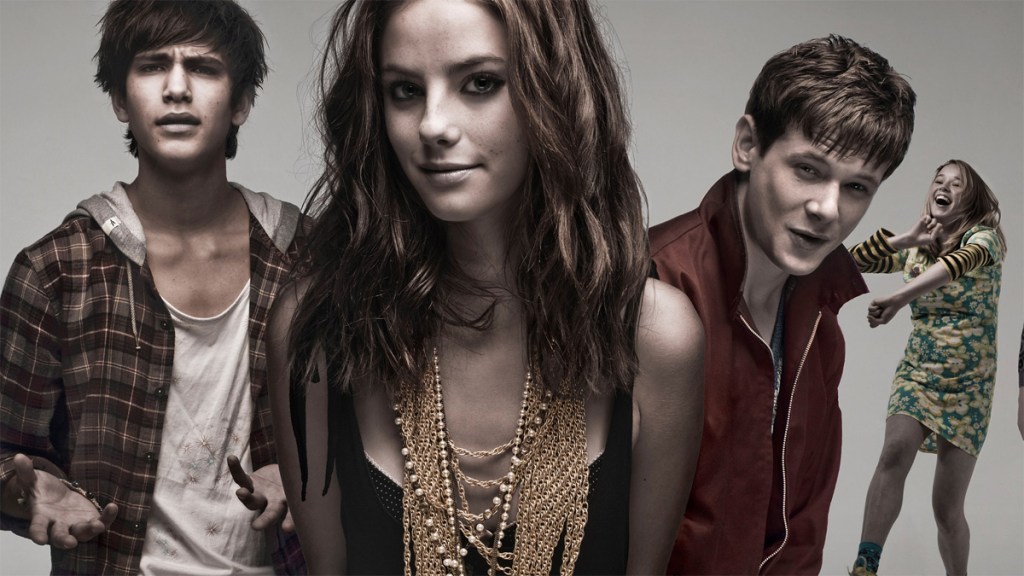 7 seasons (2007 – 2013)
Not strictly a comedy, but with plenty of comedic moments, Skins has to be in the running for the best British teen show ever made. The first four seasons especially are filled with great writing, strong performances, and characters whose lives – and complicated love lives – are easy to invest in. It followed the students of a Bristol sixth form college through their A levels, giving it the chance to renew the cast every two years as the previous generation graduated/dropped out/ran away/were murdered. Like Freaks and Geeks, its cast of young actors, from Nicholas Hoult to Dev Patel, Joe Dempsie, Daniel Kaluuya, Jack O'Connell, Kaya Scodelario and more went on to very big things. Much more layered and satisfyingly weird than the reputation it was given by the British press as an orgy of sex, drugs and bad behaviour, it's another must-watch.
Daria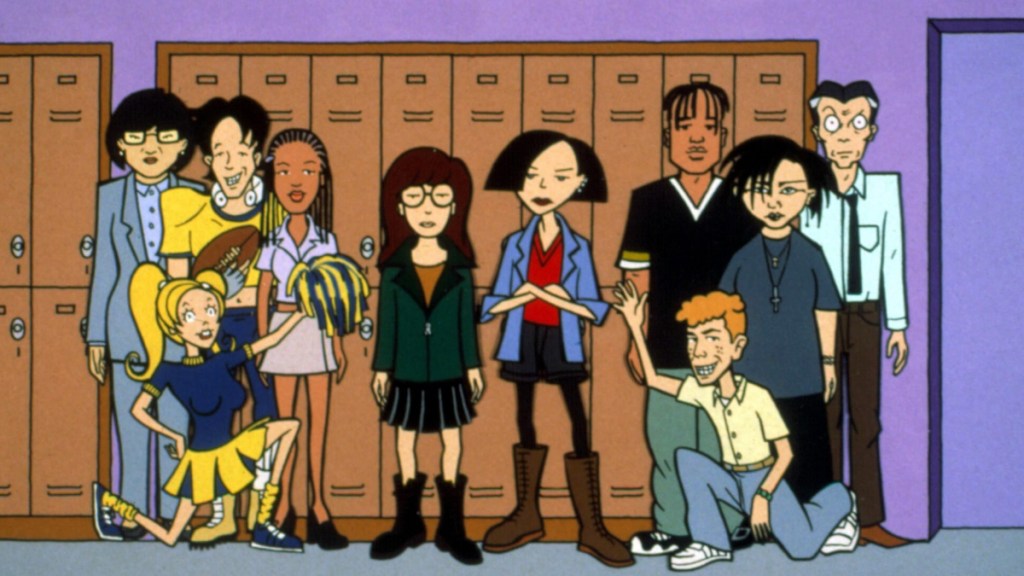 Five seasons (1997 – 2001)
Developed from a character created for Mike Judge's animated MTV comedy Beavis & Butthead, Daria Morgendorffer is a cynical 16-year-old with a gimlet eyed take on suburban US life. She's a 90s icon with a monotone voice (provided by Tracy Grandstaff) and a wry take on her schoolmates, parents, and cheerleader sister Quinn. Her witty, dry animated series aired for five seasons plus feature-length TV specials, and is soon to have a new spin-off coming to Comedy Central, focused on Daria's classmate Jodie's travails in the modern workplace.
My So-Called Life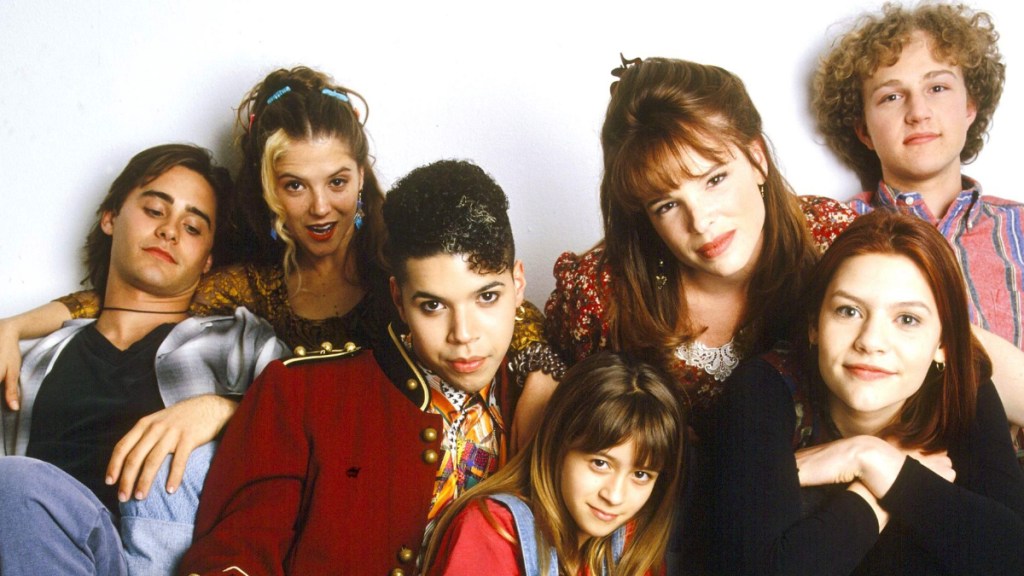 One season (1994 – 1995)
When My So-Called Life aired its only season on ABC in 1994, it was the anti-teen TV show. Muted and realist rather than upbeat and aspirational, it cast actual teenagers, not models, and ventured into areas avoided by many other teen dramas of the time: alcoholism, sex, domestic abuse… Its first-person narration from Claire Danes' lead character gave it a distinctive voice, and influenced many shows to follow. It's worth saying that My So-Called Life is a drama, not a comedy, and paints teenage life with a totally different colour palette to bright, satirical Never Have I Ever. Acknowledging that, it's a cult favourite, and possible to trace a line from Devi's love triangle with nerdy academic Ben and hot, popular Paxton, and MSCL's Angela Chase's love triangle with nerdy academic Brian and hot, popular Jordan (would that line continue all the way back to Pretty in Pink? Probably).
Never Have I Ever season 2 is available to stream on Netflix now.