Features
Netflix's Hollywood Episode 2 – History, Easter Eggs, and Reference Guide
We continue our easter egg guide of Hollywood with the episode that introduces us to Anne May Wong.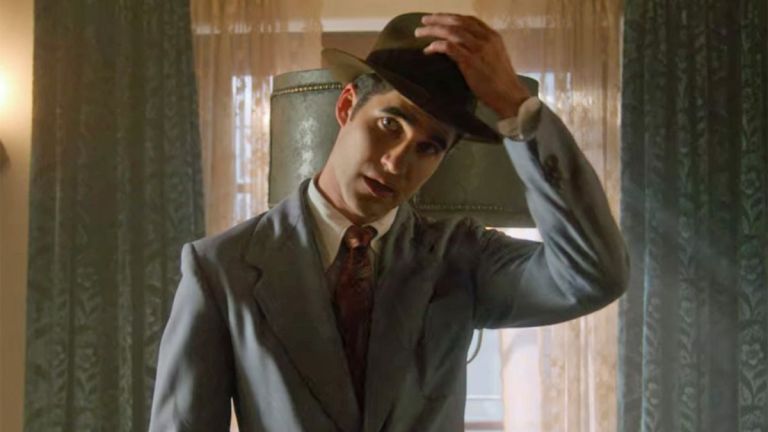 This episode includes Hollywood spoilers. You can find our easter egg guide for the first episode here.
Ah, the episode of Hollywood introduces us to Anna May Wong and the 1940s studio caste system. There's a lot to unpack in this hour, which may give you nightmares about how a studio cafeteria is apparently not that different from a high school… except, you know, with racism.
Hollywood Episode 2
-When Ernie bails Jack out of prison, Jack laments he cannot have a record. "Yeah you can," Ernie answers, "Ever heard of Frank Sinatra?" Ol' Blue Eyes was arrested in 1938 in New Jersey after being charged by an ex-girlfriend with "adultery and seduction." That is to say, he could be and was charged back then with promising marriage and then ghosting her the morning after.
-We then hear Johnny Mercer and Paul Eston's rendition of "Button Up Your Overcoat."
-Avis says the artwork she's bidding on was essentially stolen from her by Bugsy Siegel. Bugsy was one of the west coast's biggest gangsters coming out and essentially making Las Vegas what it is today. He got whacked after overspending on the Flamingo Hotel and is said to be the basis for Moe Greene in The Godfather.
-Avis' husband Ace (Rob Reiner) is revealed to be in Europe trying to woo Gene Tierney back. Gene was the effervescent stars of films like The Ghost and Mrs. Muir (1947), definitive femme fatale noir Laura (1944), and Dragonwyck (1946). She had the most diehard fans, like the one who came to the Hollywood Canteen even though she had Rubella. She gave it to Gene, causing her to have a miscarriage. The pain of that scarred the rest of her life.
-We are introduced to Anna May Wong in this episode, who really was an early star of the silent era, a first for an Asian American actress. However, she almost never got leading roles, particularly after sound came along. Instead she played exotic supporting roles, often conforming to the "Dragon Lady" stereotype. She indeed was crushed after she lost the lead role of a Chinese character in The Good Earth to a white actress. She drifted away from Hollywood during the war, becoming an advocate for supporting China against Japan's occupation.
-Irving Thalberg did produce The Good Earth and was actually an overall net force for good in the industry despite his obvious prejudices and failings. He is arguably responsible for helping push Universal Pictures to make the first American horror movies, invented the "sneak preview" screening, produced MGM's first all-black musical, and created MGM's star-grooming apparatus that turned the likes of Joan Crawford, Clark Gable, and many, many more into household names. No wonder the "boy wonder" died at the age of 37 from pneumonia and overworking.
-Dick (Joe Mantello) claims he discovered Vivien Leigh and Kincaid (Holland Taylor) claims she discovered Lana Turner. It's interesting since we meet Lana's real star-maker in this episode, and it's Henry Willson (Jim Parsons). Vivien Leigh, meanwhile, arguably made herself a star by having David O. Selznick's brother walk her up to the Gone with the Wind producer while he was doing an early shooting of the burning of Atlanta sequence.
-We hear Benny Goodman and His Orchestra's "Sing, Sing, Sing" as we enter the Ace cafeteria.
-Camille Washington (Laura Harrier) appears to be (very loosely) based on Lena Horne. Lena was the actual first glamorous black movie star, signed by MGM to actually go through the star-training process (including mastering that Mid-Atlantic accent) after already having success as a nightclub singer in New York. She also dated in the early '40s the white director Orson Welles while he was making Citizen Kane (hence maybe Camille's relationship with Raymond?), and was friends with an arguable rival, Ava Gardner. She lost the role of a biracial woman she desperately wanted in Show Boat (1952) to Ava, though she helped Ava practice for the role one drink at a time afterward. She also was frustrated with MGM who almost never cast her in anything but supporting roles, though as more singers than maids.
-Camille is asked by a director to think about what Hattie McDaniel would do. Hattie infamously played Mammy in Gone with the Wind (1939). More on her later.
-Henry Willson really was a major Hollywood talent agent who named Rock Hudson and turned him into the star he became. Henry recruited clients at gay bars (or liked to say he would in return for favors), and notoriously used the casting couch. Not all of his clients were gay, however, though rumors suggest he didn't necessarily distinguish when demanding favors. Other famous clients include Tab Hunter (who he named) and Robert Wagner.
-While Rock really did have his teeth capped, he did not deepen his voice by "screaming like a banshee" the next time he had a cold. Willson made him undergo throat surgery.
-Other songs that appeared in this episode include Dinah Shore's "You'd Be So Nice to Know Come Home," "Just One of Those Things" by Coleman Hawkins, and "Let's Misbehave" by Irving Aarson.