Features
Netflix's Hollywood: The Real History of Peg Entwistle and Opening Credits Explained
This article contains spoilers for the first five episodes of Hollywood. You can read the spoiler-free review here.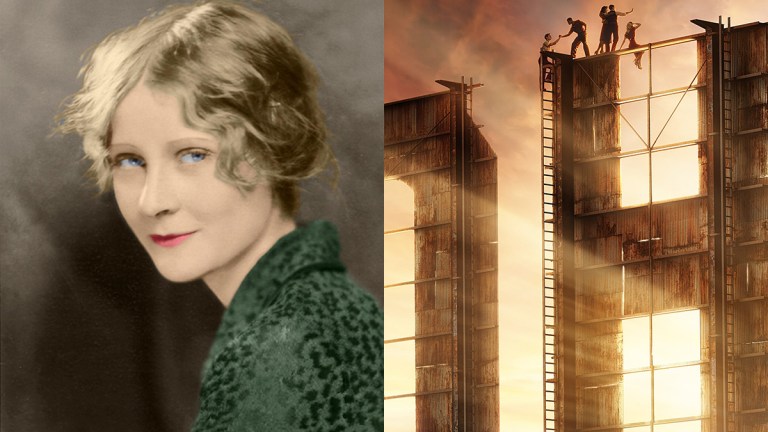 This article contains some Hollywood spoilers.
The story of Peg Entwistle, and the voluminous newspaper copies her death sold, is at the heart of Hollywood's first season. The Ryan Murphy produced Netflix series even makes the tragic iconography associated with her suicide the basis of its opening credits—but with a twist. Whereas the real Peg Entwistle flung herself from the top of the H of the "Hollywoodland" sign in 1932—back before it had simply become "Hollywood"—the entire younger half of the Hollywood ensemble cast scales up the sign together as a team in the new TV show's credits.
The meaning of the opening is clear. For even in real life, the Tinseltown press of the '30s almost immediately turned Entwistle's fate into a cautionary tale about the dangers of pursuing Hollywood aspirations. But as signaled by the title sequence, Murphy's Hollywood plans to flip those grim realities on their head. Here is a group of young, diverse, and attractive Hollywood dreamers who through inclusivity and cooperation will reach the Hollywood heights Entwistle dreamed of. We begin by seeing actor Jack (David Corenswet) throwing a helpful hand to Raymond (Darren Criss), and rather than fighting each other as rivals, starlets Camille (Lauren Harrier) and Claire (Samara Weaving) work side by side to make both of their dreams a reality. Together, they see the sunnier dreamland tomorrow Entwistle couldn't by marveling at the Los Angeles they've conquered.
Within the series' actual narrative, they even literalize that metaphor when the filmmakers-within-a-TV-show change their Peg Entwistle biopic, Peg, to a movie named Meg, wherein a young woman of color chooses not to commit suicide while standing atop the "H" sign, but to live and continue striving for the Hollywood dream.
The irony of all this is that in addition to the real Peg Entwistle being, well, Peg, she also had almost nothing to do with the Hollywood daydreaming thirst so romanticized by Murphy's show. In fact, despite even growing up in the then burgeoning Los Angeles movie colony, the real Entwistle was not a child born to American movie star fantasies. Rather she was an English child of the stage who had achieved Broadway notoriety even before her all-too-soon death at the age of 24.
Born Millicent Lilian Entwistle in 1908 Wales, "Peg" was the daughter of English parents Robert Symes Entwistle and Emily Entwistle. While it is believed her mother died young, father Robert was a profound influence on his daughter, particularly due to his profession as a theater actor. It was with Robert she immigrated to the United States by 1913, whereupon she saw her father become a member of the New York City theater community. Robert did eventually retire, becoming a specialty Manhattan retailer of gift boxes.
Still, his daughter inherited a love for theater, especially after seeing the 1921 Broadway production of Peg o' My Heart. Forever after friends, family, and eventually journalistic moralizers would know her simply as Peg. Yet after the tragic deaths of her stepmother and father, the latter killed in a hit-and-run, she wound up living with her Uncle Charles in Ohio and then Los Angeles' nascent Hollywood community. Peg was 15 at the time.
But even surrounded by the then booming community of moviemakers (who by 1923 had fled the east coast and the reach of Thomas Edison's lawyers en masse) Entswistle was determined to become a Broadway star back east. Biographers even suggest she was home practicing lines when workmen drove the pieces of what became the "Hollywoodland" sign past her Beachwood Canyons home.
Before she was 18, Entwistle had returned to Manhattan to train with the New York Theatre Guild and then to Boston where she starred in a 1925 production of Henrik Ibsen's The Wild Duck. Her performance as Hedvig won rapturous reviews from critics and audiences alike, including a 16-year-old Bette Davis, who while in the audience was inspired to become an actress based on Entwistle's performance. What followed was a prominent career as a popular Broadway ingénue, including when The New York Times dubbed her in 1927 as the stage's 'It Girl,' a phrase created that same year by the press surrounding Clara Bow, the new silver screen ingénue who made waves by starring in It.
Also that same year, Entwistle met and eloped with the older actor Robert Keith. In some ways, one might argue that this marriage is what put her on the path to ending up on the "Hollywoodland" sign, not her breakout role getting cut as alluded to in Hollywood. While the marriage began happily enough, Entwistle soon learned that Keith had hidden he was divorced and was already a father. In addition to omitting his previous marital status, Keith also withheld the fact that he was a drinker—it might be for this reason that during the early years of their marriage, Peg quietly had an abortion.
In 1929, both Entwistle and Keith starred as a husband-and-wife team in a repertory troupe's national tour organized by the New York Theatre Guild. They then made local headlines throughout the country due to Keith's bad behavior, which included being arrested for not paying alimony from his first marriage, Peg bailing him out after groveling for money from their guild, Keith then being arrested for drunk driving and skipping his court date, and finally for Keith being fired. Before the end of the tour, Entwistle asked for a divorce. Even so, the damage was done, with Peg not having her contract renewed by the repertory and being effectively blacklisted by the guild.
Even then, however, Entwistle continued to pursue and achieve some theatrical success. She starred again on Broadway in J.M. Barrie's Alice Sit-by-the-Fire (which was closed after a week due to co-star Laurette Taylor's drinking problem), and at the height of the Great Depression in 1932, she returned to her uncle's Hollywood home to star in Romney Brent's The Mad Hopes. She co-starred in that play with Billy Burke and Humphrey Bogart, the latter of whom she began an affair with. The production turned out to be so successful that in the same year it found theater space in New York and was moving to Broadway.
But in what was perhaps the true fatal mistake of her career, rather than following the play back to New York, Entwistle decided to give this Hollywood thing a try after maverick producer David O. Selznick wooed her to sign at RKO Pictures after reading her triumphant notices in The Mad Hopes. Selznick, the future Gone with the Wind producer, then cast Entwistle opposite Irene Dunne and Myrna Loy in the little remembered 1932 film, Thirteen Women. Starring as one of the eponymous 13 women, Entwistle was promised a significant supporting role as the character of Hazel Clay Cousins. Created in a seedy Tiffany Thayer novel, the literary Hazel was scandalous in print due to being a school girl caught in a lurid lesbian relationship with a classmate, leading to Hazel eventually committing suicide.
While suicide and explicit lesbianism was not in Selznick's movie, he did attempt to skirt the then burgeoning Hayes Code by heavily implying Hazel partook in a lesbian relationship, leading to her murdering her husband. Unfortunately, Thirteen Women came out in the nebulous period between the Hayes Office creating the code and censor Joseph Breen bringing real power to bear in enforcing its censorship. Rather than being one of the last "Pre-Code" films, Thirteen Women became one of the earliest victims of being getting cut and reduced in length once the studio capitulated. And instead of having a role with 16 minutes of screen time, Entwistle appeared for just four minutes of Thirteen Women's scant 59-minute running time.
The reduction of her role was devastating, but the seeming real nail in the coffin for Peg was RKO letting her know there were no plans to extend her contract, a revelation that made the local trades. The pain of this was not the realization she wouldn't be a Hollywood star; it was Entwistle realizing she burned bridges with her true love, New York theater, in order to pursue the seemingly easier opportunity of being an RKO player. By breaking her contract with the Broadway-bound The Mad Hopes to sign with Selznick, Entwistle made herself a pariah among Broadway theater producers who'd already begun closing doors on her due to the scandalous attention her marriage to Robert Keith attracted several years earlier. Worse still, her roommate back in New York wrote her they'd been evicted with their furniture and possessions confiscated for not paying back rent.
Learning she was essentially blacklisted from Broadway, it was less than two weeks after losing the RKO contract when she climbed a ladder behind the H of the "Hollywood" sign and then threw herself off it—the coroner believes she did not die right away. It was several days though before a hiker found her body and called the police. In her purse, there was a note that read, "I am afraid, I am a coward. I am sorry for everything. If I had done this a long time ago, it would have saved a lot of pain. P.E." If she'd waited a few more days, she would've lived to receive the letter from RKO announcing they discovered a new part for her.
Peg Entwistle's death is obviously a tragedy. A victim of the greater entertainment industry, if likely her own neuroses after losing both parents at an early age and enduring a failed first marriage and professional setbacks, her fate is a mournful one. But so is the way the Hollywood press mythologized and twisted it into the story of another yokel kid with dreams in her eyes who was then abused by the studio system. Karina Longworth's podcast, You Must Remember This, even notes her with the ominous distinction of being the first tragic "dead Hollywood blonde." An archetype played up in the media around many other actresses and starlets who died too young, including Marilyn Monroe, Jean Harlow, Jayne Mansfield, and Sharon Tate.
Ironically, even with its rose-colored revisionist lens, Netflix's Hollywood is not much different, relying on the myth of Peg Entwistle and then literally erasing her from her own story. Maybe the town really doesn't change.