Features
Netflix's Hollywood Episode 1 – History, Easter Eggs, and Reference Guide
Between all the fill ups at the gas station, we try to catch the easter eggs falling out of the first episode of Netflix and Ryan Murphy's Hollywood!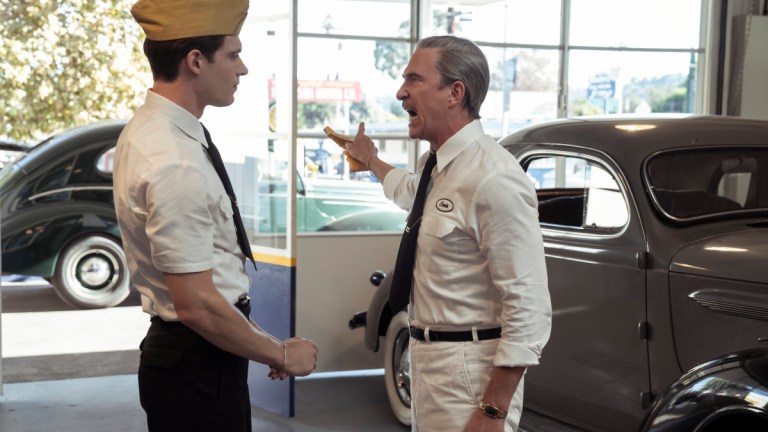 This article contains major spoilers for Netflix's Hollywood. Go here to find our easter egg coverage of all the episodes.
Ryan Murphy's new Netflix series is here. And as Hollywood begins tripping the light fantastic on your streaming service, we're here to provide you with some texture, color, and insight on all the little easter eggs about the Dreamland that was. We've already gone further in-depth here with regard to the real historical players bouncing around Murphy and co-creator Ian Brennan's fantasy, but here we begin a nice overview of all the little nods (and perhaps come-hither stares that accompany their winks) in the show. Go here to find all our coverage, including more episodes' easter eggs.
Hollywood Episode 1
-Ryan Murphy begins his Hollywood show where else but at the movies! We meet David Corenswet's Jack Castello as he watches a newsreel in awe. It tells him to go west, young man, and find his start in Hollywood's boomtown! While the actual version we see is fictional, it is based on the real News of the Day newsreel, produced by The Hearst Corporation.
-The Ace Pictures gate Jack sees and dreams of standing in front of is based on the famed Paramount Pictures walk-in gate where extras were really screened and selected every morning.
-Two of the movies Jack hears about casting extras are Beyond Glory (1948) and The Emperor's Waltz (1948). Neither are exactly remembered as classics but the former is John Farrow's star vehicle for Alan Ladd and Donna Reed, with Ladd as a guilt-ridden World War II vet who faces a possible court martial for the death of his CO, and Reed as the CO's widow whom he falls in love with. The latter is Billy Wilder, of all people, taking a stab at musicals in a film starring Bing Crosby and Joan Fontaine. It's about an American salesman trying his song and dance in Emperor Franz Joseph's court before World War I.
-Castello tells the casting department that he fought in the Battle of Anzio in Italy during the war. This may suggest he's loosely based in part on Audie Murphy, who served at Anzio before becoming a movie star. But Murphy never had to pimp himself as he also became a war hero after receiving the Medal of Honor by single-handedly holding off a German company in France.
-Gerald Wilson's "You Better Change Your Way of Lovin'" is hauntingly playing as David sulks at a bar and becomes an easy mark for Ernie (Dylan McDermott).
-Ernie recruits Jack to be one of his tricks at a gas station called the "Golden Tip." But really it and its discreet Dreamland operation are based on the claims made by Scotty Bowers, who operated a prostitution ring that serviced men and women alike at a gas station on the corner of Hollywood Blvd. and Van Ness. While I'm a bit skeptical of his claims of having slept with pretty much every major male and female star of the 1940s, he was likely intimate with more than a few! Ernie and Jack seem to be both based on him, as the real Scotty only started the operation after getting back from serving in the Pacific during the war. An Illinois boy, he tried to support his wife and young daughter one "tip" at a time.
-As Jack realizes he needs the job, Perry Como's "Catch a Falling Star" is playing.
-And after agreeing to take Patti LuPone's Avis to Dreamland, we hear Peggy Lee's "It's a Good Day."
-Avis takes Jack to the Beverly Hills Hotel. This swank luxury spot was the site of plenty of Golden Age Hollywood shenanigans. Besides Scotty Bowers claiming he had a bungalow he could use there, it's where Spencer Tracy liked to go on weekends he fell off the wagon and into self-loathing. He'd get liquored up and destroy every piece of furniture in the room over a few days. Howard Hughes also lived in a bungalow on-and-off in the 1940s, while his wife (and mistresses) lived in other bungalows. Elizabeth Taylor had more than one honeymoon here, and Rex Harrison liked to sunbathe in the nude. Why there's probably a whole Ryan Murphy TV show just waiting to be made about this place!
-"Embraceable You" by the Pied Pipers play as Avis and Jack get to know each other.
-Ernie is right, Cole Porter is a national treasure, and Jack should be proud to thank him for his artistic service with a little service of his own. The real Porter is alleged by Scotty Bowers to take gigolos by the dozen, and in real life was the brilliant composer partially responsible for evolving vaudeville into modern Broadway shows. Some of his work includes Anything Goes, Kiss Me Kate, and The Gay Divorcee.
-"The Gold Diggers Song (We're in the Money)" plays on when Jack sees Cole.
-Billy Kyle's "Oh Baby, You Knock Me Out" plays as Jack enters a porn theater and meets Archie Coleman (Jeremy Pope).
-Archie has optioned off a screenplay about Peg Entwistle, the woman who committed suicide in 1932 by jumping off the "H" in the "Hollywoodland" sign. As we detail her real story here, she actually was not like the Hollywood aspirants in this series and actually an already successful Broadway actress and divorcee whose suicide was a lot more complicated.
-When Archie meets Rock Hudson, Artie Shaw's "Begin the Beguine" is playing. Incidentally, this song was written by Cole Porter.
-Rock Hudson was, indeed, not Raymond Fitzgerald's original name (nor was Fitzgerald). He served in the Pacific as part of the U.S. Navy during the war and came to Los Angeles first to find his biological father, who stepped out on his family when "Rock" was growing up.
-Scotty Bowers also claimed not only to have slept with Rock Hudson but that Rock was even a trick for him, sleeping with Cary Grant for $20, before getting famous.
-Archie somewhat unfairly dismisses the work of Oscar Micheaux and Langston Hughes, two African American writers who worked in Hollywood, with Micheaux having a fairly lengthy career in the silent era, as targeting only black audiences. Archie himself may be a mixture of Hughes, who is speculated by some to be gay, and James Baldwin, a black American author who definitely was gay and tried to break into Hollywood in 1968 by adapting The Autobiography of Malcolm X. Baldwin became one of the civil rights movement's chief critics of Hollywood, writing a book-length essay about the danger of how Hollywood depicts blackness with 1976's The Devil Finds Work.
-Eddie Heywood's "Blue Lou" plays near the end of the episode.