Features
Once Upon a Time in Hollywood Easter Eggs and Reference Guide
We try to list and explain as many easter eggs and 1960s pop culture references as we can after viewing Once Upon a Time in Hollywood twice.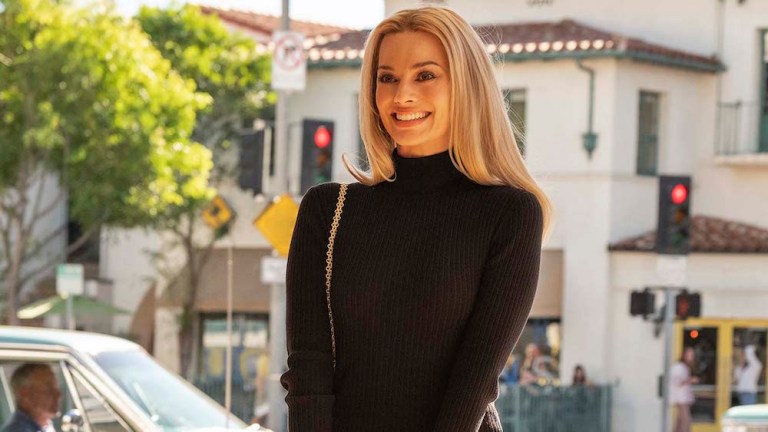 This article contains major Once Upon a Time in Hollywood spoilers.
In many ways, Once Upon a Time in Hollywood feels like the movie Quentin Tarantino has been building to over the last decade. A picture that takes his usual giddy historical revisionism trick and adds a wistful layer of melancholy and elegiac fear about the setting of the sun, this is a movie obsessed with the past and future, including Tarantino's early personal history (he was six-years-old in the summer of '69) and the tomorrow that is yet to come for his career.
Still, cast all that aside, and what remains is a heartfelt love letter to 1960s Hollywood and all the groovy things we've lost from that time of flower power, straight hair, and every exec in LA suddenly wearing a leather jacket and growing a moustache. So below we have compiled just a sampling of the references and easter eggs we caught on now two viewings of Once Upon a Time in Hollywood. We are sure there is more that we missed and are happy to take any suggestions for nods we overlooked. So without further ado, ramblers, let's get rambling.
Once Upon a Time in Hollywood References
-The film opens on Rick Dalton (Leonardo DiCaprio) and Cliff Booth (Brad Pitt) doing an interview for a late 1950s television series named Bounty Law. The series itself is a fictitious creation, however it is obviously based on a variety of 1950s and '60s shows. Most famous of such would be Gunsmoke, which premiered in 1955, but given the dynamic of Rick playing a lawman who goes town to town, it better resembles Maverick, which ran from 1957 to 1962 and focused on two gamblers who got in scrapes in different towns each week. It also made a star of James Garner, who'd go on to appear in The Great Escape (1963), but more on that later.
-There is also a strongly likelihood that Bounty Law is based on Wanted: Dead or Alive, a 1958 TV series about a bounty hunter starring Steve McQueen. This seems apt given how much of Rick Dalton's career mirrors McQueen, from missing Great Escape to doing "Nebraska Jim" (more on that below). Thank you to commenter Cheryl Long Shultz bringing this series to our attention.
-On Bounty Law, we also see Michael Madsen, who is of course a mainstay of Quentin Tarantino movies after playing Mr. Blonde in Reservoir Dogs (1992) and Budd in Kill Bill (2003, '04).
-During the opening credits, we see Sharon Tate (Margot Robbie) getting her groove on during a Pan Am flight. While Pan Am was the premiere airline of 1960s America–much to Howard Hughes' chagrin, which Leonardo DiCaprio undoubtedly has thoughts about–one wonders if this is a wink to Robbie's own early TV work. Before becoming a movie star, she led ABC's short-lived Pan Am, a '60s-based slice of network nostalgia in 2011.
-When Rick meets Al Pacino's Marvin Schwarz, the latter compliments Rick on a film called, I believe, "14 Fists of McClusky." While such a title evokes The Guns of Navarone (1961) in my head, the snippet of movie we see is most decidedly inspired by Where Eagles Dare (1968), a British production that for 138 minutes was a glorified "Killin' Nazis" adventure starring Richard Burton and Clint Eastwood…
-Speaking of Eastwood, Marvin is trying to lure Rick into Spaghetti Westerns. As a struggling TV actor this would let him be the lead of a movie. Rick, however, resists the opportunity, clearly not learning the lessons of Eastwood. Clint went to Italy to star in Sergio Leone's A Fistful of Dollars (1964) when he was primarily an unhappy TV star on the Western Rawhide (1959-1965). It ultimately led to Eastwood being a movie star by the time he and Leone completed what became "The Dollars Trilogy." That role was originally offered to Charles Bronson, another TV actor who turned up his nose at the idea of doing an Italian Western. He would go on to gladly put on the white hat for Leone in 1968's Once Upon a Time in the West, which similarly reinvigorated The Magnificent Seven actor's career.
-Marvin jokes if Rick isn't careful he'll be playing the heavy who loses the fight of the week on The Man from U.N.C.L.E. soon enough. That was of course the spymania show that rode on 007's coattails from '64 to '68 (it is also responsible for Archer and Kingsman's obsession with spy agencies hiding in clothing stores/dry cleaners). He also laughs at Rick starring on Batman, the Adam West series that ran from 1966 to '69, but that ain't no joke. The best villains on that series have endured in pop culture 50 years on.
-The restaurant Marvin and Rick meet in is Musso & Frank Grill, a landmark icon from the Golden Age of Hollywood. It opened in 1919 under the name Francois before changing to Musso & Frank in 1923, which it still goes by to this day.
-On the drive back from the meeting, Cliff has his first of three run-ins with Pussycat (Margaret Qualley). The moment includes Simon & Garfunkel's "Mrs. Robinson," a song from the just budding "New Hollywood" that Rick and Cliff are so wary of. The songwriting pair created it for the film The Graduate (1967) in regards to an unhealthy relationship between a younger and older person. What a coincidence that it would play here, huh?
-Cielo Drive is of course the infamous street where… well, you know what happened.
-As they are pulling into Rick's driveway, the radio has an ad for Jack Smight's 1969 adaptation of The Illustrated Man, an eerie tale of a man whose tattoos come alive, each with a story of their own. It is based on a collection of sci-fi short stories written by Ray Bradbury.
-Rick's car is a Cadillac Coupe, the same model in fact that Vic Vega drives in Reservor Dogs (1992).
-After seeing Sharon Tate (Margot Robbie) and Roman Polanski (Rafal Zawierucha) arrive, Rick laments that the director of Rosemary's Baby (1968) lives next door. I would too, as Rosemary's Baby is one of the all-time great horror movies.
-Rick says he owns this expensive home on the advice of "Eddie O'Brien." I suspect this is meant to be Edmond O'Brien, the character actor who starred in The Hunchback of Notre Dame (1939), White Heat (1949), The Man Who Shot Liberty Valance (1961), and probably most notable for Tarantino, The Wild Bunch (1969). Before that later Western, he'd been doing a lot of TV in the '60s too.
-When Cliff leaves Rick, the first song on the radio as he drives off is "Summertime." And… I believe the Billy Stewart version from 1966.
-As Sharon and Roman drive in their jazzy convertible, Deep Purple's "Hush" is playing, which is just the goddamn best. It also memorably featured in the similarly themed Bad Times at the El Royale last year, where Chris Hemsworth as a pseudo-Charles Manson gets his freak on to this tune.
-The camera shot from behind of Tate and Polanski zipping along in their convertible with their hair blowing in the wind is quite reminiscent of a now infamous shot of Uma Thurman's Bride doing the same thing in Kill Bill Vol. 2. It was while shooting that sequence where Thurman's car went off the road.
-Sharon Tate's snakeskin trenchoat in this sequence is modeled after a real coat the real Sharon wore to the Rosemary's Baby premiere.
-They of course arrive at the Playboy Mansion for a swingin' '60s party. This is pretty impressive since the Playboy Mansion in Los Angeles was not purchased to be that until 1971.
-Hey look, there's Damian Lewis as Steve McQueen! Steve McQueen is of course among the five coolest actors who ever lived, famously appearing in Bullit (1968), The Cincinnati Kid (1965), and The Thomas Crown Affair (1968).
-Most important to this film is the fact Steve McQueen became a bonafide star in The Great Escape. He previously appeared in The Magnificent Seven (1960), but seeing him escape Nazis by riding his motorcycle right through their defenses? It's the stuff of movie magic legend that Rick Dalton missed out on (though we hilariously see Leo inserted into that movie later as a fantasy).
-We also see Mama Cass (Rachel Redleaf) and Michelle Phillips (Rebecca Rittenhouse), the Mamas of the Mamas and the Papas, dancing with Sharon Tate at the party. As an interesting side note, that should be taken with a huge grain of salt, Michael Caine claimed in his 1992 autobiography to have been introduced to Charles Manson at one of Mama Cass' parties where Sharon Tate and Jay Sebring were in attendance. Oh, the '60s!
-We are introduced to Jay Sebring (Emile Hirsch) in this scene. Steve McQueen then explains the complicated love triangle between Sebring, Sharon, and Roman. He likewise says she went to "England to shoot a movie." That film is the horror-comedy classic, The Fearless Vampire Killers (1967), Polanski's sendup of Hammer styled shenanigans. It starred Tate as a doomed victim prone to lots of baths, and Polanski as the would-be vampire hunter who falls under her spell. It then happened in real-life too, with the pair married in 1968 after principal photography on Rosemary's Baby.
-Among the posters in Rick Dalton's home, I recognized The Golden Stallion (1949), which was a Roy Rogers musical Western.
-As Cliff drives home at the end of the first night, he passes the Cinerama Dome, which was the state of the art theater that opened in 1963. It still stands as a first-run theater to the day.
-One of the movies Cliff drives by is Franco Zeferelli's Romeo and Juliet, which opened in October 1968 in the U.S. As still the best movie version of that tale, we could see it playing into February.
-Cliff lives right outside the Van Nuys Drive-In, which was a staple of Pacific drive-ins. The real one was demolished in the 1990s.
-Cliff's car is a blue Volkswagen Karmann Ghia convertible, the exact same vehicle that Uma Thurman drives in Kill Bill Vol. 2 (and again the one she had her accident in).
-The song Sharon Tate puts on the next morning is Paul Revere and the Raiders' "Good Thing." Apparently Jay Sebring isn't a fan, but we're on Sharon's side here. She also listens to their song, "Hungry" off the Spirit of '67 LP (which you see in the movie).
-Apparently the dog in Sharon and Roman's yard is named "Saperstein." This would be a devilish inclusion as Saperstein is the name of the Satan-worshipping doctor played by Ralph Bellamy in Rosemary's Baby. Thanks to miasma vortex for spotting that one!
-The show where Cliff further burned bridges in the industry is revealed to be The Green Hornet, as we soon see in a flashback.
-The flashback begins on a billboard of the Pearl Harbor drama Tora! Tora! Tora! which seems odd considering that the movie came out in 1970 and this flashback would be roughly in 1966.
-In the flashback, we see Cliff pick a fight with Bruce Lee (an amazingly pitch perfect Mike Moh), the greatest big screen martial artist of all-time.
-Bruce Lee favorably compares his talent to that of Cassius Clay, aka Muhammad Ali, and Clay's bouts with Sonny Liston. Ali infamously defeated Liston twice, once in '64 and again in '65 where he knocked Liston out in the first round. This would be fresh in Bruce's mind given that The Green Hornet shot between 1966 and '67.
-We also are introduced in this flashback to Kurt Russell's Randy, who is in charge of stunts. This is a knowing nod since he played Stuntman Mike in Tarantino's Death Proof (2007). Better still is it's revealed his wife is played by Zoe Bell, who was the stuntwoman that deservedly killed Mike in that movie.
-Both characters are wary of Cliff because he (probably) killed his wife. We get a glimpse of what happened in a flashback-within-a-flashback where Cliff comes out from below deck in a diving suit and with a harpoon gun. This seems like an homage to the climax of Thunderball (1965).
-Several readers have correctly pointed out that Cliff's moral ambiguity regarding his wife is based on how many to this day suspect Robert Wagner killed his wife, the movie star Natalie Wood. She tragically drowned on the night of Nov. 29, 1981 when she mysteriously vanished from their yacht after an evening of drinking (and allegedly a fight). Wagner and Christopher Walken were onboard the boat, however given they were all drinking, it is possible they did not hear her cries, although others on a nearby vessel did. Wagner was never charged with a crime and the coroner ruled Wood died of accidental drowning and hypothermia. This seems like an intentional inspiration given that Cliff's wife's name is also Natalie. Wood was one of the 1960s' great stars and appeared in a 1969 film that was very influential to Tarantino, Bob & Carol & Ted & Alice.
-Somewhere in this portion of the movie, DiCaprio mentions The Virginian, which is a TV series from 1962-1971 that Russell's Stuntman Mike claimed to work on in Death Proof.
-Kurt Russell derisively casts shade at director Andrew McLaglen, a journeyman director of film and TV, including some of John Wayne's worst movies like McLintock! (1963) and Chisum (1970). Thank you to commenter RR for bringing this to our attention.
-Charles Manson really did come to Sharon Tate's home one afternoon looking for Terry Melcher. He was turned away by a friend (although not Jay Sebring), but Sharon made eye contact with Charlie through the doorway as he smiled at his mistake. A devil's smile, to be sure.
-On the set of Lancer, a new TV show, we are introduced to an up-and-coming lead, James Stacy, played by Timothy Olyphant. This is a nice nod to modern TV cowboys, as Olyphant played Seth Bullock on HBO's cult Western series Deadwood. Also thank you for commenter happycathappycat for catching us up on Stacy and his tragic backstory.
-When Olyphant approaches DiCaprio, we see some amusingly jumpy editing where dialogue is spliced together mid-sentence and hats randomly appear on previously bald heads. This is obviously a loving smirk at how rudimentary the editing was on some of these shows.
-The director of the Lancer pilot is played by Nicholas Hammond who as a child starred in the most successful film of the 1960s, The Sound of Music (1965). But his inclusion likely is also a wink to the fact he portrayed one of television's earliest superheroes when he became the first man to play Peter Parker in live-action on The Amazing Spider-Man (1977-1979). This makes his chastisement of Rick being better than a "TV cowboy" interesting.
-The young actor who proves to be more serious minded than Rick is named Trudi Fraiser (Julia Butters). While I cannot be certain, I believe this is meant to be Jodie Foster, who became one of the stars of the next generation and was also not yet 10 when she appeared on Western TV shows like Gunsmoke between 1969 and 1972. In one of those episodes, she was named Marianne, coincidently enough.
-While Walt Disney was dead by '69, Trudi is obviously a fan. Jodie, meanwhile, would star in Walt Disney Pictures' Freaky Friday seven years after OUATIH is set.
-Much of the Western-within-a-movie called Lancer is filmed less like a TV pilot of that era and more like a latter day effort by John Ford or Howard Hawks. However, they still include a classic Sergio Leone shot when the camera stops over a gun belt, a la The Man With No Name.
-Rick Dalton's heavy on Lancer is introduced as having his leg up on a railing. This is an obvious nod to an iconic shot of Henry Fonda as Wyatt Earp in the John Ford classic, My Darling Clementine (1946).
-When Olyphant wins a duel during the Lancer shoot, he fires the pistol from behind his back. This is a trick Joe Don Baker does in the derivative Western, Guns of the Magnificent Seven (1969). Thank you to Twitter user @MikeBrownTW for the catch.
-During Cliff's drive through Los Angeles within this portion of the movie, we hear him first listen to Los Bravos' "Bring A Little Lovin'."
-The music changes though to Neil Diamond's "Brother Love's Traveling Salvation Show" once Cliff spots Pussycat for the third time. This awesome little ditty has ominous foreshadowing since it begins with the lyrics, "Hot August night, and the leaves hanging down and the grass on the ground smelling sweet." We are of course building toward the Sharon Tate murders in August 1969, and look there's a Manson Girl…
-Cliff drives Pussycat to Spahn Ranch. The ranch (which was eventually torn down for obvious reasons) was the site of countless movie and TV productions. One of the most famous is the Baby Boomer touchstone Zorro TV Show from Walt Disney. You can spot a photograph of Guy Williams in the mask on George Spahn's wall.
-When Cliff steps foot in the Spahn house, the TV has on Happening '69, the TV series with Paul Revere & The Raiders. They are performing "Mr. Sun, Mr. Moon." Thanks to Twitter user @Beatle_Bob for the catch.
-The Manson Girl most protective of George Spahn is Squeaky Fromme (Dakota Fanning). Fun fact: She didn't participate in the infamous murders, but on Charlie's orders she attempted to assassinate President Gerald Ford in 1975. She got life in prison for the effort. (She was released in '09.)
-Hey look, there's Bruce Dern as George Spahn! Dern of course starred in Tarantino's last movie The Hateful Eight.
-When Sharon goes into Westwood, we see a poster for Joanna, Mike Sarne's 1968 film about swinging London and a young art student (Geneviève Waïte) who has an affair with her teacher.
-Sharon enters into the Fox Village area. On the Fox Village Theater is playing Pendulum, which starred George Peppard, one of the Georges that Rick competed against to star in The Great Escape.
-Nearby is a recreation of Hamburger Hamlet and a restoration of Stan's Donuts from 1969.
-Sharon goes to a bookstore that has a replica of the Maltese Falcon from the 1941 noir classic of the same name. The bookstore itself feels like a riff on bookstores in another Humphrey Bogart masterpiece, The Big Sleep (1946), and I'm inclined to believe it since Tarantino is a huge Howard Hawks fan.
-The book Sharon picks up for her husband is Tess of the D'Urbervilles, which Roman Polanski adapted into the movie Tess in 1979. That film was in tribute to his lost wife Sharon. Thank you to the commenter Flora Cadenhead for bringing this to our attention.
-Sharon eventually goes into the Bruin Theatre to watch herself in The Wrecking Crew (1968).
-Inside the theater, Sharon walks by a poster for Sergio Corbucci's The Mercenary (1968). Corbucci is a name that will become important later. It should be noted that this particular movie though also starred Franco Nero, who also starred in Corbucci's Django (1966), which obviously helped inspire Django Unchained, in which Nero cameoed for Tarantino. Also thanks to Twitter user @TommyBoyThe3rd for bringing this to our attention!
-One of the trailers before her movie is the less-than-amazing biker gang movie, C.C. and Company. That film starred Joe Namath and Ann-Margret, and as it came out in 1970, it is hard to believe it had a trailer ready to go in February '69.
-Quentin Tarantino apparently really did do what Sharon did in this scene: While on a date, he asked the Bruin Theatre to let him in for free to a screening of a movie he wrote the screenplay for, True Romance (1993). The theater manager didn't believe him until fans of Reservoir Dogs came up and asked for his autograph while they negotiated the free tickets.
-Sharon Tate's outfit in this scene, with the black turtleneck sweater, is based on her costume in Mad Eye of the Devil (1967).
-That is the real-life Sharon Tate up on the screen that Margot Robbie is watching. Weird, right?
-Tate was a real-life friend of Bruce Lee (scroll down for more), and he did choreograph Tate's limited fighting in The Wrecking Crew under the job title of "Karate Advisor."
-While it is cut from the final film, there was a scene of Sharon Tate in a bikini in the movie (seen in the trailer), which is modeled after the real-life beachwear Tate wore at the Cannes Film Festival.
-As everyone goes home for a sleepy Sunday evening, we get a wistful version of the Mama and the Papa's "California Dreamin'," which is apt given that they were the pioneers of late '60s SoCal jamming. This is also a story about everyone, even the Manson Family, dreaming about California as a paradise. But it turns out to be anything but that for all of them.
-During this sequence, James Stacy starts his motorcycle, which only adds to the melancholy, because in 1973 he was on that same motorcyle when a drunk driver slammed into him. His girlfriend Claire Cox, who was riding on his back, was killed in the collision while Stacy lost an arm and a leg.
-James Stacy's ex-wife, who would help him recover from his injury and raise money for his medical expenses, is Connie Stevens. And wouldn't you know it, Connie Stevens is also in the movie.
-The ridiculous looking TV show that Cliff and Rick watch drunk and with pizza actually did exist. The F.B.I. was a granddaddy procedural that ran from '65 to '74.
-Rick and Cliff's bromance is, in fact, modeled after a real one between Burt Reynolds and his stuntman Hal Needham. Once upon a time Needham's wife kicked him out, so he moved into Burt's guest house for what was supposed to be a week. The two lived together as bachelor buddies for 12 years. Needham even came up with the idea for Smokey and the Bandit while on the set of Gator in 1976.
-Rick eventually agrees to go to Italy. It's a smart move as he gets a lot of work. The name of his first movie, Nebraska Jim, is obviously a riff on cool guy Steve McQueen's Nevada Smith (1966)—this would also inspire the title "Indiana Jones." But notorious Italian copycats were part of the industry then. Rick also gets the chance to star in a film by Sergio Corbucci, who many consider the best Spaghetti Western filmmaker after Sergio Leone. Also like Rick's output, Corbucci did some problematic movies like Navajo Joe (1966), which starred Burt Reynolds. My favorite of this subgenre though is White Comanche (1968), a movie about two "half-breed" twin brothers played by William Shatner. Yikes to the yikes!
-One of the fictional movies Rick stars in is directed by Antonio Margareti, a real-life director of the era who was also used as one of the fake names the Basterds go by when trying to pass themselves off as EYE-TALIAN filmmakers at the Nazi premiere in Inglourious Basterds. Thanks to commenter Emmet Kowler for catching that when we didn't!
-During the montage signaling the passage of time, we see Bruce Lee training Jay Sebring at the Cielo Drive house. Sebring, like Tate, was an actual friend of Lee, having introduced him to producer Bill Dozier after meeting Lee at the Karate Championships in 1964. Dozier cast Lee in The Green Hornet. Sebring's life as a Hollywood hair stylist also inspired the Warren Beatty movie, Shampoo (1975).
-During the montage around town we see Three in the Attic (1968) playing.
-During the montage of everyone going to their Mexican restaurants, we hear the Rolling Stones' "Out of Time." This begins the third act with a real sense of tragic overcast since it seems to imply that Sharon Tate, and her baby, are out of time as they are supposed to die this night.
-On the night of Aug. 8, Sharon, Jay, Abigail Folger, and more really did go to El Coyote Café, a Mexican restaurant that opened in 1931 and still operates to this day.
-Down the street from them, Sharon notes with shock that "adult movies" have premieres now. The funny thing about this is that the theater Quentin Tarantino now owns, the New Beverly, just happens to be down the street from El Coyote. And wouldn't you know it, the adult film Man and Wife premiered there on Aug. 9. (So they fudged the dates by one day, eh?) Thanks to Twitter user @deadhanddan for the intel.
-Casa Vega, where Rick and Cliff go, is a real San Fernando Valley Mexican restaurant that opened in the late '50s.
-Before the grisly climax, we see Abigail Folger lead the house at the piano in a sweet rendition of the Mama and the Papas' "Straight Shooter." This is not done to be cute, as after the real life Tate murders, the police found the song's music sheet on the piano.
-After lighting up his acid-dipped cigarette, Cliff smiles, "And away we go." This is a nod to Tarantino's most underrated movie, Jackie Brown. As the climax of that film begins, Robert Forster's Max Cherry sighs, "And away we go." He then makes the choice of committing his part of a crime, crossing the point of no return, just as Cliff does by getting high on such a fateful night.
-We get the Mama and the Papas again when Tex (Austin Butler), Sadie (Mikey Madison), and Katie (Madisen Beaty) drift with menace into Cielo Drive. This time it's "Twelve Thirty," which opens with the Mamas lamenting how dreary New York City is before hopefully intoning, "Young girls are coming to the canyon." That seems a lot less rosy when they're brainwashed by a cult.
-Rick Dalton hilariously releases his hatred of New Hollywood when he calls the loitering Tex "Dennis Hopper." That same summer, Hopper starred in Easy Rider, the patron saint film of "dirty no-good hippies" everywhere.
-Sadie says the only wholesome TV show in the '50s was I Love Lucy. I'm not touching the irony in this.
-Linda Kasabian didn't drive off when things got pear-shaped because of a fictional TV actor, but she did watch the car and turned state's witness against "The Family" after saying she only heard the murders and ran into the house as the victims were dying. And yes, that is Maya Hawke as Linda, the daughter of Uma Thurman and Ethan Hawke. Thurman has of course starred in several Tarantino joints.
-During the climactic ending where Cliff and Rick go bloodlust crazy, we hear Vanilla Fudge's amazing cover of "You Keep Me Hangin' On" from 1966. Respect.
-Rick and Jay walking into the gates of the Polanski residence is visually evocative of the ending to Casablanca (1942) where Humphrey Bogart's own Rick walks off into the fog with Claude Rains, saying, "Louis, I think this is the beginning of a beautiful friendship." That appears to be the case for this Rick, as well.
-The first post-credits ad is a fictional one for cigarettes, but it's based on real ones like the above video. Go on, click and see Lucy and Ricky sell you Philip Morris.
-It should also be noted that the cigarette brand Rick is pushing is Red Apple, the same ficitional cigarette brand that Uma Thurman smoked in Pulp Fiction and walked by a billboard of in Kill Bill. It has also appeared in the Tarantino written From Dusk Till Dawn, Four Rooms, and Romy and Michele's High School Reunion.
-And why not end on the audio of Batman TV series radio commercial? And like that, Tarantino finally ends on a superhero movie moment.
There you have it our reference guide to Once Upon a Time in Hollywood. This is again off one viewing, so please let us know if we missed anything in the comment section below or reach out to me on Twitter!
Read and download the Den of Geek SDCC 2019 Special Edition Magazine right here!
David Crow is the Film Section Editor at Den of Geek. He's also a member of the Online Film Critics Society. Read more of his work here. You can follow him on Twitter @DCrowsNest.