Features
Netflix's Hollywood Episode 3 – History, Easter Egg Guide, and References
Ever wondered what a George Cukor party was like? The third episode of Hollywood is about to spell it out.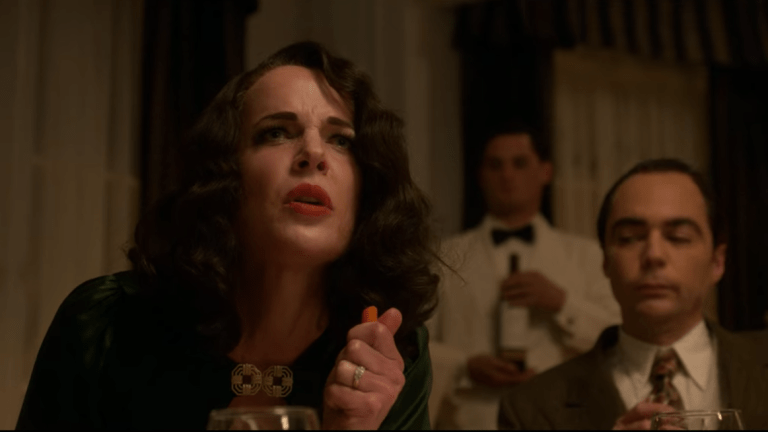 This article contains Hollywood spoilers. You can find our easter egg guide for the previous episode here.
If you wanted a star-gazing episode from Ryan Murphy (or perhaps a different four-letter word to do with stars), then this is it. In one episode we get Vivien Leigh, Tallulah Bankhead, Alfred Hitchcock, Noel Coward, and some juicy gossip about Errol Flynn. So get ready to go to a George Cukor party!
Hollywood Episode 3
-The third episode begins to the sound of Ella Fitzgerald's "I'm Beginning to See the Light."
-Ernie reveals to the boys that they're going to a George Cukor party. While I was aware that Cole Porter and, at this point, retired director James Whale (the more openly gay filmmaker behind Frankenstein, Bride of Frankenstein, The Invisible Man, and the 1936 version of Show Boat) enjoyed scandalous pool parties, I'd been under the impression that Cukor was more deeply in the closet, preferring urbane Saturday night parties with celebrities. Which is still true, but according to Scotty Bowers, Cukor then liked having brunches on Sunday afternoon with naked tricks in the pool. Hollywood appears to be combining both shindigs.
-The next song you hear is The Mill Brothers' "Paper Doll."
-Henry Willson tells Rock he discovered Lana Turner when she was named Julia Jean Turner. This is true, he discovered "Judy" as a student at Hollywood High School and liked how she filled out a sweater. He also named her Lana.
-When we meet Reiner's Ace (well in his second scene), he whines that fellow producer Howard Hughes got his "Spruce Goose" to fly. This is in reference to the football-field sized "H4 Hercules" (as Hughes called it), which was made out of wood and intended to be a flying aircraft carrier during World War II. It was never finished during the war, but Hughes famously told a hostile U.S. Senate committee he'd fly it himself or he'd leave America in exile never to return. He flew it 70 feet above the water on Nov. 2, 1947.
-Avis says Eleanor is still upset after learning about Lucy Rutherford. Lucy was the mistress of her husband, President Franklin Delano Roosevelt. Lucy, and not Eleanor, was there when he died. But as Frankie's been dead since 1945, the former first lady needs to move on!
-It's claimed "John Wayne fucked Mae West" to get his first role. I've never heard this about the Western icon and the older silent era star. But he definitely had an affair with Marlene Dietrich at the beginning of his career.
-Kincaid gives Jack advice that he needs to start thinking about the new "Method" coming out of New York that'll inevitably replace a more mannered, indicating type of performance. That's pretty impressive given Lee Strasberg had just opened the Actors Studio in the year Hollywood is set. And while the Method was created in Russia and imported by Russian and Eastern European immigrants (including The Wolf Man's Maria Ouspenskaya!), it was hardly a given it'd catch on and fundamentally change the way actors approached their work on the stage, never mind film. Most of the older generation of Hollywood establishment, like Kincaid, actually sneered for years at the "mumblers" like James Dean and Marlon Brando.
-At Cukor's party, we're introduced to variations of Alfred Hitchcock, the legendary suspense auteur who like Cukor looks far too slim here, playwright Noël Coward, and Tallulah Bankhead. Tallulah was a '30s movie star who became more well known for her Broadway career later in life. She also appeared in one of Hitch's earliest American movies, Lifeboat (1944).
-Tallulah also suggests Errol Flynn is gay because he wouldn't have sex with her. While there've been rumors for decades that Flynn was gay, I'd guess if there is any truth to them at all, they are reducing his lifestyle to an incorrect label. This is based on his common (and well documented) habit of sleeping around town with as many ingenues and leading ladies as he could, and having four children by three different mothers. Plus, late in life and well past needing a "beard," he committed PR-suicide by having a public affair with Beverly Aadland when she was 17 and he was 50.
-This is also where we're properly introduced to the show's version of Vivien Leigh, who in 1947 must be between theatrical engagements in London with her husband Sir Laurence Olivier. Yes, she was Scarlett O'Hara in Gone with the Wind, the most famous heroine (or anti-heroine) of the Golden Age of Hollywood, and it would be bad form for Rock Hudson to not know that!
-When we meet Vivien, she is giving credit to George Cukor as the real director of Gone with the Wind. Indeed, Selznick fired George and replaced him with Victor Fleming, but Leigh said she rehearsed her big emotional scenes on the weekends by Cukor's pool even after he was fired.
-As the party carries on "Omaha Flash" by Johnny Otis & His Orchestra plays on.
-We see Ernie go to comfort Vivien because she's having, as Cukor claims, "one of her episodes." She even says she was just hospitalized. This is not an accurate representation of her life, as she wasn't hospitalized by her husband "Larry" until after she had a nervous breakdown during production of Elephant Walk in 1953. The resulting electroshock therapy treatment left burns on her wrists and temples. However, she did begin having her manic-depressive episodes two years before the series' setting in 1945 after her first of two miscarriages.
-Vivien has also been rumored to be a nymphomaniac because of her "madness," which the Ernie scene plays into. Scotty Bowers, again, claims he "fucked her until she screamed" at Cukor's house. However, all of this is somewhat fuzzy, including the timeline in the series, as she says she's off to do A Streeetcar Named Desire on the West End when that wouldn't occur until 1949, two years after the TV show is set. She reprised the role of Blanche DuBois in the 1951 movie adaptation, winning an Oscar for the performance.
-Lastly it's worth noting Noël Coward, who we met earlier at the party, was a playwright friend of the Oliviers. Although after Leigh's steep mental decline in the '50s, he sniffed, "If Larry had turned sharply on Vivien years ago… he would have been spared a mint of trouble."
-William "Billy" Haines really does represent one of the first happy love stories among the gay community in Hollywood. As relayed by Henry Willson in the show, Haines was a major contract player at MGM in the 1920s and was on the verge of major stardom in the '30s when his career was cut short. When he was arrested in 1933 at a YMCA with a sailor he picked up, MGM mogul Louis B. Mayer demanded Haines enter a "lavender" (fake) marriage and give up his boyfriend Jimmie Shields. Instead Haines quit acting and remained in an openly gay partnership with Jimmie for 47 years. Billy also became a successful interior designer in 1935 with clients who included Joan Crawford, Gloria Swanson, Carole Lombard, Marion Davies, and George Cukor.
-One of Henry Willson's first clients, and his lover, really was Junior Durkin. Durkin starred in several RKO movies during the 1930s, including playing Huck Finn at the age of 19 in Tom Sawyer (1930) and Huckleberry Finn (1931). He died in a car accident in '35.