Features
Netflix's FUBAR Is Far From Arnold Schwarzenegger's First TV Role
Despite what you may have heard, Arnold Schwarzenegger is no stranger to TV.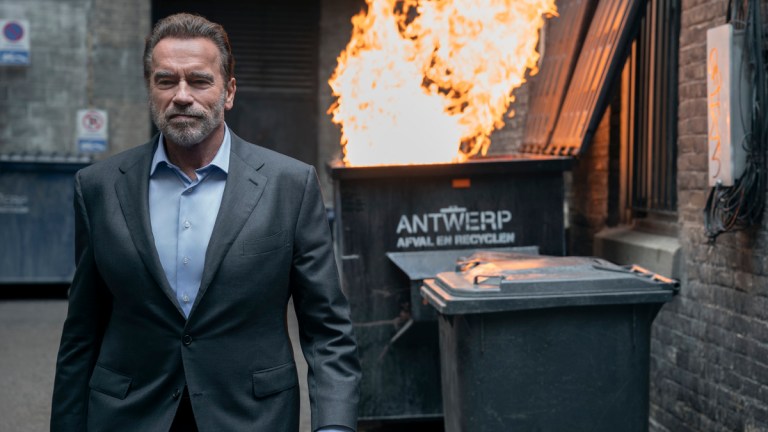 The role of retired CIA operative Luke Brunner in Netflix's FUBAR is Arnold Schwarzenegger's "first TV role ever" in the same way that this is my first McVitie's Milk Chocolate Hobnob of the day – it absolutely isn't but if it makes us all happier to lie to ourselves then why not?
Early press for action-comedy series FUBAR has made much of the coup of Netflix bagging Schwarzenegger for television. At last! The Governator is "set to make his TV series debut" says The Hollywood Reporter. This marks the action icon's "first ever television series", says Collider. Science has finally figured out how to make TV screens wide enough to accommodate the Hollywood star's mighty girth, and now we've got him. Never mind that Arnie's been muscling around on television since 1974.
Granted, FUBAR marks Schwarzenegger's first lead role in a scripted and live-action TV show – qualifiers some outlets have studiously applied in their coverage – so as that momentous occasion arrives, let's revisit some of the man's other small screen highlights.
1974 – He Gives Lucille Ball a Massage
Austria does border Italy, so it makes more sense than you might think to cast a young Arnold Schwarzenegger as hunky Italian masseur Rico (sample dialogue: "scusi") in 1974 CBS TV movie Happy Anniversary and Goodbye. Rico made a house visit to Lucille Ball's Norma, one half of a recently separated married couple whose outraged husband walks in on the stallion giving his ex-wife the full body treatment in this one-hour rom-com.
1977 – He Shakes a Woman to Death in San Francisco
By the final season of ABC police procedural The Streets of San Francisco, actor Michael Douglas had left, but crime was still very much in attendance. Crimes like the murder of a young jogger by bodybuilder Josef Schmidt (Schwarzenegger), who became enraged when she laughed at his pec-popping display in 1977 episode 'Dead Lift.' Karl Malden's Lt. Mike Stone got Schmidt in the end though, just in time to stop him from taking out his temper on another local lady.
1980 – He Holds Jayne Mansfield Aloft Like a Trophy
This was excellent casting. Who else, in a 1980 Jayne Mansfield made-for-TV biopic, could play her Hungarian-American actor husband and former Mr. Universe Mickey Hargitay? That's right, nobody, hence: Arnie did it, and swung little Loni Anderson around like a baton in the process.
1990 – He Gets The CryptKeeper to Pump Iron
Arnie's directorial debut was 'The Switch', a 1990 episode of HBO horror anthology Tales From the Crypt about an old man going to extreme measures to regain his youth. It was a smart move for a first turn behind the camera, one calculated to let Schwarzenegger learn the ropes without, according to this interview with the Associated Press, being exposed to the wider scrutiny of a theatrical feature, with the support of fellow Tales directors and executive producers Robert Zemeckis and Richard Donner. Obviously he had to cameo with The Skompton in the bodybuilding-themed intro.
1992 – He Directs a Christmas TV Movie That Premieres in April
Christmas in Connecticut, a remake of the 1945 Barbara Stanwyck film, was Arnie's second project as director. The story of an American TV host sweetheart who isn't the domestic goddess she was sold as, it starred Dyan Cannon, Kris Kristofferson and Tony Curtis, and a teensy cameo from the man himself. Home network TNT didn't show a great deal of confidence by choosing to exclusively premiere it in April, perhaps anticipating the reviews, including a very-1992 criticism from Eugene, Oregon's Register Guard that the TV movie "had the insecure directorial touch of a girly man, not a Mr. Universe." They don't – and absolutely shouldn't – write 'em like that any more.
2002 – He Helps to Defeat the British
What was going on with the voice cast of PBS' animated children's series Liberty's Kids? Its 40-episode retelling of the American Revolutionary War had the cast list of an Oscars After-Party. Billy Crystal, Dustin Hoffman, Sylvester Stallone, Ben Stiller, Michael Douglas, Liam Neeson, Ralph Fiennes and yes, Arnold Schwarzenegger, all voiced characters from US history. Arnie, whose gubernatorial campaign was in full flow at this point, voiced Baron Von Steuben, the Prussian military tactician credited for helping to crush the British. See him in action from 6:50 in the video above.
2015 – He Mistakes Christian Slater for Charlie Sheen in the Two and a Half Men Finale
Not enough credit is given to how big Two and a Half Men went in its two-part finale. It roped in Christian Slater for no discernible reason, brought Charlie Sheen's character back to life, had him escape from the dungeon in which Melanie Lynskey's Rose had been keeping him for years, only to immediately kill him by dropping a piano on his head from a helicopter. (A fate later shared by showrunner Chuck Lorre in a meta stinger.)
The best scene though was this self-aware mea culpa in which Jon Cryer and Ashton Kutcher's characters relay the show's story in full to Arnold Schwarzenegger's incredulous cop Lt. Wagner, who told them it was long past due time to wrap this whole thing up – so they did.
2021 – He's Immortalized as a Stan Lee Superhero
Schwarzenegger voices the lead role of teacher Arnold Armstrong, a character built around him, in pre-school animated series Stan Lee's Superhero Kindergarten for the Kartoon channel streamer. Formerly "Captain Fantastic", Arnold loses his superpowers in an epic battle with his nemesis and ends up transferring them to half a dozen babies he trains how to be better heroes.
2022 – He hosts a NSFW Animated Game Show feat. Danny DeVito as Satan
Any show that features Mark Ruffalo voicing a cartoon dog named Bark Woofalo should clearly be canonised and not removed from its streaming service just months after arriving but that's Hulu's call. FX's Little Demon is one of the shows rumored to be going in the Disney/Hulu cull, to the delight of the petition brigade who sought to bring it down when they heard that Danny DeVito was playing Satan. He does, alongside Aubrey Plaza and his daughter Lucy DeVito, with guest voices including DeVito's former Twins star Schwarzenegger, here compering a very gruesome game show (warning: contains swearing).
And Let's Not Forget This:
FUBAR is available to stream on Netflix from May 25th.