Features
Best Action Movies of the Last 15 Years
We rank the very best that action cinema has had to offer in the 15 years since Den of Geek opened its doors!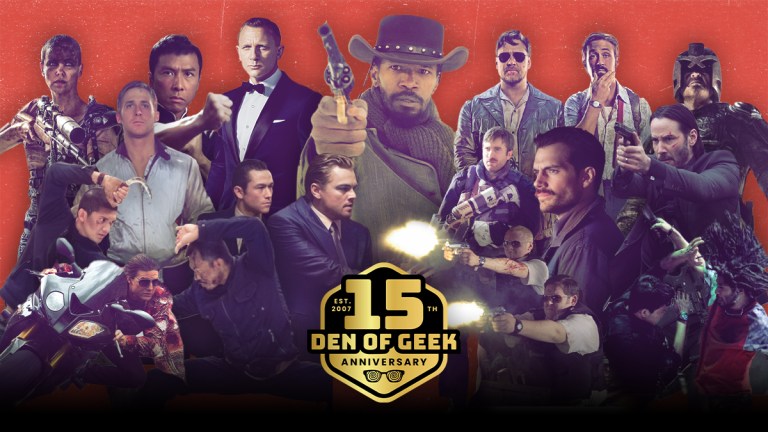 John Ford was wont to say that there is no image more cinematic than a man on a horse. If that concept sounds a bit antiquated, you must forgive the legendary filmmaker for coming of age in Hollywood during a time where Oaters were all the rage. But if you updated his idea to a man or woman on a motorcycle, runaway train, or some other type of speeding vehicle, with the sunset in their hair and a trail of baddies in their wake, and the assertion still holds true.
Despite the continued indifference of the Academy toward the bedrock importance of stunt work in the moviemaking industry, the daring sights of madmen, and sometimes even madder movie stars, hanging from the sides of planes or riding that fabled horse past walls of fire is as pure a distillation of visual entertainment as you can get. And in the last 15 years, there have been some mind meltingly excellent action movies. We here at Den of Geek have thus put our heads together, polled you dear readers, and figured out what are the very best action movies from the last decade and a half.
*Editor's Note: Due to the abundance of superhero movies dominating similar lists—be it science fiction or summer blockbuster spectacles—we have opted to not include capes in this list. Yes, The Dark Knight is amazing, but we already have it at the top of several other lists for your reading pleasure.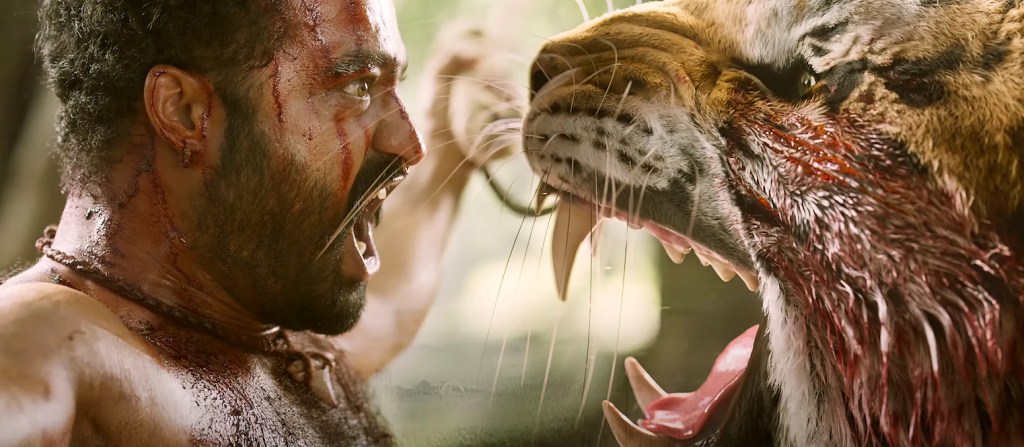 25. RRR (2022)
So stop me if you've heard this one before: a history-defining friendship begins when two men spontaneously plan an elaborate rescue operation in which one will jump off a bridge while riding a motorcycle in one direction, and the other will do the same except riding a horse in the other direction. Between them is a rope that they'll use like a magical pulley system to swing and meet in the middle where a child dangles in danger—and oh yeah, the two communicated this plan entirely through hand gestures half a minute ago.
It is safe to say that you have never seen something quite like S.S. Rajamouli's RRR, the Indian Telugu-language action epic that has become a major event in the world of international cinema. The film is maximalist filmmaking done with total conviction and splendor. As a consequence, we now have the ultimate bromance movie between Komaram Bheem (N.T. Rama Rao Jr.) and Alluri Sitarama Raju (Ram Charan); we have the perfect anti-colonialist fantasy flick since both Bheem and Raju were actual historical revolutionaries and martyrs… who never really met; and we have a toe-tapping, and room-shaking, musical with the best dance sequence you'll see this year. Also it's an action movie.
What an action movie it is, too! Directed with the speed ramping flourishes of Zack Snyder, but none of that American filmmaker's brooding self-seriousness, RRR is a celebratory film in which the action is designed to wow—just wait until you see the second scene of a man versus a tiger—but it is also never couched in the other current American trend of self-effacement. RRR is wholly sincere in its classical storytelling sensibilities, but ultra slick with its modern use of high-octane action sequences. Seriously, if you haven't seen RRR yet, get on that. – David Crow
24. 1917 (2019)
Sam Mendes' World War I movie came from a place of love and perhaps duty. His grandfather had served among the "Lost Generation" in the war that was supposed to end all wars, yet a hundred years later the wars that followed and the mere dint of time has caused many to forget what hell those people went through.
1917 is a stunning reminder. Coordinated by Mendes and arguably the greatest living cinematographer, Roger Deakins, at the height of both their powers, 1917 is a tour de force in cinematic storytelling with the whole film intended to resemble a single take. Yes, it's flashy filmmaking but it is used to build an immersive world that was on fire. It really did look like the apocalypse to a lad like George MacKay's Lance Corporal Schofield. Thus his mission to trek nigh alone across enemy lines to save a battalion of fellow British soldiers both seems futile and like the last sane thing left. – David Crow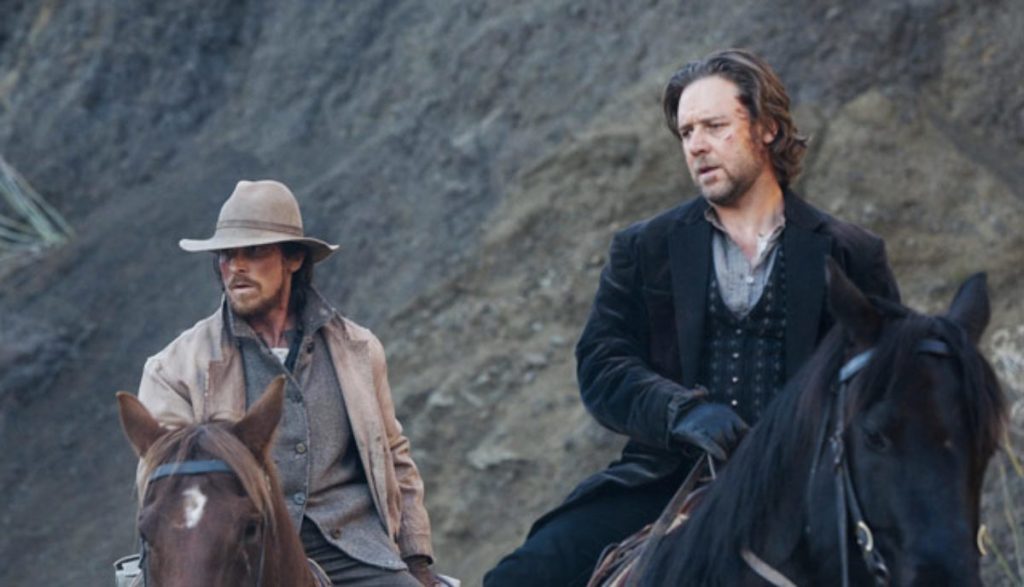 23. 3:10 to Yuma (2007)
Still a bit underrated despite the immense talent attached to the project, James Mangold's 3:10 to Yuma remains one of the few remakes genuinely superior to the original. That is in large part because the future Logan filmmaker opens the story up to make the ethical challenge faced by a poor rancher named Dan (Christian Bale) into a parable about morality itself.
With echoes of High Noon as well as the original 3:10, this film's Dan begins as a reluctant and cynical hired gun who's been tapped to take on the job of escorting a notorious criminal named Ben Wade (Russell Crowe) to his prison train in order to keep the family farm. But by the end, Dan has every incentive to walk away except for the watchful gaze of his teenage son (Logan Lerman), who seems to have more respect for Crowe's outlaw than his weak, one-legged father.
Yet in the face of almost certain death, it is Dan's wearied absolutism that finds him a strange kinship with Ben. When the pair team up against Crowe's own cutthroat gang at the end (including a nightmarish Ben Foster), the movie shoots straighter than almost any other modern Western. – DC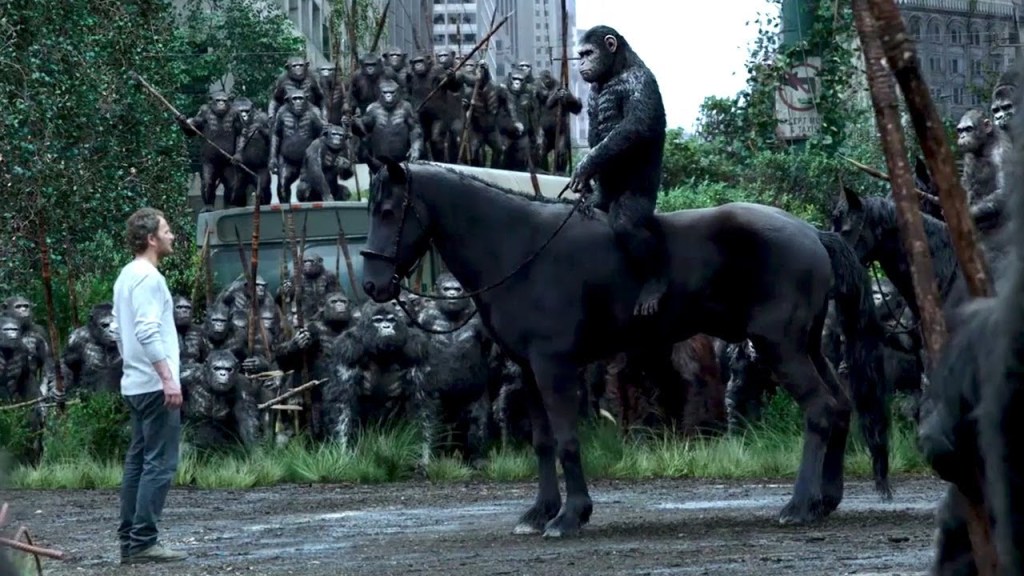 22. Dawn of the Planet of the Apes (2014)
As Matt Reeves' first foray into traditional franchised moviemaking, Dawn of the Planet of the Apes arguably turned out better than it had any right to be. As a sequel to the enjoyable if not necessarily world-shattering 2011 Planet of the Apes reboot, Rise of the Planet of the Apes, Dawn took the concept of building this series around the one revolutionary ape who would overthrow us all, and it ran with it out of the stadium.
In Dawn, Caesar (played by Andy Serkis through motion-capture acting) really is the lead with no qualifications or pesky James Franco to now cut into his screen time. And Caesar is attempting to guide his simian followers to a future of peace and tranquility. Alas, the nearby humans who've been left scattered by an apocalyptic pandemic will not allow that. The film is beautifully directed and enjoys lush cinematography by Michael Seresin. But its the soulfulness of their approach—including when they turn the first and best half of the film into essentially a silent picture—that lingers. Yes, the action is nice too, but it is the world-building that makes this intoxicating. – DC
21. Scott Pilgrim vs. the World (2010)
Sometimes the action of action movies exists purely for sensory stimuli. The fisticuffs are nothing more than little morsels of eye candy intended to make us smile. Other times, however, action scenes serve a greater emotional resonance. In Edgar Wright's Scott Pilgrim vs. the World, the action works on both levels. The kinetic fight sequences certainly act as a giddy showcase for Wright's eye, as well as a calling card for the late great stunt coordinator Brad Allan. But Scott Pilgrim meshes this heightened spectacle and its dance-like martial arts choreography with the disaffected irony of a millennial indie movie about growing up and becoming a less shitty person.
The result is a singular work of commercial art that blends nearly every pop culture touchstone of the past quarter century before its release—action movies, comics, video games, musicals, and even sitcoms—and strains them into a visual wonder where Michael Cera becomes an unlikely badass who literally fights to the death the evil ex-boyfriends of new girlfriend Ramona (Mary Elizabeth Winstead). More importantly though, he figuratively learns how to respect himself and other people one burning sword fight at a time. – DC
20. Looper (2012)
The term "legacy sequel" overpopulates Hollywood boardrooms these days. But the idea of exploring a star's legacy through meta storytelling can be powerful when properly utilized. It can also be brutal, as is the case with Rian Johnson's underrated Looper. Written and cast around the legacy of Bruce Willis' move star status, the irony is that Willis isn't even the main character: it's his younger self played by Joseph Gordon-Levitt (and with a rubber nose) who is the protagonist. Except how easy is it to root for someone that's been tasked with murdering their future? Knowing that this is a new generation of leading men being tasked with "retiring" John McClane adds to the tension of Looper, making its surprising turns all the more rewarding. – DC
19. The Hunger Games (2012)
The movie that ignited a phenomenon and made Jennifer Lawrence a household name is somewhat obscured these days by the pop culture trends it inspired. However, there remains something earnest and raw about the first Hunger Games movie. With an austere look that better resembles science fiction dystopian movies from the 1970s than modern sensibilities, Gary Ross' direction is stripped down and fairly minimalist as he tracks the poverty that has ruined the childhood of Katniss Everdeen (Lawrence)… and then follows her journey to be sacrificed upon the altar of entertainment.
The actual action sequences in the movie where Katniss and several other teenagers commit bloody murder upon one another's bodies is fairly muted. Filmed with perhaps a tad too much shaky cam, the approach is obviously done in part to get around the R-rated gore similar films and TV shows have indulged (think Battle Royale or Squid Game). Yet it is likewise a way to refuse glorifying the violence like those aforementioned projects. What is being done to these kids is ugly and cruel, and The Hunger Games captures the emotion of that if not the spectacle. – DC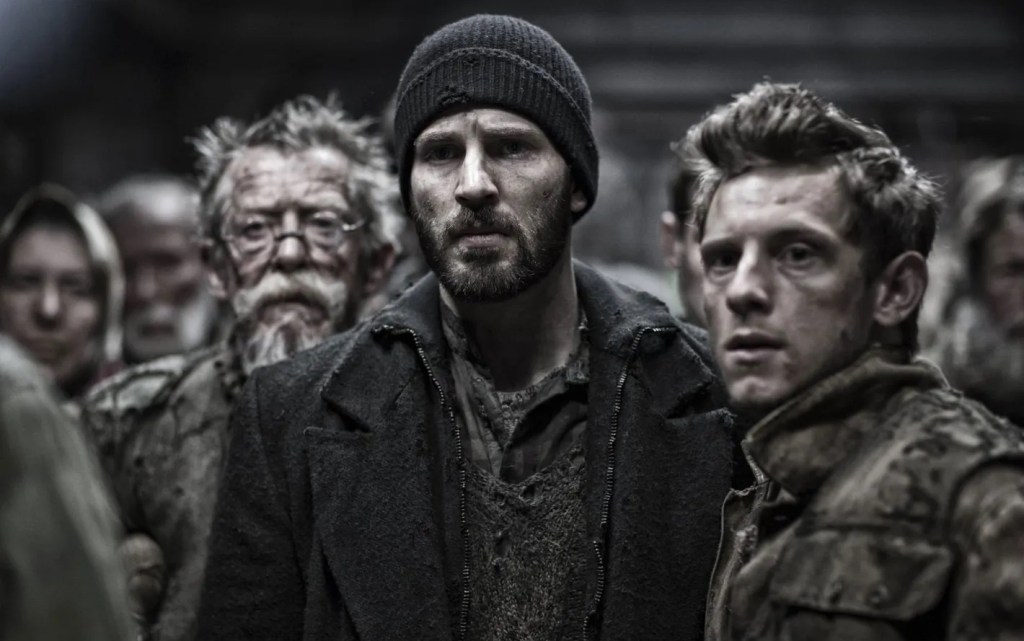 18. Snowpiercer (2013)
Director Bong Joon-ho has dabbled in many different genres throughout his career, but he went into full-on, post-apocalyptic sci-fi action mode with 2013's wildly ambitious Snowpiercer. Bong's approach to directing a futuristic action spectacle was as unique as anything else he's done in his career. Set aboard a massively long train that endlessly carries the last survivors of the human race in a loop around a now-frozen Earth, he focuses on a band of renegades from the downtrodden back cars (i.e. the lower classes) as they make their way against all odds to the front (where the elite reside in luxury).
The forward motion of the train works hand-in-hand with the forward journey of the Chris Evans-led rebels, with the momentum of both creating a synchronicity between action and setting. Bong then films the action and violence up close, utilizing the claustrophobic walls of the train cars to immerse both his camera and the viewer in the bloody, bone-crunching battles between our protagonists and the elites' security forces. It's both intimate and epic, and could only belong to the mind of Bong Joon-ho, making Snowpiercer a standout entry in the post-apocalyptic milieu. – Don Kaye
17. Edge of Tomorrow (2014)
2014's Edge of Tomorrow was yet another financial risk in the Tom Cruise ouvre. Though we coast through the heady days of action-packed Mission: Impossible movies and the smash hit legacy sequel Top Gun: Maverick, Cruise's original movie output has been much less successful in the last 15 years: Valkyrie (2008), Knight and Day (2010), Jack Reacher (2012), and Oblivion (2013) failed to gross more than $100 million at the domestic box office. Edge of Tomorrow just about managed it. Just.
Those aforementioned Cruise movies have their fans, but Edge of Tomorrow has become a true favorite. The movie, which co-stars Emily Blunt and Bill Paxton, created some of the best sci-fi action in the genre, with director Doug Liman battling studio Warner Bros. to workshop the film as he went along. Crews worked seven days a week, the production ran on and on, 35mm film was used instead of digital cameras to create a more authentic warlike experience, and daily shoots were redone or reworked until Liman finally signed off on a thrilling movie filled with complex battle suits, high quality visual effects, and Cruise and Blunt beating back an alien invasion of Earth that people could believe in.
It was worth the trouble. Edge of Tomorrow remains one of the most highly kinetic action movies in recent memory, and absolutely deserves a place on this list. – Kirsten Howard
16. Atomic Blonde (2017)
Academy Award-winning actress Charlize Theron proves again that she can handle action as well as drama in this ballistic spy tale. Based on The Coldest City, a 2012 graphic novel by Antony Johnston, Atomic Blonde is the first solo directorial work from stuntman-turned-director David Leitch.
Theron plays Lorraine Broughton, an MI6 agent tasked with recovering a crucial piece of stolen microfilm. Theron owns Lorraine, a Stoli vodka-swigging femme fatale in sharp stiletto heels, cold and calculating, and very, very lethal. Set in 1989 by the Berlin Wall just before it falls, the soundtrack is packed with nostalgic electro euro pop. The sets are decaying buildings lit with glowing neon, all of which is diffused with cigarette smoke and a noir style.
Like John Wick, Leitch creates an assassins' underworld with an implausible body count, but this one is all about the ultraviolent action. The fights are high octane, visceral, and thrilling. Theron delivers and you can see it's her for most of the action (she cracked several teeth in the shoot for real). Her centerpiece fight is a brutally long single-shot one-er. There are digital stitches in the crazy swirling camera work, but it is impressive choreography to behold from every angle. -Gene Ching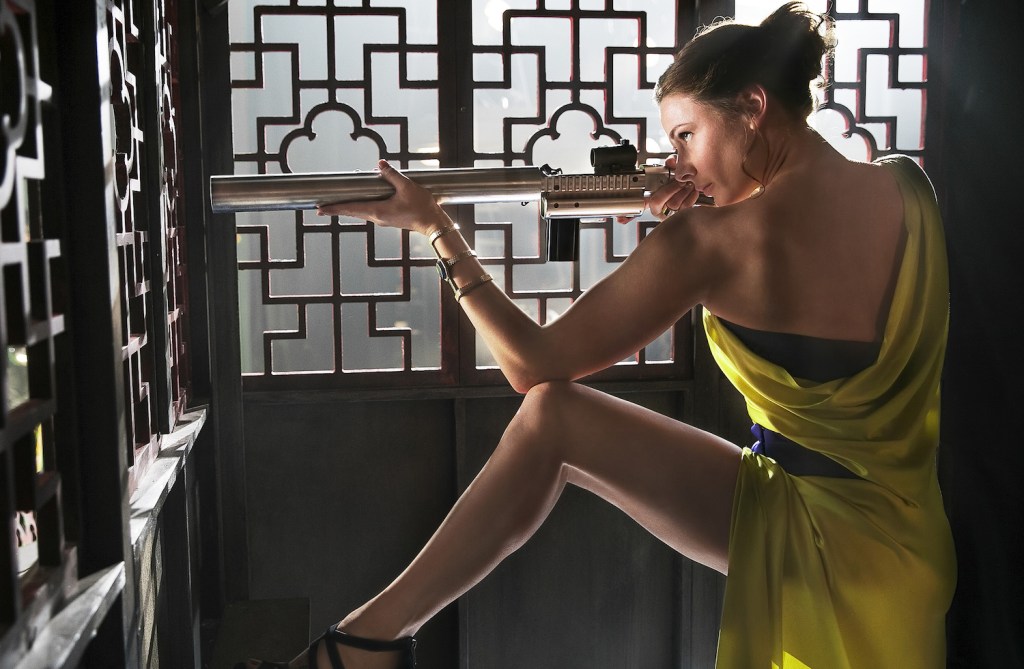 15. Mission: Impossible – Rogue Nation (2015)
With the massive, franchise-reviving success of 2011's Mission: Impossible – Ghost Protocol, Tom Cruise and his team fully embraced the globe-trotting, gravity-defying aesthetic they'd been moving toward since 1996. The result was the series becoming a true American answer to James Bond. Rogue Nation upped those stakes. By introducing Christopher McQuarrie as the writer-director-mastermind from this point forward, Rogue Nation became the turning point where the series met and somehow always exceeded the highest of action expectations.
Rogue Nation also completed Cruise's long, slow transition from cocky, romantic leading man to rugged, I'll-do-anything-for-the-audience stuntman supreme, with the sequence in which he hangs onto the side of an airplane 5,000 feet in the air remaining the series showstopper. Add in a worthy female counterpart in Rebecca Ferguson's Ilsa Faust, a few more pulse-pounding chases and fights, and who cares if the plot is as incomprehensible as ever? These films learned how to just rip. – DK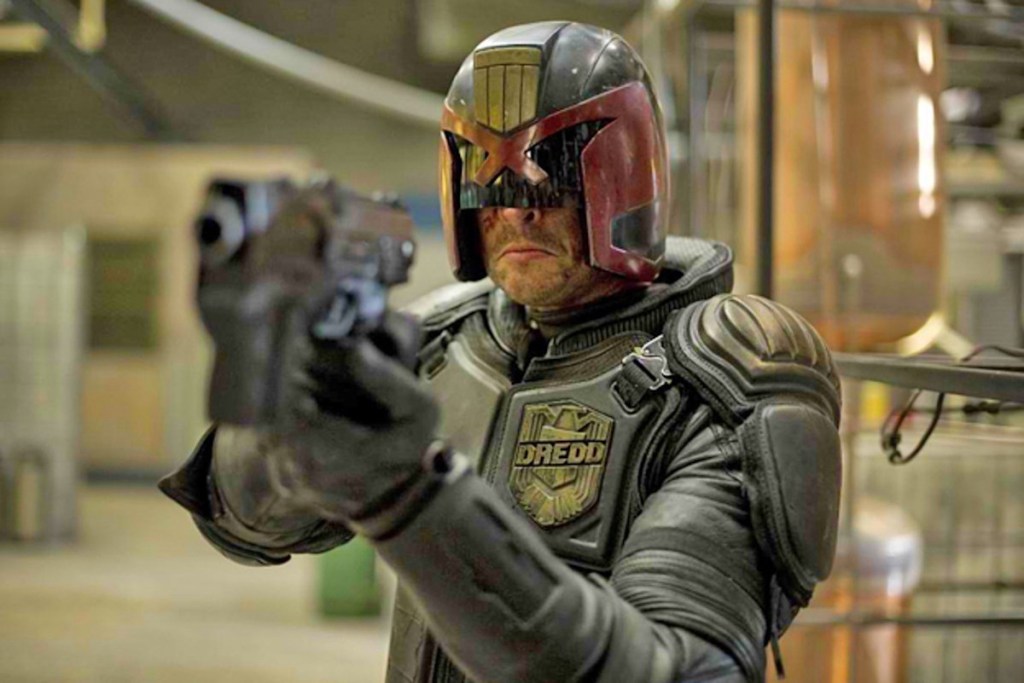 14. Dredd (2012)
Forget that pile of trash from 1995 starring a miscast Sylvester Stallone; this is the Judge Dredd movie the world was waiting for (or at least a few of us). Officially directed by Pete Travis, and written and produced (and, uh, maybe directed as well) by Alex Garland, Dredd stars Karl Urban as Mega City One's ultimate judge, jury, and executioner. Simmering with coiled rage behind his helmet, which he never takes off, Urban is fantastic, as is Lena Headey as Ma-Ma, the powerful drug lord waiting for Dredd at the top of a 200-story apartment complex-turned-fortress.
Yes, it sounds a bit like Gareth Evans' The Raid, another dystopian climb up the stairs that ascends into hell. Luckily, the action here is just as bombastic and gruesome, with Urban and new Judge Anderson (Olivia Thirlby) fighting and blasting their way through Ma-Ma's unending army of thugs. There's a nice deadpan humor that takes the edge off just a little, but Dredd still moves like a deadly snake and gives its title character the mythic quality he needs. — DK
13. The Nice Guys (2016)
Ryan Gosling and Russell Crowe are a surprisingly funny double act as a washed-up detective and thuggish enforcer forced to work together to find a missing girl in this comedy action caper. Shane Black of Kiss Kiss Bang Bang and Iron Man 3 co-wrote and directed a movie that's quippy but full of pathos and a decent mystery, as well as providing plenty of fights, car wrecks, and action set pieces to go around. This was also a breakout role for Angourie Rice, who is fabulous as the precocious, intelligent daughter who's often more handy and mature than her boozy PI dad. – Rosie Fletcher
12. Drive (2011)
The plot is pure action. Ryan Gosling plays The Driver, a nameless stunt driver who moonlights driving getaway for criminals in California, caught up in extreme violence when mobsters attempt to double-cross each other. In reality, though, Nicolas Winding Refn's celebrated movie is soaked in arthouse sensibilities, from Gosling's sensitive, stoic performance to the gentle love story between him and his neighbor Irene (Cary Mulligan), and from the neon-soaked lighting to the iconic score.
The most violent scene in the movie is also the most tender—aware that he and Irene (and by default, her son) are at risk for their lives, The Driver kisses Irene for the first time, then stomps a hitman to death right in front of her in an elevator. Elevated stuff. – RF
11. District 9 (2009)
No one really knew who Neill Blomkamp and Sharlto Copley were before this fascinating—and funny—sci-fi actioner landed (well, no one except Peter Jackson, who was one of the producers…), but the movie wowed audiences and went on to be nominated for four Oscars, including Best Picture—pretty groundbreaking for a movie about aliens.
Set in Johannesburg, Copley plays Wikus, an employee at the Department of Alien Affairs who gets infected by an alien substance that causes him to slowly transform into one of the "Prawns" who have found themselves stranded on Earth and confined to an internment camp by the government. Brilliant, highly political, nuanced, and the best kind of weird. – RF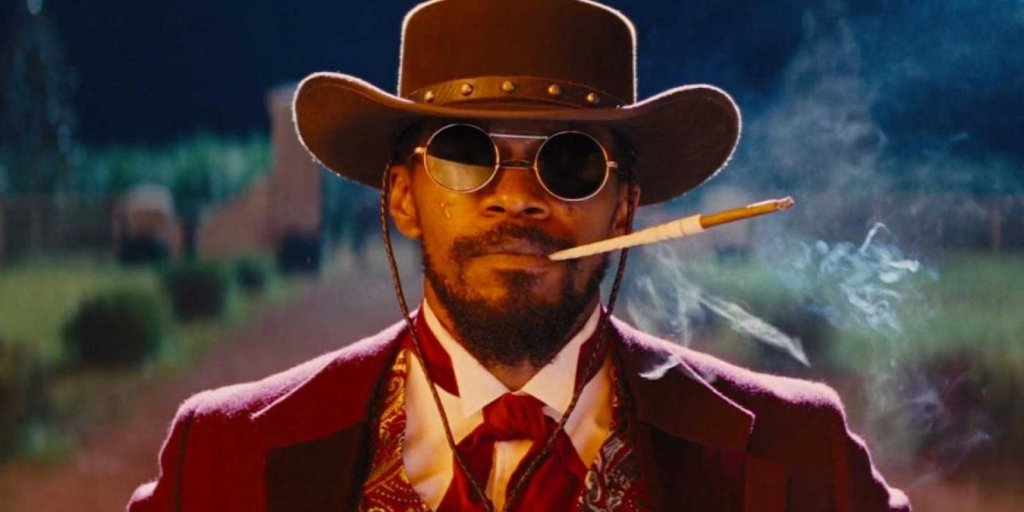 10. Django Unchained (2012)
Quentin Tarantino's first full-throated Western—even though it's technically set in the South—continued the iconoclast filmmaker's penchant for rewriting grim histories into invigorating power fantasies. And there's little on the big screen as powerful as the sight of Jamie Foxx's Django in front of a Mississippi plantation, watching it burn to a cinder. Better still, he doesn't just watch. Nay, he and his horse are dancing in the firelight.
It's one of the many giddy flourishes in Django Unchained, a revisionist Spaghetti Western that's been deep fried and dipped in butter. Right down to its title, QT pulls from his favorite European Oaters, yet he also gives that flavor of grandiose violence new bite in a story about a Black man wrecking biblical vengeance on two truly heinous villains: Leonardo DiCaprio's slave owner Calvin Candie and his favorite "uncle" Stephen (Samuel L. Jackson). – DC
9. Mission: Impossible – Fallout (2018)
It was a surprise when Christopher McQuarrie was announced as the first director to helm a second Mission: Impossible movie. Previously, each installment was an excuse for a new filmmaker to put their own stamp on the material. In retrospect, it's astonishing we thought anyone else could do the job. McQ reinvigorates the franchise for a second time by eschewing the classical flourishes of Rogue Nation for an edge-of-your-seat thriller that pound-for-pound has the best collection of action set pieces to come out of Hollywood in the past decade.
There is a sequence in this movie where a Parisian heist becomes a car chase and then turns into motorcycle chase, all before finally transforming into a second motorcycle chase where now Tom Cruise is the one being pursued by the series' other MVP Rebecca Ferguson. It just keeps going, and almost all of it is captured by visceral IMAX photography. You can get punch-drunk. – DC
8. Hot Fuzz (2007)
During any given week, the delicious middle part of Edgar Wright's Cornetto Trilogy will almost certainly be playing somewhere on UK TV. Such is the staying power of his buddy action comedy Hot Fuzz, which reunites his Shaun of the Dead stars, Simon Pegg and Nick Frost, and puts them in the midst of a rural English murder-mystery.
Pegg plays a high-achieving Met officer called Nicholas Angel, who is assigned to a mundane beat after pissing off every cop in London, and Frost is his lazy new partner Danny Butterman. When Angel and Butterman forge a tentative friendship over the latter's obsession with cheesy, over-the-top action movies, Hot Fuzz sets about building its very own actioner in its final act, resulting in one of the most creative, violent, and joyful endings in cinematic memory. – KH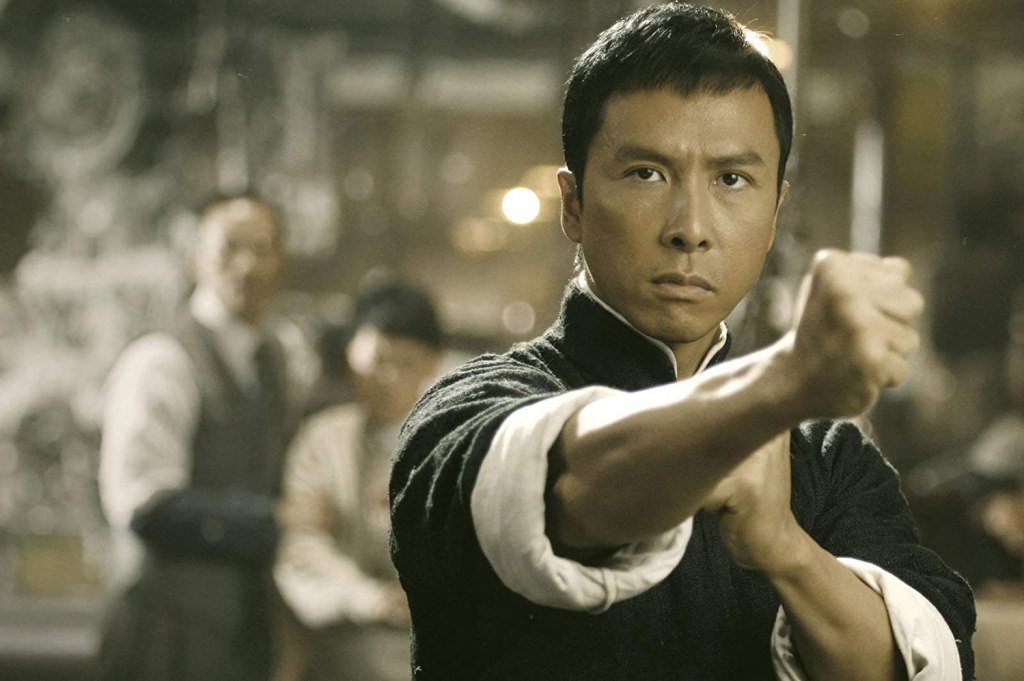 7. Ip Man (2008)
Donnie Yen had over 40 films under his belt when he stepped into the role of Ip Man, the real-life grandmaster of Wing Chun Kung Fu who taught Bruce Lee. No one could have guessed that it would trigger a global blockbuster franchise and spawn countless knockoffs where different actors portray the same legendary grandmaster. With fights choreographed by Sammo Hung, Yen's Ip Man canon delivered four films and a spin off over the span of 11 years.
Yen is painfully cool as Ip Man. Unlike many martial arts actors, Yen truly embodies different styles appropriate to the roles in his films. Bruce Lee, Jackie Chan, Jet Li, or even Tony Jaa and Iko Uwais, all have signature styles that are uniquely their own. Yen goes the other way; he's a choreographic chameleon. In Ip Man, he blends wirework and solid cinematography into a fitting Wing Chun homage. – GC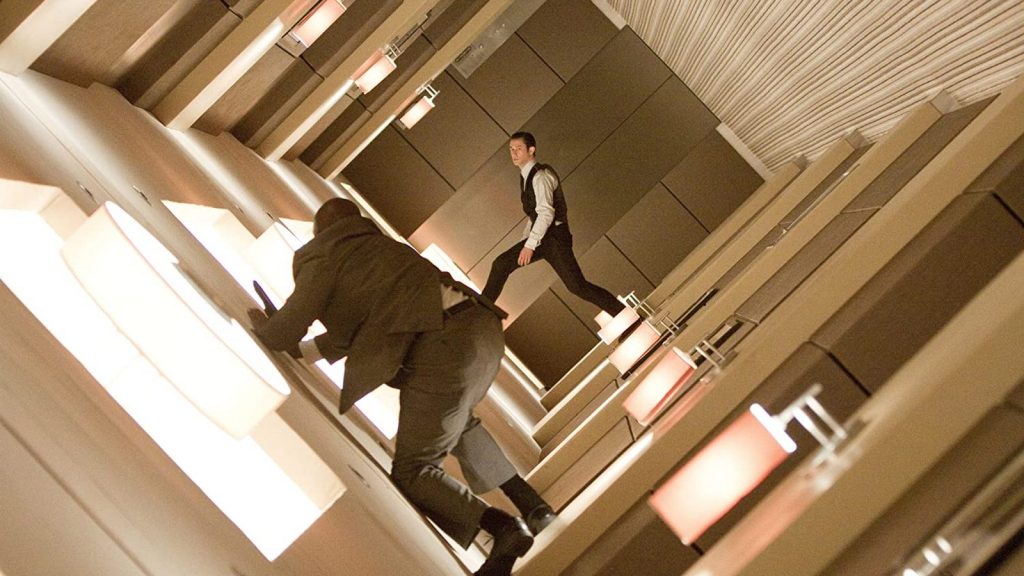 6. Inception (2010)
Christopher Nolan always wanted to make a James Bond film—and he did with Inception. Only his homage to 007 is almost a movie within a movie, one layer of the dream world that most of his otherwise trippy sci-fi action thriller takes place in. Tucked between his Dark Knight sequels, and full of scope, ambitious storytelling, and often astounding imagery, Inception is wholly original, mind-bending sci-fi shaken and stirred with some of Nolan's best set pieces.
If The Dark Knight was where the director finally learned how to create memorable action sequences, then Inception is where he perfected that style of moviemaking. Among this movie's highlights are a hand-to-hand fight in a topsy-turvy hotel hallway and the climactic mountain assault that's like On Her Majesty's Secret Service on steroids. If there's such a thing as a cerebral action movie, Nolan mastered it here. – DK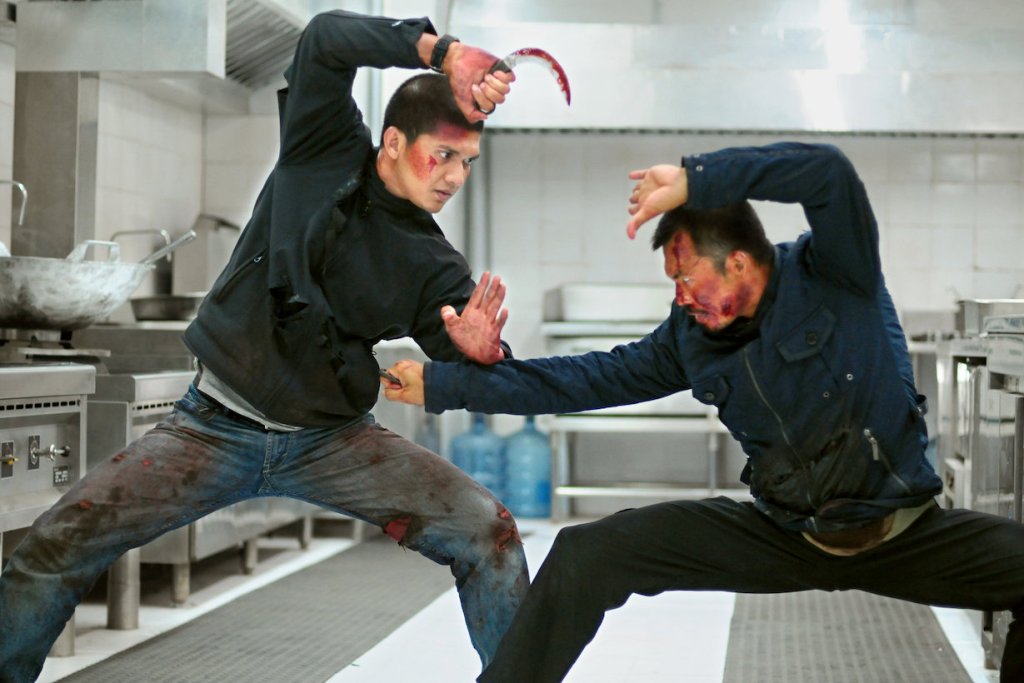 5. The Raid 2 (2014)
The Raid 2 is the third and final pairing of then newcomer Iko Uwais and Welsh filmmaker Gareth Evans. The previous films are this sequel's predecessor, The Raid: Redemption, and another actioner called Merantau. Along with Uwais, a genuine Silat master, these films propelled a fresh crew of Indonesian martial arts masters into international stardom, including Yayan Ruhian and Joe Taslim.
The Raid 2 picks up right where The Raid: Redemption left off and it's Uwais' tour de force. Gritty, bloody, and visceral, its fights include hammers, baseball bats, pickaxes, broken bottles, metal pipes, shanks, machetes, shotguns to the face, and pistols to the forehead. It's sanguineous with gratuitous use of digital blood splattering everywhere. The fight choreography is superb from every angle—long extended sequences show Uwais' virtuosity with plenty of fast, tight action. The set pieces are also captured with sharp-eyed cinematography. – GC
4. Skyfall (2012)
History books will tell you Bondmania occurred during the peak of Sean Connery's popularity in the 1960s. And yet, a good case could be made that 2012 was the year of his true ascendence: Daniel Craig opened the London Olympics with Queen Elizabeth; Adele won the series' first "Best Song" Oscar; and then there's Skyfall itself, the James Bond movie that's globally sold more tickets than any other.
Beyond all that 50th anniversary hype though, Skyfall remains a tense (if surprisingly melancholic) spy adventure where the sins of 007's greatest female co-star, Dame Judi Dench's M, come back to haunt her via one of the series' better villains. Javier Bardem's Silva forces 007 and his fans to look inward on the legacy of this world, with director Sam Mendes and cinematographer Roger Deakins crafting the most starkly beautiful Bond movie to date. Plus, it gets Bond to finally ride the tube! – DC
3. The Raid: Redemption (2011)
It's quite possible that The Raid is the single most action-packed movie on this list, if not ever made. The Raid is not so much a celebration of violence as it is a genuine party of violence, the kind where all of the neighbors in your building are invited. It's a perfect film, without a wasted frame or line of dialogue, and there's a case to be made that it's the ultimate example of the modern action movie genre.
At its center is star Iko Uwais, in a role that ranks among the greatest performances in action movie history. Uwais' grace, athleticism, and martial arts prowess combine with director Gareth Evans' relentless story and direction to leave viewers as anxious and exhausted as its heroes. Wave upon wave of bad guys appear around every corner, and all are dispatched in due course, in an almost hypnotic, seemingly neverending display of brutality. And every time you think the movie can't find another way to surprise you, it ups the ante yet again. Not only an essential watch, it's an essential (and endless) rewatch. – Mike Cecchini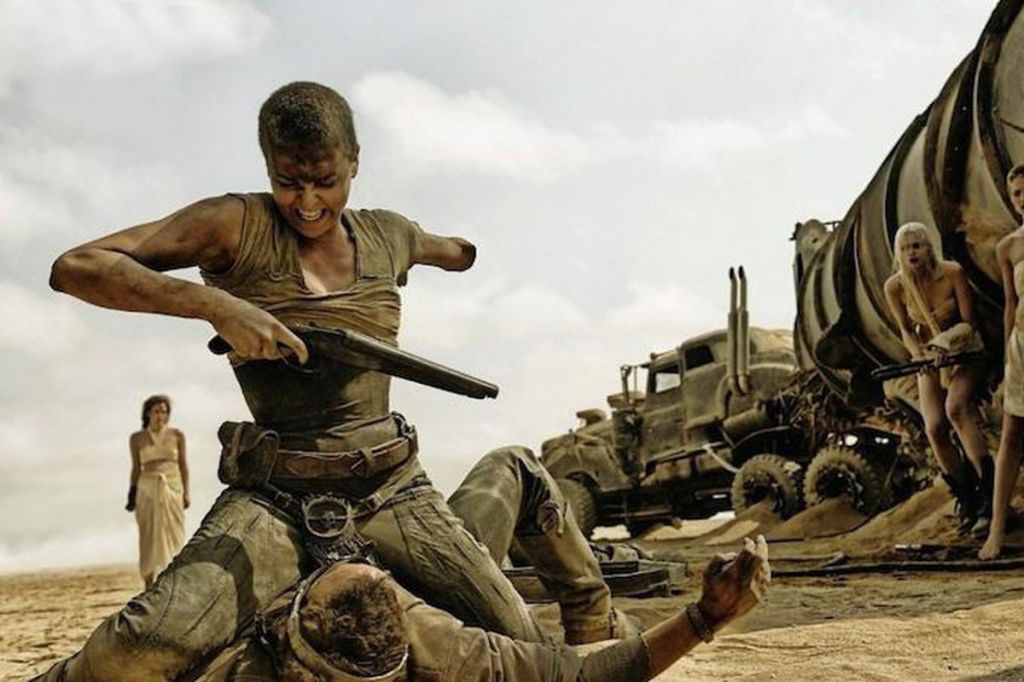 2. Mad Max: Fury Road (2015)
Mad Max: Fury Road is the ultimate Mad Max movie, which means it might just be the ultimate action movie. Director and co-writer George Miller, who created the original Mad Max in 1979 on a nothing budget, took the fourth film in the series to unparalleled extremes of incredible post-apocalyptic intensity and relentlessness, staging some of the greatest chase and fight scenes of all time with a bravado, abandon, and physicality rarely seen in today's CG-fests.
Tom Hardy stepped easily and solidly into the title role left behind by Mel Gibson, but the beating heart of the movie is Charlize Theron's Furiosa. As full of wrath as her name suggests, she embodied a feminine force to be reckoned with and a new paradigm for a future ruled over by toxic men. It may have been Max's name in the title, but this action behemoth belonged to the women. – DK
1. John Wick (2014)
John Wick is the touching story of a man who once did terrible things and then reluctantly returns to do even more terrible things, all for the most understandable and justifiable of reasons: to take glorious, brutal revenge on the rat bastards who killed his puppy. Like The Raid, the appeal of John Wick lies as much in its simplicity as in its spectacular action. Keanu Reeves' titular antihero is a man of few words, and the film itself is as efficient and economical as a trained killer should be, knowing exactly when to cut its brutality with a hint of humor or a nod to its heightened reality setting.
John Wick would be a great action flick no matter what, but it's the little details presented to the audience as matter-of-factly as a weather report that both break the tension and keep viewers intrigued. Nearly every character John meets comes with a rich, implied history, and every organization teases its own intricate rules and structure, often in only just a few spoken words. It's also Reeves' ultimate achievement as an action star, no small feat considering his filmography. And that's thanks to the eye-popping fights and stunts laid out by Chad Stahelski and David Leitch, who positively revel in all the creative ways John can inflict pain and suffering on his enemies and look damn good while doing it. – MC