Features
Michael Douglas Movies Ranked by How Great His Hair Is
Michael Douglas has starred in many wonderful films, but this is arguably the only ranking of them that matters.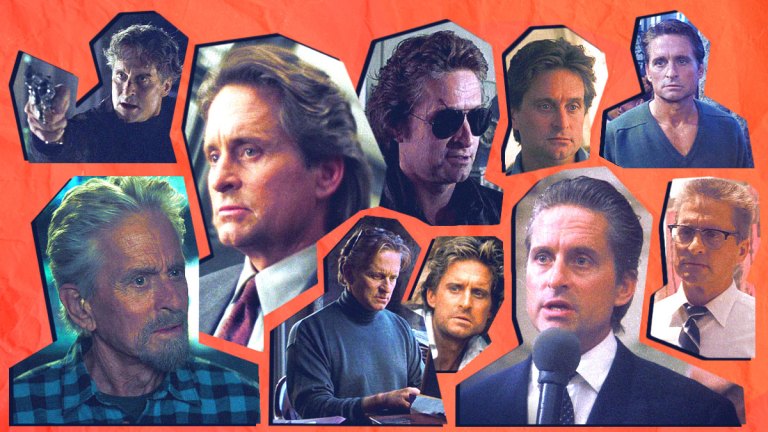 This article contains minor spoilers for various Michael Douglas movies
A vintage nepo baby whose Hollywood career first began in the mid-1960s, Michael Douglas has starred in many hit movies over the decades, but today we are bold enough to argue that the real star of those films was not Douglas himself but his impressive hair, so we're here to run down the absolute, official, and definitive ranking of performances by the actor's mane during its decades in the industry.
Not all of Douglas' films are listed here, to be completely transparent. We have focused on the big ones, nixing fare like the entertaining Behind the Candelabra, for example, because he wore wigs. Offerings like Coma and A Perfect Murder also took a back seat due to the unexceptional appearance of his locks therein.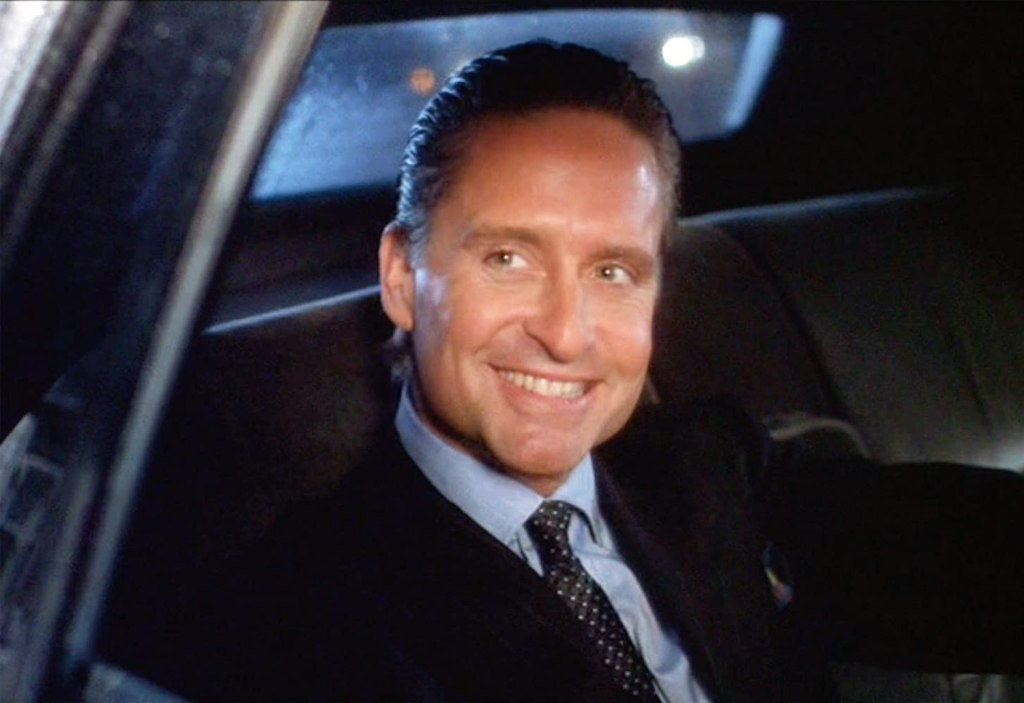 10. Wall Street
You can't help but feel outraged by Wall Street. The film features our man Douglas as Gordon Gekko, a wealthy and unscrupulous corporate raider who is very much the epitome of 1980s excess. "Greed, for lack of a better word, is good," says Gekko provocatively. But when we were greedy for more of Douglas' incredible hair, Wall Street treated us with nought but frugality.
Indeed, he sported a greasy, slicked-back hairdo for his iconic character in the movie, and though we're sure whoever received the order for a job lot of pomade happily made that sale, we can't help but feel upset by what the filmmakers took from us when they agreed to let said pomade be slapped on Douglas with such determination, erasing the natural exuberance we usually associate with the top of his head. A travesty for fans.
9. Fatal Attraction
Douglas' hair was rather subdued in Adrian Lyne's psychological thriller Fatal Attraction, contrasting with the salaciousness of the project. Retaining the length of his standard mid-80s coiffure with just a little grey to focus the age of his Manhattan family man, Douglas' character, Dan Gallagher, commits adultery with a passionate editor – and lives to regret it – after she becomes obsessed with him in the 1987 hit.
The disparaging term "bunny boiler" was coined here and joined the cultural lexicon after the movie's release, but people do tend to forget that during the film's unforgettable ending, when Dan and erstwhile fling Alex (Glenn Close) have their final showdown, Douglas' hair barely moves, keeping its natural bounce and flow until the combined might of steam and bathwater gets the better of it. Kudos to the hairspray and mousse merchants who maintained his styling in what must have been a difficult scene to film, hair continuity-wise.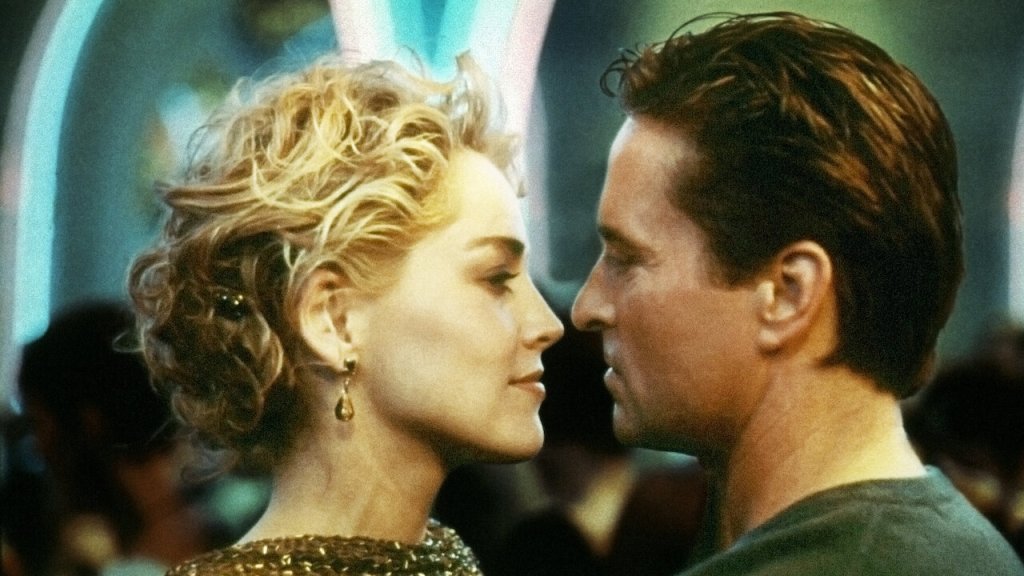 8. Basic Instinct
Basic Instinct saw Douglas' hair trimmed up neatly for another role as a cop investigating the seedy underbelly of whatnot, and it feels like the decision was out of his hands. We don't think he would have signed off on such a neat cut without a hint of rebellion, but it's certainly not the only questionable fashion choice in the movie. Director Paul Verhoeven and co. had the actor confidently wear a V-neck sweater to a nightclub, potter around in ill-fitting suits, and spend time at the beach in a shirt and tie. We don't know what was going on here, but the vibes were off. Important to note that Douglas did not return for a sequel, and the reasons behind his choice may well have been hair-related. We don't know. We just don't know.
7. Falling Down
Douglas' flat-top haircut/white shirt and briefcase combo became iconic after the release of Falling Down in 1993. The film stars the actor as William 'D-Fens' Foster, a character with Extremely Divorced Man Energy who slumps through Los Angeles in an attempt to reach his ex-wife's house and attend his daughter's birthday, getting increasingly enraged by inconveniences and antagonisms along the way.
At the time, many cheered when D-Fens reacted to his LA encounters with violence, but retrospectively the film has been met with more thoughtful notes about the evolution of the white-victimization narrative in modern media. Whether his character is supposed to be satirical or not, the fact is that Douglas' Falling Down hairstyle is still close to the bone. D-Fens looks like he's a pair of wraparound mirrored shades away from being your most embarrassing family member twice removed, ranting right wing conspiracy theories into his phone as the windows steadily steam up in his SUV.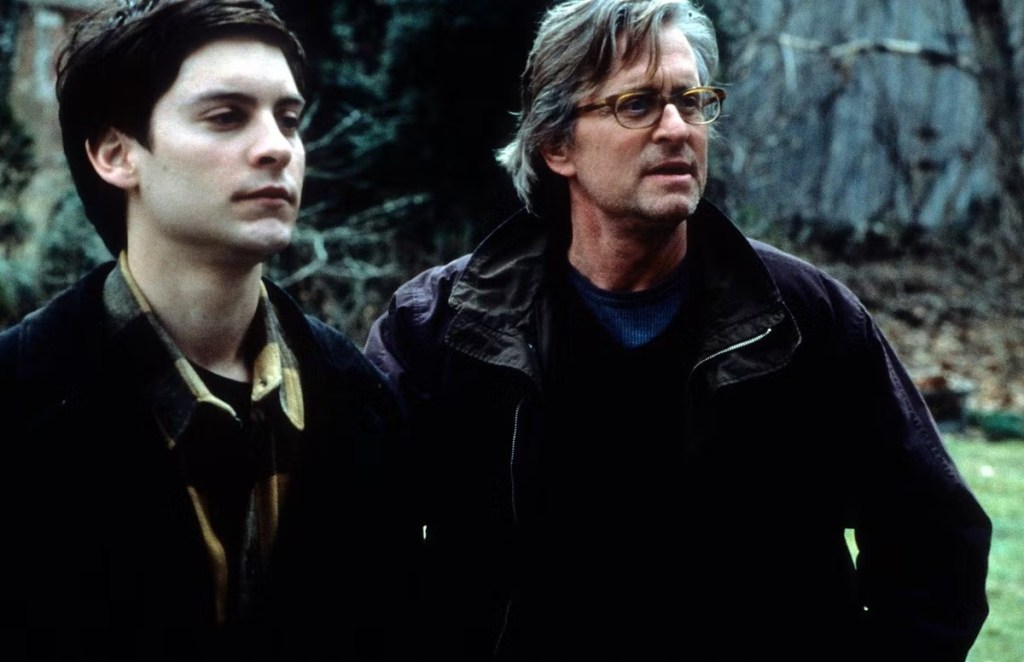 6. Wonder Boys
They say that longer hair gives men in their later years a suave, relaxed look, but there's nothing suave or relaxed about the character Michael Douglas plays in Wonder Boys. Also known as the film Hank Pym did with Tony Stark and Peter Parker before the MCU multiverse was even a glimmer in Kevin Feige's eye, Wonder Boys stars Douglas as Grady Tripp, an aging novelist who can't finish his second novel.
As Tripp bumbles from situation to situation feeling either tired, confused, or high, Douglas' hair almost refuses to follow suit, swooping across his forehead in a messy side parting that nonetheless boasts innate gravitas. Douglas can wear frumpy professor clothes and peer down his spectacles, but his playful hair will always be a dead giveaway – its star simply shines too bright.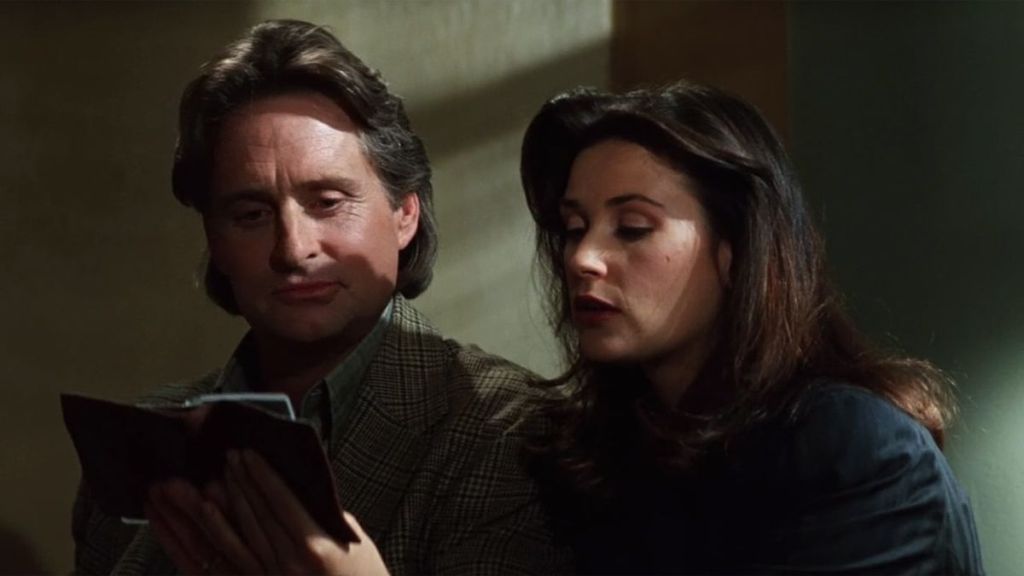 5. Disclosure
Douglas' hair was certainly up against it in the 1994 erotic thriller Disclosure. Not only did it have to compete with some co-stars at the top of their hair game – Demi Moore sports enough body here to make a lion anxious – it also had to survive a perilous journey into a virtual reality filing cabinet.
Obviously, Douglas' cut was more than up for the challenge, and he opted for more of a bouffant style, layering up the top and bottom sections of his hair into what could be described as a two-pronged attack. It was party up front and party in the back, showing everyone he meant business. You can almost see the otherwise magnetic Donald Sutherland seething in resentment after he was resigned to only party up front and the cold chill of neck air in the back.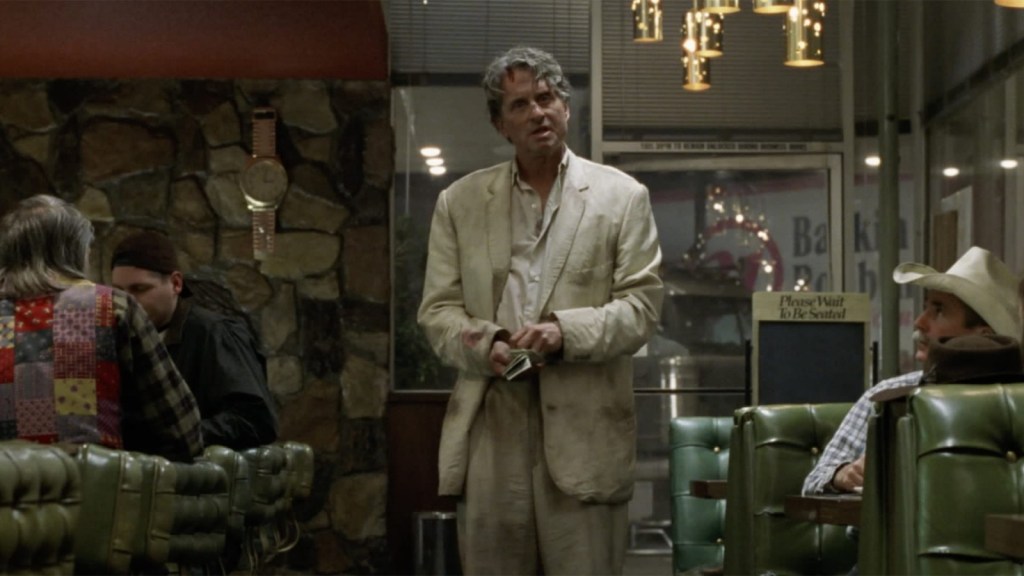 4. The Game
According to its director David Fincher, The Game is a postmodern version of A Christmas Carol, with Douglas' character Nicholas Van Orton an emotionally detached Scrooge forced to go through a series of distressing and humiliating events before emerging a changed man with a new philosophy on life and a deeper interest for women in red bras. That last part isn't in Charles Dickens' classic novel, but we're sure he would have put it in there given half a chance.
Unfortunately, the aforementioned series of distressing and humiliating events also happen to Douglas' hair in The Game. It starts off very slick and styled, but by the end it's a weary mess. Hard to witness, hard to bear, and tragically its stunning performance earned no Oscar nomination.
3. Ant-Man Trilogy
Douglas embraced the silver fox vibe for Marvel's big budget Ant-Man movies. Appearing in the trilogy as both an older, and occasionally de-aged, version of the iconic Marvel Comics character Hank Pym, Douglas' hair did a lot of the heavy lifting, adding an edge of purposeless to the often comedic franchise.
While co-star Paul Rudd's thick brown hair seems ageless, Douglas appears to understand that opting to keep his natural grey deftly accentuates the wisdom and deep scientific knowledge of his character, with no one doubting that long-lost wife Janet (Michelle Pfeiffer) would still be in love with his mop after she returned from the Quantum Realm, despite the couple spending such a long time apart.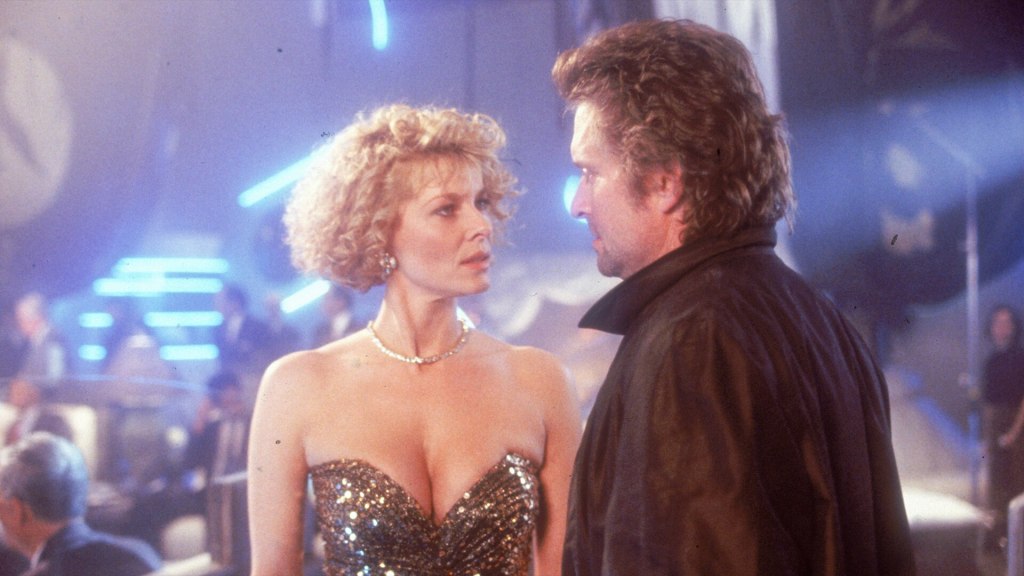 2. Black Rain
1989 brought Ridley Scott and Michael Douglas together for some neo-noir action in Black Rain, which was met with scathing reviews from critics at the time. "Even given all of its inconsistencies, implausibilities and recycled clichés, Black Rain might have been entertaining if the filmmakers had found the right note for the material," wrote Roger Ebert. "But this is a designer movie, all look and no heart."
It may be lacking heart, but Mr. Ebert clearly noted the look: a lesser-spotted Douglas hairstyle making an astonishing appearance in the wild. Globetrotting from the NYPD to Japan, Detective Nick Conklin's hair has a slightly longer and more natural form, allowing soft curls to emerge where they would normally be straightened out by a simple brush and blow dry. This was a rare situation indeed.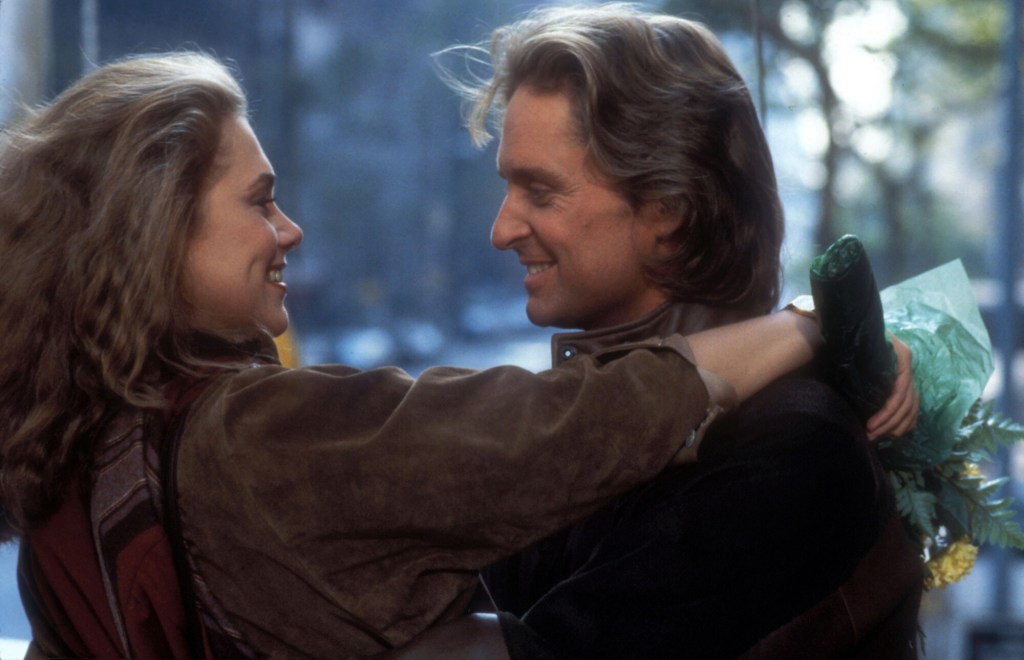 1. Romancing the Stone
Romancing the Stone was the cinematic venture that turned Michael Douglas into a movie star, and it was a key chance for his barnet to show off its magnificent range on the big screen. In the romantic action-comedy, Douglas stars as Jack T. Colton (the T stands for Tresses), a rugged exotic bird smuggler who helps a damsel in distress lost in the Colombian jungle because she promises him that the encounter will pay off financially later.
In Romancing the Stone we get wet hair, we get muddy hair, and we get "just had a nice hot bath and it's gone all foofy" hair. But first, we get "hidden under a hat" hair – the full tufts and waves of his shiny, raw umber mane teased out until the romancing truly began. He knew what he had.