Features
Netflix's Hollywood Episode 5 – Easter Egg and Reference Guide
Hattie McDaniel makes a big interest and the mob gets involved in Hollywood's fifth episode.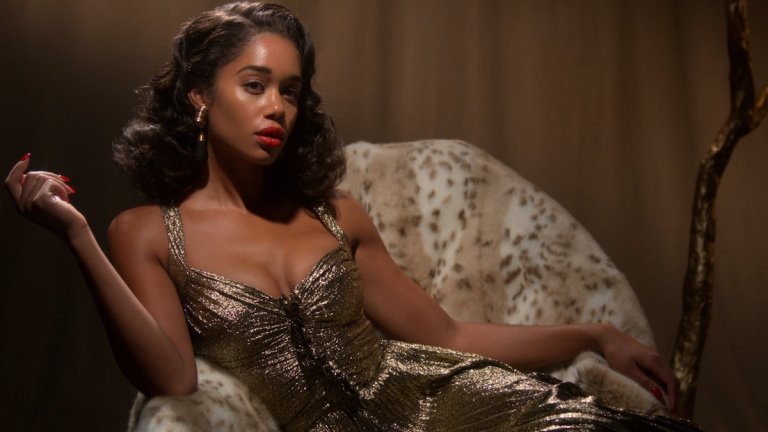 This article contains Hollywood spoilers. You can find the easter egg guide for the previous episode here.
In what might be the most glamorous episode of Hollywood yet, George Hurrell's decadent photo sessions get name checked, and (probably) Mickey Cohen's mob gets involved. Let's get cracking at those eggs!
Hollywood Episode 5
-The episode begins with Avis and company lamenting how terrible Walt Disney's Song of the South is. And they're not wrong, although one of its stars, Hattie McDaniel, is about to get a pretty glamorous treatment beginning in this episode…
-As production of Meg gets underway, we hear Ethel Merman's iconic "There's No Business Like Show Business" playing.
-We are also introduced to Queen Latifah as Hattie McDaniel… and she's in a three way with a man and woman?! This is based on speculation and rumors that she was part of the alleged Hollywood Sewing Circle where stars in "lavender marriages" (married to gay men) secretly had lesbian and/or bisexual trysts. McDaniel was married four times but none of them stuck. Other alleged Sewing Circle members include Greta Garbo, Joan Crawford, Marlene Dietrich, Tallulah Bankhead, and Myrna Loy.
-In a sign of Meg's importance, we learn that George Hurrell agrees to photograph both Camille and Jack in glamour photos. Hurrell is responsible for most of the iconic glamour stills of the Hollywood Golden Age. Hired by Irving Thalberg (him again) at MGM in the 1930s, Hurrell helped build the visual mythology around Clark Gable, Joan Crawford, Rosalind Russell, Carole Lombard, Anna Mae Wong, and Vivien Leigh. He moved in the '40s to Warner Bros. and then Columbia, giving the same treatment to Bette Davis, Errol Flynn, Olivia de Havilland, James Cagney, Humphrey Bogart and Lauren Bacall, Rita Hayworth, and more.
-During the photoshoot, we hear Larry Clinton & His Orchestra's "I Double Dare You."
-Jack Castello having his vice record almost show up on the pages of Tattle Tale is obviously a riff on the terror most stars harbored for Confidential magazine. The first major tabloid read by millions around the country, Confidential printed the most salacious (and often inaccurate, but not always) gossip about celebrities, seeking to ruin careers. Think Danny DeVito in L.A. Confidential.
-Henry Willson agreeing to fix Jack Castello's problem is reminiscent of how he needed to squash a Confidential exposé that would've proven Rock Hudson was gay in the 1950s. However, Willson didn't turn to gangsters (studios had their own fixers for that, like Eddie Mannix at MGM). Instead he offered dirt, including arrest records, on two other clients he had.
-The gangster Henry turns to in order to put the fix on the Tattle Tale journalist is simply called Mickey, but he's obviously meant to be Mickey Cohen: the gangster who ran Los Angeles for the Meyer Lansky syndicate until Mickey got pinched in '51 on income tax invasion. Hey, if it worked for Capone…
-Apparently Mickey Cohen gets starstruck by pinup Betty Grable. Who knew?
-Judy Garland's "Friendship" plays as the goons break the journalist's leg.
-Kincaid and Dick Samuels (Joe Mantello) chat about how Claude Rains is just too likable to play a Nazi. Yet he did in one of the best movies of the 1940s before this: Alfred Hitchcock's Notorious (1946)!
-They also imagine as a joke other actors playing Hitler including mugging child star Mickey Rooney and Edmund Gwenn. If you didn't know, Edmund Gwenn played Santa Claus in Miracle on 34th Street, which came out in summer 1947. Smart move there, Fox.
-After fleeing Kincaid's in panic and shame, we see Dick go to a bar. Playing on the jukebox is Frank Sinatra's rendition of "As Time Goes By," the definitive Hollywood standard of wistfulness after Casablanca (1942).
-As Dick accepts he deserves to be loved as a gay man, we hear "You're Nobody Till Someone Loves You" by Russ Morgan and His Orchestra.