Features
Ncuti Gatwa Says the Perfect Goodbye To Eric in Sex Education Season 4
Ncuti Gatwa's character Eric in Sex Education's final series gets the most profound and important exit of all. Bring on the TARDIS.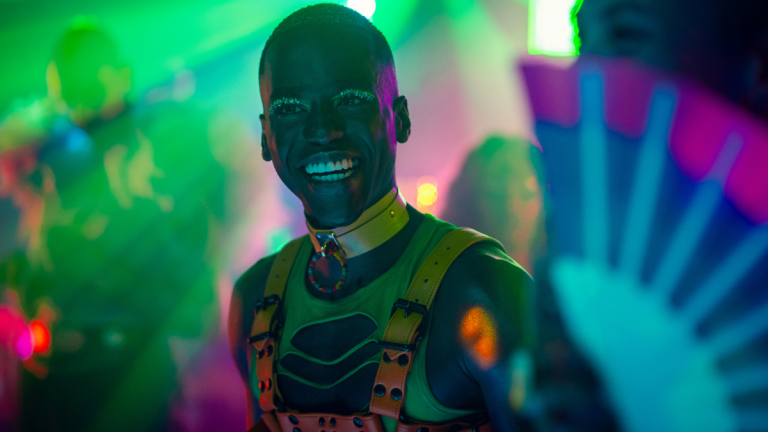 WARNING: contains spoilers for Sex Education seasons 1-4
The first series of Netflix teen drama Sex Education came out so long ago – in January 2019, pre-Covid, aka The Before Times – that it's hard to remember a baby Otis and Eric turning up at their first day of sixth form. But even on day one, Ncuti Gatwa as Eric foreshadowed just how big a journey the characters would go on throughout the show's four series, telling Otis (Asa Butterfield): "We shall transform from lowly caterpillars into… awesome killer whales?"
Back then, Eric was one of the only two gay people in his year ("that we know of", he stresses), and he was constantly bullied, literally being pushed up against the lockers and called a "f**" in the first episode, as if the show was trying to win a full house in Stereotypical High School Drama Bingo. Later in the series, he's the victim of a drive-by gay bashing, and the initial glimpses of his strict religious Nigerian-Ghanaian family hint that he might end up estranged from them and his faith, a victim of their inability to accept his true identity.
So far, so textbook gay-best-friend character, and so disappointing.
But just as we were writing Eric off, creator Laurie Nunn pulled a handbrake turn on his character's journey, allowing Gatwa to transform him into one of the freshest, most fully-rounded LGBTQ characters on screen. While most teen dramas zig, Sex Education tends to zag, and Eric becomes no different: his family actually became fully supportive of his identity (albeit not in Church), and while Adam Groff (Connor Swindells, SAS: Rogue Heroes) grapples with the shame of his sexuality, Eric appears supremely, refreshingly comfortable in his own skin.
Over the course of the four series, Eric repeatedly holds Otis to account when he lets him down, demanding to be more than a sidekick in his straight, white world, and refusing to water down his differences from Otis to make them more "palatable" (not just for Otis, but for the viewers at home too). Gatwa makes scene-stealing look effortless, a commanding presence that demands your full attention, and Sex Education simply wouldn't have had the same success without him.
The fourth and final series is no different, although Otis and Eric find themselves becoming the new kids again, settling into their new school, Cavendish College, which is a world away from their more anarchic Moordale Secondary, which closed down at the end of series three. This new, student-led sixth form is a progressive utopia – all sustainability, daily yoga, and the popular kids are actually kind, even implementing a "no gossip" policy. While Otis struggles to adapt to a long-distance relationship with Maeve, who is now studying in the States, Eric finds a new tribe in popular LGBTQ friendship group "The Coven", finally experiencing unconditional acceptance and being able to explore his queer identity more fully.
He also, against the odds, manages to carve out a healthy relationship with his faith as he prepares to be baptised. Nunn explained this latter aspect of Eric's journey was a conscious decision, telling The Guardian "We just really wanted to honour people who are LGBTQ but also have faith – those people exist, and they shouldn't be looked down on, they should be celebrated." 
It can be no accident that Eric's resolution on Sex Education sees him decide to become a pastor. After walking away from his own baptism ceremony in the final episode when he realised he couldn't compromise on his identity for his religion, it looked like Eric would have the same fate as so many other LGBTQ characters, forced to leave a community he loves in order to be authentically himself. And even though the pastor eventually turns up at his school fundraiser to meet Eric halfway, his offer of a "discussion on how the church can be more inclusive" is nowhere near enough, as Eric points out. But does Eric reject this weak attempt at reconciliation, meaning nothing will change at all? No – he accepts that it's a start, and invites the pastor to dance.
Eric bodes incredibly well for Gatwa's upcoming role as the Fifteenth Doctor in Doctor Who, not just because of his confident performance, but because of his assured and uncompromising portrayal of a character that doesn't need or want to adhere to the mainstream to make the audience comfortable. If he's as fearless in his portrayal of The Doctor, we're in for a treat. From caterpillar to killer whale, indeed.
Sex Education season 4 is streaming on Netflix now