Features
Doctor Who: New Doctor Ncuti Gatwa's Past Roles from Sex Education to Barbie
Where have you seen the new 14th Doctor before? Or: why Ncuti Gatwa's trousers in Sex Education prove that he'll make a brilliant Doctor.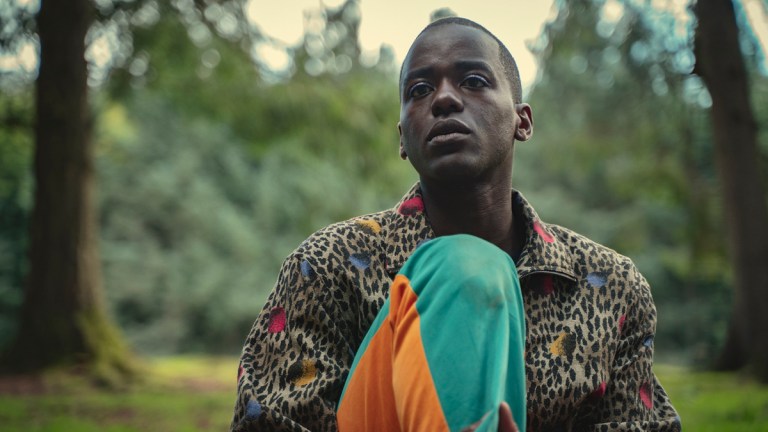 The announcement of a new Doctor is like Christmas for Doctor Who fans, if Christmas came every three-to-five years and appeared without warning. Immediately the Internet is awash with questions like 'Will they be able to carry off that feeling of being centuries old but in a young body?' (or 'Will they be able to carry off that childlike glee and glint in the eye?' if they're getting on a bit), 'Can they say "reverse the polarity of the neutron flow" as if they know what it means?', 'Is their nose big enough?' (a big nose is historically a really good sign, although Matt Smith was able to make a big chin do the same work).
Immediately everyone is doing google image searches to see what the new incumbent looks like in tweed, or, just on the off chance, a really big scarf.
Of course, in reality it is going to be months before we learn anything about Ncuti (pronounced 'shooty') Gatwa's incarnation of the Timeless Child, the Oncoming Storm, Theta Sigma, John Smith, the one, the only, Doctor Who ('World Enough and Time' made that name canon, dying on this hill). Russell T Davies is well-experienced at keeping tight-lipped about this stuff, and we still have the BBC's centenary special to go. If we are lucky they might leak a photo of the new outfit before then, but there's no guarantee.
Short of conducting an exquisitely planned heist to break into Russell T Davies' office and steal the new scripts from his laptop (Den of Geek officially does not condone this behaviour), our only way forward is to obsessively watch everything the new actor has every filmed and microanalyse it for clues as to what the new Doctor will be like. Join us in this folly!
Sex Education (2019-)
Sex Education is basically a Spider-Man movie if Peter Parker got bitten by a radioactive sex therapist. It's a high school comedy-drama about an inhibited young man who teams up with a classmate to offer advice on all matters sexual to their peers. Gillian Anderson's in it, and there are currently three seasons on Netflix with a fourth on the way.
The first thing, as a Doctor Who fan, that you notice while watching Sex Education, is that Ncuti Gatwa is wearing absolutely perfect Doctor trousers – grey tweed that Hartnell, Troughton, or Capaldi would not turn their noses up at. Later, you will also notice he wears a number of shirts and jackets that Colin Baker would also not turn his nose up at. But Sex Education's costume designer has not been cast as the Doctor, Ncuti Gatwa has. Here, he plays Eric, the gay, British-Nigerian-Ghanian (Gatwa is Scottish-Rwandan) best friend of Asa Butterfield's protagonist Otis.
We'll skip over the fact that Sex Education is clearly set in the same continuum as 'The Wedding of River Song' where the past, future, present, USA and Britain have been mysteriously smudged together into something that almost but does not quite resemble any of them.
Frankly, Gatwa is brilliant in Sex Education. All the trademarks of a good Doctor are there. He can gurn, he can flail his arms, and he can play the French horn. He can be funny, inspiring and occasionally heart-breaking. He also manages to carry off the extremely Doctor-ish balancing act of moving into any situation with absolute confidence and no idea what he is doing.
Honestly, if you're a Doctor Who fan,  then there is a good chance you might not have checked out Sex Education, but if you want to see the next Doctor in action, you will have a good time here (with the important caveat that Doctor Who is a kid's show and this really is not).
Barbie (2023)
The most recent entry of Ncuti Gatwa's IMDb page is the Greta Gerwig-directed new Barbie movie, co-written with Noah Baumbach, and starring Margot Robbie, Ryan Gosling and Emma Mackey. This film promises to have more artistic talent behind than any movie ever based on a toy franchise (including Orson Welles's turn in The Transformers: The Movie).
We have no idea what Gatwa's role in Barbie is going to be, but could his involvement with a project where "life in plastic" is "fantastic" hint that this Doctor will have a more sympathetic disposition towards the Autons? Food for thought.
GRID Legends (Videogame, 2022)
Gatwa plays race driver Valentin Manzo in this racing game. IMDb lists him as only a voice actor for this, but a quick google into the behind the scenes videos shows that this was a fully-fledged performance. He describes the character as very focused but as somebody who "brings the fun back". Is that what he plans to do for the Doctor? Or are these in fact two completely unrelated performances?
The Last Letter for Your Lover (2021)
Netflix film The Last Letter for Your Lover is "a pair of interwoven stories set in the past and present following an ambitious journalist determined to solve the mystery of a forbidden love affair at the center of a trove of secret love letters from 1965". So exactly the sort of non-linear timey-wimey plotting in which former showrunner Steven Moffat used to revel.
Gatwa plays "Nick", a co-worker of the protagonist, journalist Ellie Howarth. The Doctor has travelled with a journalist before, so this is obviously going to be vital to Gatwa's performance.
Horrible Histories: The Movie – Rotten Romans (2019)
In Dominic Brigstocke's family comedy, Gatwa plays "Timidus," a Roman soldier befriended by the protagonist when he gets conscripted. Does this mean that this Doctor will be leaning into his history as a soldier in 'The Last Great Time War?' A bit played out perhaps, but in Russell T Davies' hands it could still work.
Shakespeare's Globe: A Midsummer Night's Dream (2016)
A Midsummer Night's Dream (a version of which Russell T Davies adapted for the BBC in 2016) would make a pretty good Doctor Who episode by itself. Mortals unwittingly wander into the realm of powerful immortals who meddle with them for sport…
Now ideally Gatwa would have played Puck, the trickster, or maybe even the mighty King Oberon. That would be thematically handy, but instead in this stage production, Gatwa plays Demetrius, one of the many mortals in the play who gets messed about with love potions. Notably, by the end he is left enchanted into loving another character, who themselves has been cured of the enchantment. Are we ready for yet another Doctor who's unlucky in love?
Stonemouth (2015)
This BBC adaptation of an Iain Banks novel about a man returning to a seaport time near Aberdeen, controlled by two rival gangs is is a tense story of a character with a dark past returning home to reckon with it. Gatwa plays "Dougie", a character that nobody who has seen the miniseries remembers.
Is that because his character is constantly followed around by the Silence? Because that is the best solution we have.
Bob Servant (2013-2014)
Bob Servant was a Scottish sitcom by Guilt creator Neil Forsyth starring Brian Cox as a burger tycoon who runs for election as an independent MP. It ran for two seasons and nine episodes over 2013 and 2014. In the first episode of season two, Gatwa played "Male Customer".
Now, full disclosure. We have not actually seen the nine-episode Brian Cox vehicle Bob Servant, but given that he is a burger tycoon and Gatwa plays "Male Customer", he probably buys chips, which is we all know is an absolutely integral part of Russell T Davies' interpretation of the Doctor.
Doctor Who returns to BBC One and BBC America for Jodie Whitaker's final episode this autumn.