Features
What Could Moon Knight Season 2 Look Like?
The complicated world of Moon Knight is still very much Marvel's oyster, but a potential season 2 of the MCU series could look quite different.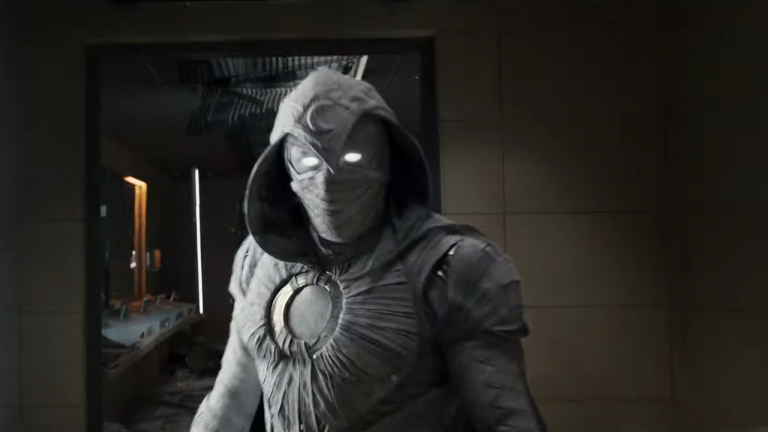 This article contains Moon Knight spoilers
"The peace you've always wanted, but never had." According to Taweret, Marc Spector achieved that state when he arrived in the Sea of Reeds in the afterlife. But those words seem like a better description of Marc and Steven at the end of the series finale. The two identities seem to have integrated, and wake up in Steven's bed, ready to live their lives anew (seemingly unperturbed by the dead bodies surrounding them whenever they blackout). In this state of peace, Marc and Steven's story has finished.
Well, sort of. Although reports show that star Oscar Isaac only signed on for this one six-episode series, both he and Marvel clearly left the door open for more Moon Knight. So while we wait for a firm announcement one way or another, let's examine some of the ways that a Moon Knight season two could go.
Layla, the Egyptian Superhero
In the middle of a chaotic action scene in Moon Knight episode six, director Mohamed Diab paused the fracas for a moment when a little girl asks Layla if she's an Egyptian superhero. With a proud smile on her face, Layla looks at the girl and answers in Arabic, "I am." At that moment, you can almost feel Diab's pride as he adds a hero from his homeland into the Marvel pantheon.
"This is our Black Panther," Diab tells Den of Geek about Layla's heroic journey. Against tropes that too often portray Arab women as submissive, Layla offered an opportunity to portray reality. "[W]omen in third world countries are living in harsh conditions and actually this makes them stronger," the director explained. "Even if she didn't end up being a superhero, she would have still been a very strong character."
For even the show's detractors, May Calamawy's Layla El-Faouly has been the breakout of the series. Not only has the character been a far more competent and principled hero than either Steven or Marc, but Calamawy has shown a range and charisma that rivals the series' A-level stars, Isaac and Ethan Hawke. Simply put, we want to see more of her.
It may be fortuitous timing, as Egypt could potentially play an important role in future Marvel projects. With the X-Men and mutants sure to make their way into the MCU, the first mutant Apocalypse aka En Sabah Nur (played less memorably by Isaac in 2016's X-Men: Apocalypse) and Amahl Farouk the Shadow King, can't be far behind. Furthermore, we know that we'll see Jonathan Majors as Kang the Conqueror in next year's Ant-Man and the Wasp: Quantumania. The time-traveling Kang has taken many aliases throughout history, including the tyrannical ancient Egyptian Pharaoh Raman-Tut.
Should either of these figures threaten the MCU's Egypt, it's good to know that a hero like Layla is on the job to stop them.
We have more info about how Layla's Scarlet Scarab came to be here.
Jake Lockley, Street Avenger
Of course, the most obvious possibility for season two would involve Marc's third personality, Jake Lockley. This third identity had been teased throughout the last few episodes of the series, and comic book readers knew that streetwise cabbie Lockley was an important part of the Moon Knight story. The finale's mid-credits scene showed a Spanish-speaking man in black wheeling Arthur Harrow out of Sienkiewicz Psychiatric Hospital into a white limousine. In the back of the limo, Harrow is greeted by Khonshu, who introduces him to Lockley before the latter shoots him in the head.
To be sure, Moon Knight has strayed very far from the comics, with its British shop worker version of Steven Grant and its cult leader Arthur Harrow. But the Lockley shown here does have some significant similarities with his comic book forerunner. Although MCU Lockley occasionally speaks Spanish and acts like a hitman, both men act as drivers and don newsboy caps. More importantly, it seems that both men operate on a street level, which could offer several plot possibilities.
The MCU has largely stayed away from street-level heroes, sending the friendly neighborhood Spider-Man far from home and shunting the Netflix Defenders off to their own corner of the universe, disconnected from other characters. Thus far, only Hawkeye has brought us into the MCU underworld. But in the comics, street-level characters serve an important role in the universe, allowing creators to tell stories that don't deal with reality-shaping threats.
A second season of Moon Knight could fill this gap if it focuses on Jake Lockley's exploits. Sure, he would still be driven by Khonshu, but the stories could deal with numerous other less-superpowered baddies. Even better, Jake's stories could deal with morally gray areas usually explored by characters such as the Punisher, who Kevin Feige may not be ready to integrate into the cinematic universe.
Moon Knight's Other Antagonists
The last two episodes of Moon Knight borrow heavily from the first five issues of writer Jeff Lemire and artist Greg Smallwood's 2016 run. But Diab also expresses love for the "Incarnations" arc that Lemire did with several artists, including Wilfredo Torres, Frencesco Francavilla, and James Stokoe. "Incarnations" finds Marc's personalities split into characters in a movie financed by Steven. "I loved that run," Diab tells Den of Geek. "I'm sure we have to use it at some point if I'm back at some point expanding that world."
The movie arc is just one of the possibilities the comics offer for a second season. One of the more interesting decisions by showrunner Jeremy Slater was to make the series' primary antagonist Arthur Harrow, a mad scientist who appeared in only one little-known Moon Knight issue from 1985. While Hawke and his writers acquitted themselves well in this live-action interpretation, the decision leaves the character with a largely unexplored rogues gallery.
Two of the most important Moon Knight villains have already appeared in the series (kinda). In episode three, Marc and Layla visit the Cairo home of Anton Mogart, who comic book fans know as Midnight Man, a black-clad thief who often clashes with our hero. However, the untimely death of Mogart's actor Gaspard Ulliel earlier this year means that Disney would have to recast the character for a second season.
Moon Knight's most prominent antagonist has been only mentioned in the show. Episode 5 retells Moon Knight's origin, in which Marc (and Layla's father) were killed by Marc's fellow mercenary, Bushman. In the comics, Bushman returns often to trouble Spector, making him the hero's arch-enemy. However, if he were to be brought into the MCU, some care would be required to do away with the racist elements of the character, similar to the portrayal of the Mandarin aka Wenwu in Shang-Chi and the Legend of the Ten Rings.
Moon Knight first appeared fighting Jack Russell, the Werewolf by Night who's set to get his own Halloween special on Disney+. Marc's deceased brother Rand comes back as Hatchet-Man or Moon Shadow to wreak havoc. Other interesting villains include the sleep demon Morpheus, killer nun Stained Glass Scarlett, and Ra's avatar the Sun King.
Any of these characters would make compelling bad guys, should Marvel decide to do a second season of Moon Knight.