Reviews
Moon Knight Episode 3 Review: The Friendly Type
Moon Knight episode 3 takes some wild but messy risks.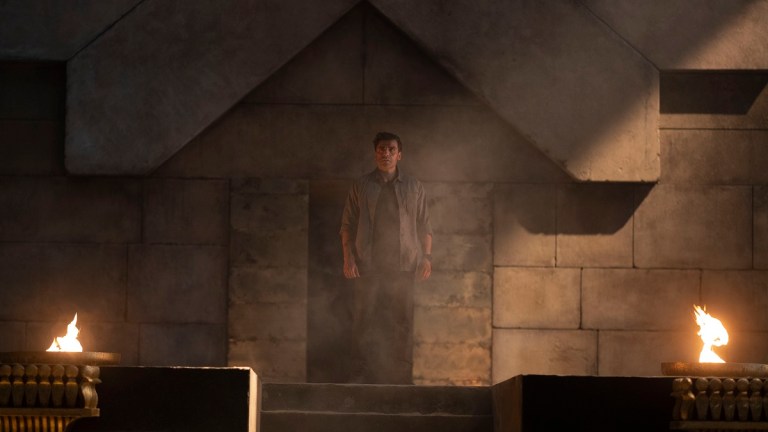 This review contains spoilers for Marvel's Moon Knight
Moon Knight Episode 3
The third episode of Marvel's Moon Knight, "The Friendly Type", winds up feeling like a puzzle-solving diversion for the most part, and that's a bit frustrating considering there are only six of these bad boys in total and we're halfway through them by the end of it, but we do get to learn some key information about Marc Spector and Layla El-Faouly during the events that play out, so it's not a total loss.
We begin by focusing on Layla, Marc's estranged wife and Khonshu's preferred choice for a new Moon Knight avatar. Layla is getting ready to re-enter Egypt after a decade away, and she briefly touches on what happened before she left Egypt: her father died on an archaeological dig, but Layla has precious little information about what exactly happened on that fateful day. If you're a fan of the Moon Knight comics, this is probably the full confirmation you needed that Layla is the MCU's reshaped version of Marlene Alraune. You may also have some idea of what happened to her father.
Meanwhile, the golden scarab compass leads Arthur Harrow to Ammit's tomb, and his followers begin their dig. He's aware that Marc is tracking him, but he doesn't really give a flying fig – Harrow is confident that the arrogant Khonshu will somehow mess it up, and sadly he's not entirely wrong, is he?
In the city, Marc fights some punks on a rooftop for morsels of information about Harrow's whereabouts, and we get a strong, daylit look at how Oscar Isaac's Marvel Studios fight training has paid off – pretty good! We also establish that although Marc can be a brutal mercenary, he often stops short of being deadly with his human combatants. I suspect this information will become very important in later episodes.
When Marc threatens one of the men with a knife to the throat, he sees Steven begging him to stop in its reflection. He then flips into Steven and leaves the scene, with the men allowed to walk. Marc takes over again, fighting back Steven's incursion, and resumes his pursuit. They're naturally confused. "You just let us go, man!" they complain. "That wasn't me," Marc replies, before getting a nasty blow to the head.
When he awakens, Marc is covered in blood, and has killed some of the men at a remote location. He blames Steven, but Steven denies causing the bloodshed, and we believe him. We don't get to meet the mysterious alt responsible for the carnage in this episode, but is it premature to assume that the missing Jake Lockley identity from the Moon Knight comics is already alive and kicking in the recesses of Marc Spector's mind?
Marc thinks the other gods and their avatars should be summoned to take stock of Harrow's plans to raise Ammit, but Khonshu isn't too sure about the plan – mainly because they can't stand him, and they'll be eager to imprison him. Still, Khonshu brings about an eclipse to catch their attention and Marc makes his case, which requires him to be possessed by Khonshu.
The scene is one of the wildest that the MCU has ever dared give us, treading a truly wobbly line between funny and unsuitable when paired with the unsettling nature of Harrow's defense. It's a bold strategy, Cotton. The show is clearly not afraid to go for broke in pursuit of its vision, but it was frustrating to watch! Not just because of its uneven tone, or because this confrontation with Harrow in front of the gods should have been a slam dunk, but also because it was gaslight o'clock, with Harrow using used Marc's DID as a weapon. The whole scenario also kinda proved Harrow's point: that maybe some people should be taken out of the equation before they commit an atrocity, not after as the gods demand. And by "some people", I mean his diabolical ass.
Failing to get the gods on side, Marc is forced to find another way to move forwards. He reunites with Layla and pushes her away emotionally before they attempt to acquire a sarcophagus clue under the watchful eye of notable thief and Marvel villain Midnight Man aka Anton Mogart (the late Gaspard Ulliel).
Things fall apart pretty quickly, and Layla and Marc end up battling Anton and his goons. It allows us to get a better picture of how badass both Marc and Layla can be, and therefore why Khonshu has become so keen on Layla being Marc's successor. Harrow also toys with exposing a big secret that Marc has been keeping from Layla, and I assume we'll get more clarity on that later from Marc himself, since it appears to be weighing on his soul quite heavily.
Ultimately, it's Steven who becomes the key identity, helping to turn back time on the night sky to pinpoint the location of Ammit's tomb. Khonshu helps Steven complete the task, knowing he will be imprisoned in stone by the gods for doing so.
After a pretty well-paced and character-focused episode last week, "The Friendly Type" was a step back. Now that we've gotten to know Steven, Marc comes across like a bit of a tool and is a little hard to root for. The Midnight Man fight was also pretty underwhelming, never really making enough of Anton's character so that he was anything more than an end of level boss that Marc and Layla had to beat to solve a silly map puzzle.
How will Marc, Steven, and Layla fare in their quest without the protection of the Moon Knight? I'm looking forward to finding out. Hopefully, there will be a bit more momentum in episode 4.