News
Moon Knight Team Pay Tribute to Late Midnight Man Actor
Gaspard Ulliel appears in the latest episode of Moon Knight as Marvel Comics villain Midnight Man, in what is one of his final screen appearances.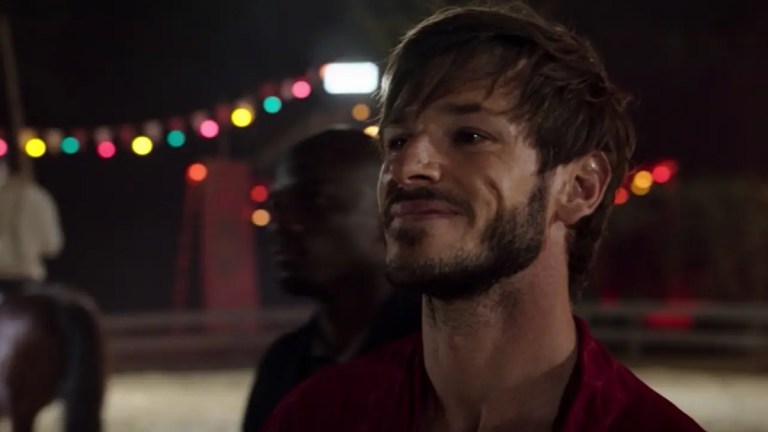 Viewers of Marvel's Moon Knight may have noticed that episode 3 was dedicated to the memory of French actor Gaspard Ulliel, who plays black market antiquities collector Anton Mogart in the episode. He ends up clashing with Layla El-Faouly (May Calamawy) and Marc Spector (Oscar Isaac) – the latter in and out of the Moon Knight suit — over a sarcophagus containing the next clue to the whereabouts of Ammit's tomb.
Ulliel, who made his feature film debut in 2001's The Brotherhood of the Wolf but was perhaps best known to American audiences as a young Hannibal Lecter in the 2007 film Hannibal Rising, was tragically killed at the age of 37 on January 18, 2022 in a skiing accident in Savoie, France.
Ulliel was not as well known on this side of the Atlantic outside of his lead role in the Hannibal Lecter origin story. His work as the still-forming Hannibal was given favorable reviews although the film was not, only doing tepid business at the box office. But he was highly regarded in his native country, where he became a Knight of the Order of Arts and Letters in 2015.
His other films included Jean-Pierre Jeunet's A Very Long Engagement (2004), Saint Laurent (2014), and It's Only the End of the World (2016). His work in Moon Knight is among his final screen appearances, with two more French films – "Coma" and "More Than Ever" – still awaiting release.
"I met Gaspard 10 years ago," says Moon Knight director Mohamed Diab, who directed Ulliel in the third episode. "We talked, and I always felt like he was Hollywood material. He had everything — he had the looks and talent. When I got this job and we had his character, Anton Mogart, I contacted him and at once he wanted to be in it."
Diab adds that although Ulliel is "a legend" in France, on the Moon Knight set he was "so humble that it felt like he was acting for the first time." Diab continues, "He did such a great job that I felt like he was going to get called back one day by Marvel…it's such a loss. I can't even believe that we're talking about him in past tense because he was full of life. He was beautiful as a person and the only positive thing from everything that happened is that he's going to live through his films as a legend forever."
Moon Knight executive producer Grant Curtis agrees with Diab's assessment of Ulliel. "Gaspard was amazing," Curtis says. "I didn't know him well, worked with him for four weeks, give or take, but he was a wonderful human being, an amazing actor, and it's a massive loss. It was a pleasure and an honor to work with him and absolutely sad to lose him."
The fate of Ulliel's character (based loosely on Midnight Man from the Moon Knight comics) is left unclear at the end of his debut episode. While he doesn't wear the dark blue costume of his comics counterpart in this episode, nor is his comic book codename mentioned, in the final moments of his onscreen battle with Moon Knight, you can hear twelve chimes, and a clock tower in the background is indeed set to midnight.
Mogart does not appear in the fourth episode of the show, and as of this writing it is not known whether he will return in the remaining two segments after that. But whatever happens, Moon Knight stands as one of the last appearances by this beloved French actor, whose work will indeed live on.
Moon Knight is streaming on Disney+, with new episodes premiering on Wednesdays.