News
Marvel's MODOK Trailer Reveals Weird Puppet Styling
Marvel's MODOK animated series on Hulu has adopted a Robot Chicken style. Get your first look here!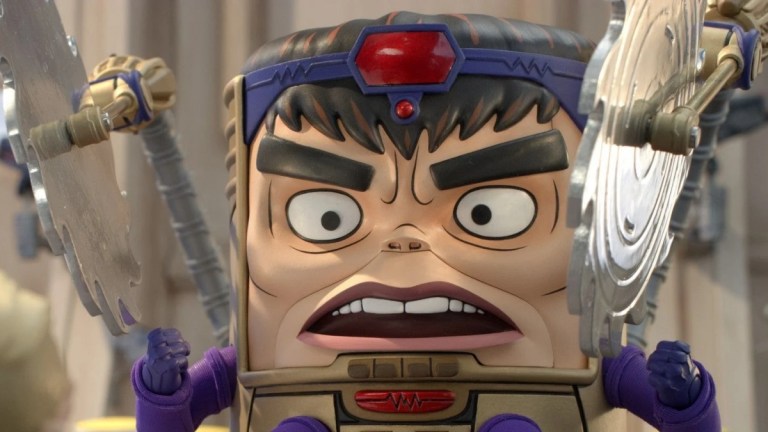 I feel like we've come a long way in our acceptance of superhero concepts as a society. The X-Men movies were so reluctant to include giant robots until they were six movies in and to this day, we haven't seen Wolverine wear his trademark yellow tights on the big screen. We're ready for that now and we're ready for Galactus and we're ready for a space horse who can pick up Thor's hammer and so on.
Even as the main villain of the new Avengers video game, MODOK is always going to be a hard sell. While he's a fearsome foe, incredibly intelligent, and powerful, he's also a funky-looking giant head with normal-sized limbs dangling around with little use. He's the epitome of bizarre comic book designs and if you're going to give him a spotlight, you're going to need to think hard about how you're going to portray him.
As a gigantic doof played by Patton Oswalt for a comedy TV show filmed in stop-motion? Sure, that'll do.
At New York Comic Con, we finally got to dive headfirst into the upcoming Hulu series in a panel featuring co-creator/writer/executive producer Jordan Blum and the main cast: Patton Oswalt (MODOK), Aimee Garcia (MODOK's wife), Ben Schwartz (MODOK's son), and Melissa Fumero (MODOK's daughter).
Plus it comes with two clips from the show.
MODOK tells the story of the Mental Organism Designed Only for Killing/George Tarleton as he has to deal with his mad scientist organization Advanced Ideas Mechanics running out of money. AIM has no choice but to sell out to the corporation GRUMBLE and MODOK is put through the unfortunate hell of having to constantly alter his organization to meet executive mandates. Beck Bennett will play Austin Van Der Sleet, MODOK's youthful new boss.
Meanwhile, we get to see MODOK's family. Jodie is his shockingly normal-looking wife who feels that maybe MODOK would be better off leaving AIM to die so she can be the breadwinner. Their son Lou is also rather normal-looking due to being created in a lab. Then there's daughter Melissa, who is also a giant levitating head levitating, but is also considered the most popular girl in her high school. Somehow.
Other characters involved include Wendi McLendon-Covey as Monica Rappaccini, MODOK's work rival as well as Jon Daly as the Super-Adaptoid. Super-Adaptoid aspires to work on art and enjoy culture, but he's constantly stuck having to serve MODOK.
Apparently, there's also a "cool mailman." I hope we get to see him one day.
Following the clips, there's a nice little Q&A section in there where they discuss the characters and how much fun it was the make the show. One interesting bit is Oswalt noting that they were shocked to get away with using certain Marvel characters, including various X-Men-related heroes. Expect them to toss in a handful of obscure Marvel characters for the hell of it. Hey, if Harley Quinn can do so much with Kite Man, then when in Rome!
There's still no concrete release date, but expect to see MODOK on Hulu early next year.