News
Invincible: First Trailer Arrives for Superhero Animated Series
Amazon Prime Video is bringing Robert Kirkman's OTHER most famous comic book to the screen. Check out the gorgeous animated trailer for Invincible.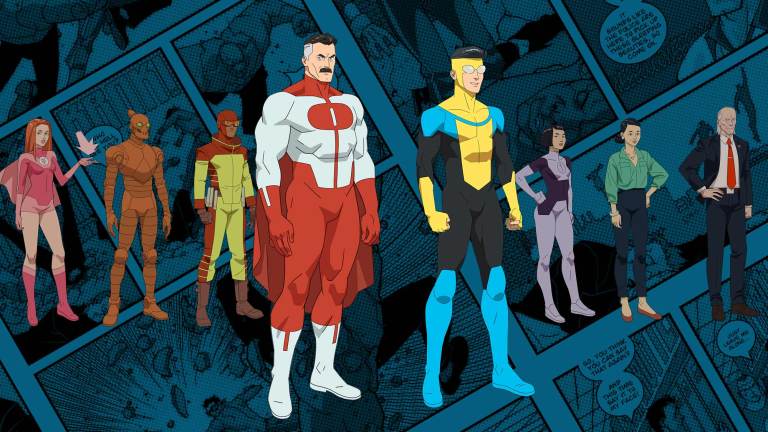 Robert Kirkman's other monster creator-owned comic series, Invincible, is coming to streaming, and the show might be closer to arriving than we thought. They just dropped a trailer at New York Comic Con's pandemic stand in, Metaverse. It looks surprisingly faithful to the book, and if Kirkman's promise at the panel holds, we should be in for some intense superhero action.
The trailer has about what you'd expect in it. Mark Grayson, played by The Walking Dead's Steven Yuen, is a fairly typical 17 year old, except for the fact that his father (JK Simmons) is the most powerful superhero in the universe: Omni Man. We get voiceover from his old man talking about what a mess teenagers are, and our first treat of a visual. Mark and his dad playing catch back to back in the sky, throwing the ball around the circumference of the Earth.
Take a look.
In the panel that followed the reveal of the trailer, Kirkman promised that the show would be mostly following the story of the comics very closely, and the only deviations were to expand on some characters, to add some spice to their backstory.
Ryan Ottley and Corey Walker, the two artists who made Invincible so visually striking, are both working with Kirkman and Amazon on the show. The biggest enhancement that the transition to animation provided, Kirkman said, was the motion and sound effects attached to some of the famously gory scenes from the comic, which you can see in the trailer. This was never a comic that shied away from some of the more gruesome aspects of the superhero genre.
Invincible is filthy with Walking Dead alums. In addition to Yeun, the show stars Lauren Cohan as War Woman; Chad Coleman as Martian Man; Michael Cudlitz as Red Rush; Lennie James as Darkwing; Ross Marquand as The Immortal and Aquarius; and Sonequa Martin Green as Green Ghost.
The panel also broke news about another cast member: Michael Dorn of various and sundry Star Treks, will be playing Battle Beast. The show will also star Sandra Oh (Killing Eve), Seth Rogen (This is the End), Gillian Jacobs (Community), Andrew Rannells (Black Monday, Girls), Zazie Beetz (Deadpool 2), Mark Hamill (Star Wars: The Last Jedi), Walton Goggins (Justified), Jason Mantzoukas (Brooklyn Nine-Nine), Mae Whitman (Good Girls), Chris Diamantopoulos (Silicon Valley), Melise (The Flash), Kevin Michael Richardson (The Simpsons), Grey Griffin (Avengers Assemble), Max Burkholder (Imaginary Order) in just an absurd collection of talent.
For more on Invincible or more from NYCC 2020, stick with Den of Geek!