News
Marvel's Howard the Duck Series Not Moving Forward at Hulu
Hulu has canceled production on two of it upcoming Marvel projects: Howard the Duck and Tigra & Dazzler.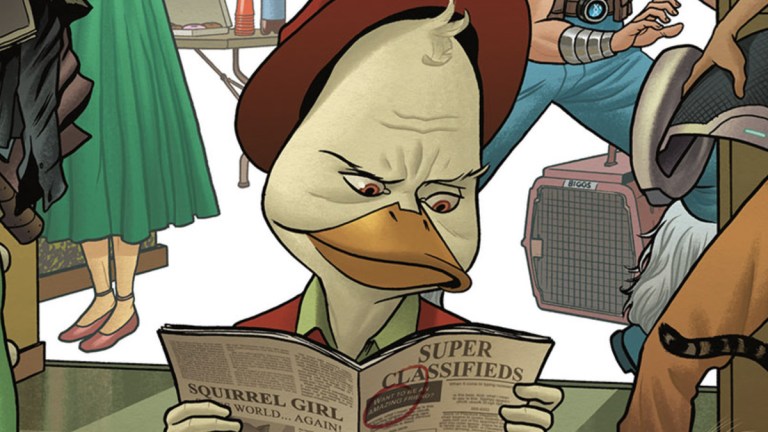 It remains a time of grand upheaval for the Marvel TV universe and two announced Marvel projects at Hulu are feeling the effects.
After production on Tigra & Dazzler was paused in December amid a creative overhaul, Hulu has gone ahead and terminated that show along with the more familiar Howard the Duck. The Holllywood Reporter was first with the news.
Back in February of last year, Hulu announced a big partnership with Marvel that would eventually produce five adult-oriented animated series including Howard the Duck, Tigra & Dazzler, Hit Monkey, M.O.D.O.K., and team up series The Offenders. With Howard the Duck and Tigra & Dazzler canceled, The Offenders is likely on the chopping block as well. That leaves only M.O.D.O.K. and Hit Monkey going forward. THR reports that Marvel was the one to pull the plug on the shows and not Hulu.
The creation of Disney+ allowed Marvel to consolidate its film and TV show productions under one studio with Marvel president Kevin Feige overseeing it all. This has put many non-Disney+ Marvel shows on the back burner and outright canceled in some cases. Howard the Duck, Tigra & Dazzler, and The Offenders are just some of the latest casualties.
Of the three Marvel properties cut down, Howard the Duck is likely the biggest and most recognizable loss. First appearing in 1973's Adventure Into Fear #19, Howard the Duck became a minor hit for Marvel as a satirical character. Howard hailed from Duckworld and was banished from his home by a power-hungry demon. Once on Earth (in Cleveland, Ohio weirdly), Howard used his shocking command of the English language along with his expertise in Quak Fu to assist other heroes and even headline some of his own stories.
Howard the Duck received his own George Lucas-produced movie in 1986 and has even popped up as an Easter egg twice in the current Marvel Cinematic Universe. The little guy has always seemed poised for a second breakout in our era of metatextual superhero stories but it looks like he'll have to wait a little longer.
The good news is that production on M.O.D.O.K. continues apace with Hulu president Craig Erwich telling reporters at the Winter TCA press tour that he had seen a few episodes and was really excited about them.
Alec Bojalad is TV Editor at Den of Geek and TCA member. Read more of his stuff here. Follow him at his creatively-named Twitter handle @alecbojalad