Features
Marvel's Avengers Game: Who is MODOK?
Square Enix's upcoming Avengers game will see the heroes go head-to-massive-head with the maniacal MODOK. But just who is this gnarly megalomaniac?
When you want to tell a big, epic Avengers story for your big, epic Avengers video game, you have to choose your big bad carefully. At this point, Red Skull, Loki, Ultron, and Thanos are old news. The Marvel Cinematic Universe covered them. Galactus is a bit too big a threat for the first of what Square Enix and Marvel likely hopes will be a whole series of games. Kang the Conqueror hasn't appeared in the movies, but do you really want your first game to be bogged down by time travel nonsense? Dr. Doom is a little too attached to the Fantastic Four.
Fortunately, Square Enix has finally revealed the main villain for Marvel's Avengers and it's a great choice. Taking on the likes of Iron Man, Hulk, Thor, Black Widow, and Ms. Marvel is none other than MODOK, the Mental Organism Designed Only for Killing.
MODOK is the perfect mix of a villain who is recognizable and threatening, but also one who hasn't made an appearance in the Marvel Cinematic Universe. For good reason, but I'll get to that in a second.
In the meantime, here's the trailer where we get some story snippets and see George Tarleton's gradual transformation from mad scientist to malevolent giant head:
MODOK is a Jack Kirby/Stan Lee original from all the way back in 1967, first appearing in full in Tales of Suspense #94 (he had a teaser cameo in the previous issue, as was the fashion at the time). George Tarleton was a member of Advanced Idea Mechanics, otherwise known as the bad guy organization from Iron Man 3 and the main faction of villains in Marvel's Avengers. AIM was obsessed with science experiments where the ends justified the means, and upon creating a Cosmic Cube, they used Tarleton as a guinea pig to build some kind of evolved genius being from the Cube's energies.
And so, MODOK was born. A giant head with a giant brain inside, but normal-sized limbs. A horrific sight with excessive smarts and psionic powers. Naturally, the elephant-sized brain man took over the whole outfit.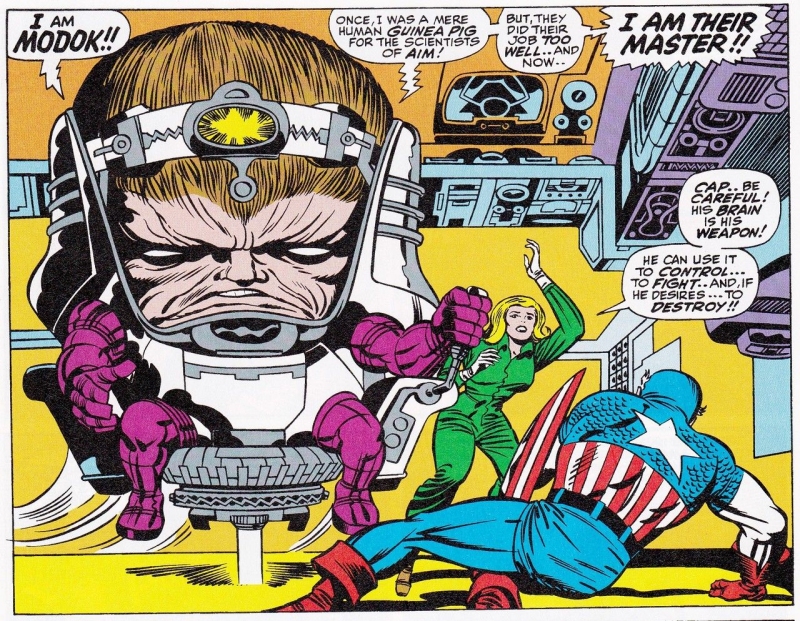 Initially, he was a different type of anti-Captain America. He was to brains what Cap was to awn, but was a terrifying mutation instead of the ultimate male model.
While MODOK started off as a Captain America villain, he soon became enemies with pretty much any hero that got in his way – as well as AIM itself sometimes. He took on the Hulk, Iron Man, the Carol Danvers version of Ms. Marvel, Alpha Flight, and so on. He was one of Marvel's leading mad scientist characters who could be plugged into whatever story and appear threatening to even the newest reader because of his unique appearance. In Spider-Gwen's alternate reality, MODOK is a giant Donald Trump lookalike called MODAAK (Mental Organism Designed As America's King).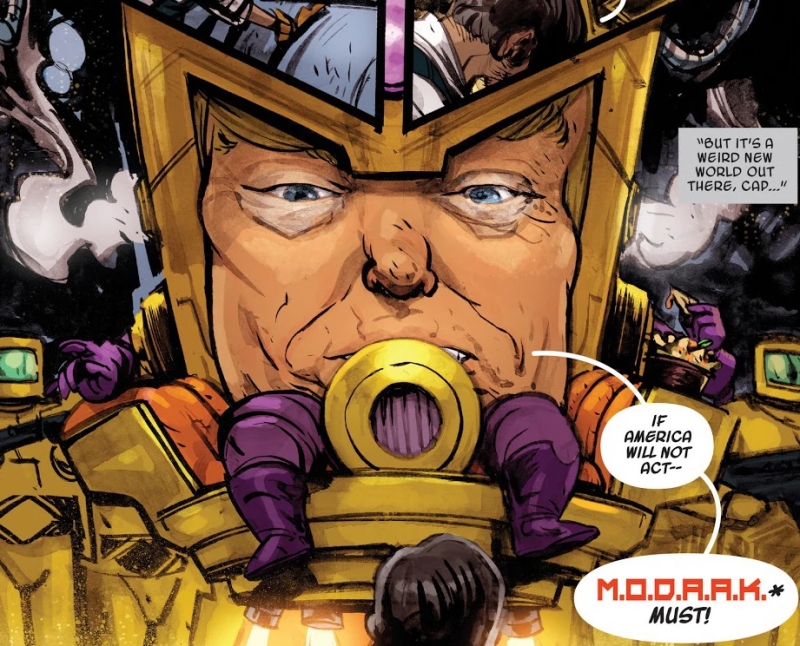 Yuge head. Very bigly.
While MODOK's never carried his own solo series, he did have a very entertaining villain-based heist miniseries back in 2007 called Super-Villain Team-Up: MODOK's 11. He's also getting his own Hulu animated series soon and he'll be voiced by Patton Oswalt in a comedy about being an unemployed suburban father with a mid-life crisis.
MODOK has appeared in countless cartoons and video games, including as a playable fighter in Marvel vs. Capcom 3, where his ultimate plan was to steal and wear Galactus' helmet. On the cult-favorite animated series Megas XLR, the legendary Bruce Campbell played a MODOK parody named Magnanimous. The Marvel area at Universal's Islands of Adventure features a giant cutout image of MODOK getting smacked upside the head with Cap's shield, leading tourists to wonder, "What the hell is that supposed to be?"
So if MODOK is such a big deal, why hasn't he been in the movies? I suppose, in the end, MODOK is the Aquaman of Marvel. I don't mean in the thematic counterpart sense (that would be Namor the Sub-Mariner, obviously). It's just that despite being a classic fixture of comics loved by many fans, casual audiences and people who don't follow comics might find his design a bit silly. Perfect for animation, but in live-action, a giant head with tiny arms and legs is a really hard sell.
Luckily, we've reached Marvel Phase 4 and people are a bit more open to high-concept, weirdo comic characters. Aquaman made all the money in the world by "making him sexy and likable." Well, I can't imagine we're going to get a sexy MODOK (though I did just type that into Google Image Search out of morbid curiosity). It'll take some effort to make MODOK look formidable and not hilarious or look like pure nightmare fuel for the kids.
What it seems we're going to get in Marvel's Avengers seems like a good start. When treated as serious, MODOK can be seen as the ultimate threat: giant brain with giant brain lasers. Considering AIM is supposed to have ties to the upcoming Black Widow movie, perhaps MODOK's big video game final boss role could be a stepping stone towards doing him right on the big screen.
Marvel's Avengers launches on Sept. 4 for PlayStation 4, Xbox One, PC, and Google Stadia. The game is also coming to PlayStation 5 and Xbox Series X this holiday.