Features
Marvel's Werewolf by Night Director: "Scary Stuff Has Gotten Too Sadistic"
Exclusive: acclaimed composer Michael Giacchino opens up about helming Marvel Studios' biggest experiment yet, the spooky season offering Werewolf By Night.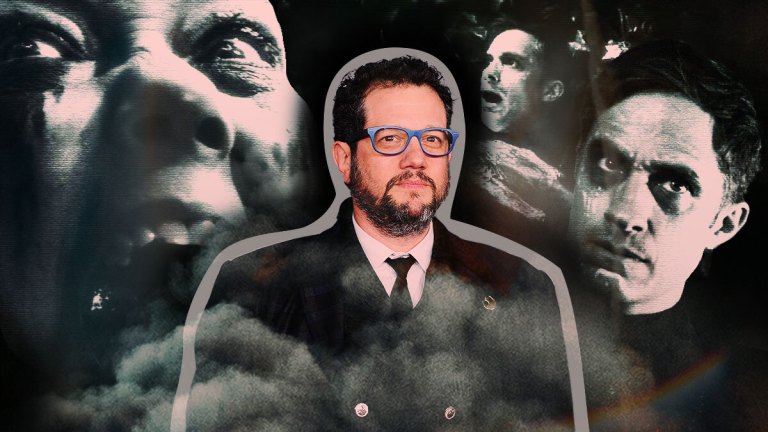 Plenty of new superheroes have joined the Marvel Cinematic Universe since Avengers: Endgame capped off three box office-dominating movie phases and bid farewell to some of its key characters. Ms. Marvel, She-Hulk, and Moon Knight have all brought something new to the MCU landscape in their respective Disney+ series, but now, spooky season is set to introduce a monster in their midst.
In Werewolf By Night, a secretive cabal of monster hunters will gather to take part in a deadly competition for a powerful relic. Leading the cast of mysterious characters in the Halloween special is Gael García Bernal as Jack Russell, who, in the pages of Marvel Comics, became a werewolf when he turned 18, afflicted by a family curse. Also joining the fray is Outlander fan favorite Laura Donnelly, who plays Elsa Bloodstone, the daughter of a notorious monster hunter.
Followers of Marvel's supernatural comics have waited a long time to see both these characters realized in live-action, but MCU maestro Kevin Feige was taken aback when he first approached acclaimed composer Michael Giacchino and asked him which project he'd be interested in helming, only for the longtime Disney collaborator to immediately reply "Werewolf By Night."
"Kevin was like, 'Really?' Because it was off the beaten path in terms of where they were and what they were working on," Giacchino tells Den of Geek. "And I felt it was a fun, dark corner of the Marvel Universe that hadn't been explored in terms of television or movies… But he loves that stuff too, so it all came together."
When it came to adapting the comics for the screen, Giacchino's influences were very clear from the first trailer for Werewolf By Night unleashed back in September, one that instantly became a talking point for Marvel fans everywhere.
"My brother Anthony and I would always spend Saturdays watching old monster movies," Giacchino explains. "Whether it be Ray Harryhausen movies, the old Universal movies, or Hammer films, we didn't care. I loved that feeling, so when I jumped into this, the whole idea was to create something that had the feeling of those films and give that experience to some other kid that's out in the world."
Giacchino's history scoring the likes of Star Trek, War for the Planet of the Apes, Doctor Strange, Star Wars: Rogue One, and multiple Pixar movies also came in handy as he shifted to the director's chair on Werewolf By Night.
"Music has to go hand in hand with the story," he says. "I think years of working with some of the best directors on the planet really helped me get a secondary education in filmmaking. I would go to the set [and] I loved watching J.J. Abrams, Brad Bird, Matt Reeves, and Jon Watts work, all of these great directors. I felt very prepared. There are a lot of similarities between music and filmmaking. I regularly have to wrangle 150 to 200 people to get a score put together. Here, the crew is your orchestra."
With just 12 days to shoot Werewolf By Night, Giacchino threw himself into this fast-paced filmmaking environment with the nostalgic spirit of yesteryear. "I love that the Universal horror movies were just like, 'Okay, here's some money. Go make a movie; you've got two weeks.' There's something really fun about that and really challenging and really exhilarating, so we leaned into that whenever and wherever we could."
Giacchino was also eager to learn as many tricks of the trade as possible on his first major directing gig. His enthusiasm for the project is infectious, and his eyes light up when he talks about sampling different jobs on the set.
"I'm a filmmaking geek," he says. "I wanted to operate the Steadicam. I wanted to do the boom mic. I tried focus-pulling, even pushing the dolly. It helps you think about it before you ask somebody for something because you have a slight understanding of what it is they have to do."
But it wasn't all geeking out on set for Giacchino. "Doing this stuff is exhausting, and it's hard. You're doing long hours. Sometimes we were out filming till six in the morning. It's a marathon, something you almost need to train for in order to survive because there aren't a lot of breaks. It's just the nature of the beast."
The nature of the beast is key to the project itself. Fans were surprised by the classic genre vibes in the trailer, but Disney isn't exactly known for its horror output, so Giacchino looked to the less explicit films that creeped him out when he was younger, like King Kong, The Wolf Man, and Poltergeist, for inspiration when creating Werewolf By Night for a more family-orientated audience.
"I feel like the world has gone into this thing where all the scary stuff has gotten too sadistic," he says. "And we've lost the heart of it as well. It was important to me that this has a real heart to it, that it's not just blood and guts, that it actually has a real moral center."
Giacchino hopes that this potentially one-off Werewolf By Night tale will entertain us ("Kevin and I would always say, 'It's a fun horror movie!'"), but it's clear that the subject matter resonates deeply with him. "The hunters [in the movie] believe that monsters should just be eliminated, almost like stepping on an ant. They don't want to connect with them or understand them. There are people like that in our own lovely world who think it's all about them and what they believe, and everyone else can go stuff it."
He thinks this attitude has become much more prevalent in recent years but that monster movies can put those struggling with all-too-human problems in the spotlight. "People that have afflictions, any number of true human issues that any one of us could have, whether it be mental illness, whether it be alcoholism, whether it be depression. Anything that makes you feel alienated or less than – that's what monsters represent. They're constantly struggling to be seen, to be heard, to be accepted. Let's look into their souls and see what it's really like to walk in their shoes."
Giacchino's enthusiasm for his monsters and attention to detail also extended to Werewolf By Night's visual aesthetic, and the crew worked hard to give it an old-school look we associate with classic monster yarns, whether that be making sure it presented well in black and white or embracing traditional effects.
"A lot of it is practical effects that we did in-camera," Giacchino confirms. "Crazy things we thought we'd have to end up adjusting but then never did because it was great as it was. Most of the makeup was practical, and most of the monsters were. We only have one monster where we leaned into CG, otherwise it would've been impossible to do, but we really wanted to honor the tradition of practical effects."
Also important to Giacchino was that Werewolf By Night be filmed on a traditional set. After immersive LED soundstage The Volume was created for the first season of The Mandalorian, the seamless 360-degree technology has increased in popularity behind the scenes at Disney, with director Taika Waititi even embracing it for his recent Marvel Thor sequel, Love and Thunder. "I didn't want to use The Volume, which is great for certain things, but for this it felt very important that it be real. Everyone is in costumes. If they have a scene with a monster, that monster should be there in front of them. They should be able to react to it, look at it, and talk to it. Not just have a tennis ball on a stick."
After Werewolf By Night, Giacchino isn't sure what will happen next. For the first time in 20 years, his diary is pretty much clear. "I would love to make more things for Marvel. These are characters that I have loved for so long, and I would love the opportunity to do more with them. This is a big experiment for us. Everyone has ideas, but nothing has been figured out yet."
One thing seems certain: that he'll stay with the people in the industry he's grown close to, and the franchises he loves.
"Looking back at all the films and everything I've worked on, what's most astonishing is that so many of them are things that I was obsessed with as a kid, whether it be Planet of the Apes, Star Trek, or Star Wars," he muses. "I guess I'm never going to grow up."
Werewolf By Night will be streaming on Disney+ from October 7.