Features
Kindred Spirits Stars Reflect on Humanizing Hauntings
In advance of their seventh season premiere, the stars of Travel Channel's Kindred Spirits confront their paranormal legacy.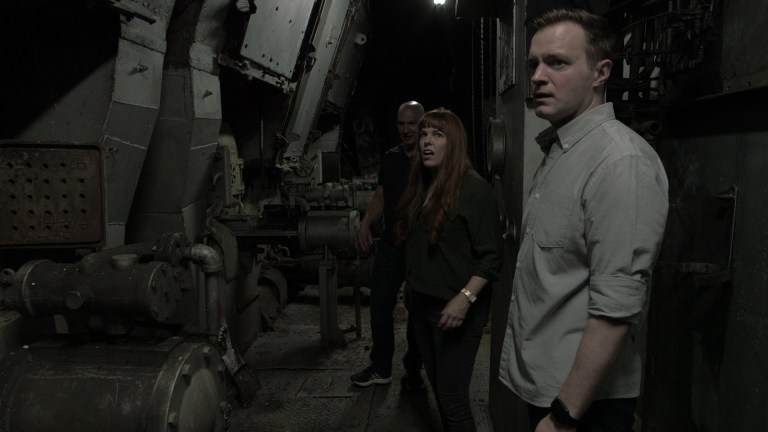 As Kindred Spirits enters its seventh season, stars Amy Bruni, Adam Berry, and Chip Coffey are nowhere close to giving up the ghost on paranormal reality TV. But the trio has been considering what their legacy might be on the entertainment genre and the paranormal community at large.
In an interview with Den of Geek's paranormal pop culture show Talking Strange (available on Spotify, Apple Podcasts, and YouTube), the trio discussed the latest 10-episode season — which kicks off Jan. 20 at 9 p.m. ET/PT on Travel Channel, and same day on the discovery+ streaming service — as well as what they hope their lasting contribution to the ghosthunting world might be. 
Since its premiere in 2016 on Destination America and TLC, where it aired concurrently before moving to Travel Channel in 2019, Kindred Spirits has focused on haunted people before locations. Throughout the course of an episode, Bruni and Berry, both executive producers and alums of the Ghost Hunters franchise, and psychic medium Chip Coffey of Psychic Kids and Paranormal State fame, offer assistance to private residences, families, and other clients who experience trauma as a result of potential paranormal activity.
The proceedings give the show a deeply personal touch, which seemed to warrant the question about what happens when the show ends.
"Don't say that!" interjects Berry, followed by Coffey joking, "Don't Oprah me!" warning this interviewer is going to make him cry.
But Bruni says she likes the question because, "it's important in life in general to always live your days as though they are your last." She's also reflective on the past several years working on, and crafting, Kindred.
She adds, "We are always trying to further the ways we do things [but] when we started this show eight years ago, we had to argue the point we wanted to investigate with compassion."
Instead, she says, they got pushback that the show is not "scary enough" and the activity they encounter needs to be "something bad, something harmful."
"Over time, as we stuck to our guns, and kept proving time and time again we can make a spooky ghost show, but also be compassionate and respectful," says Bruni.
Now, she says she has seen other shows emulate that approach, which is something she thinks is great, and doesn't mind one bit.
Berry agrees with her, and refers to the fear-driven paranormal TV shows as "the old ways," which he hopes the genre does not revert back to. He says he is proud of what the show has brought to the table in terms of TV and the paranormal community at large. And he sums up the accomplishments in one word: humanization.
"Ghosts can be scary when you don't understand them, but the humanization of who we are talking to, and the realization they were just like us — are still just like us but in a different form — and how we react to that, and treat them, is the biggest thing we have done so far."
From Coffey's perspective, he says even if the show ends, he'll continue to work within the paranormal field. But Kindred has personally been enriching because of his relationships with Bruni and Berry, and because he believes the work with clients has made a positive impact.
"If I walked away from this show, I would walk away with my head held high, and a sense of immense pride that I got to work with two people I love and respect, and the work we did together made a difference," he says before comparing the show with others in the genre. "I can't think of a single case in seven seasons where a difference wasn't made, and that's not always the case."
Coffey adds, "It makes me sad to think about the end, but if it did end, I would still feel whole that I got to do what I got to do with people who mean the world to me."
However, Berry is quick to add, "But we have more to do."
Kindred Spirits starring paranormal investigators and executive producers Amy Bruni and Adam Berry, and psychic medium Chip Coffey premieres its seventh season Jan. 20 on Travel Channel at 9 p.m. ET/PT, and on the discovery+ streaming service. For more from the trio, and to check out other paranormal personalities, celebrities, and authors talking about the the unexplained and high strangeness, subscribe to Talking Strange on Spotify, Apple Podcasts, and YouTube, hosted by Aaron Sagers of Netflix's 28 Days Haunted and discovery+/Travel Channel's Paranormal Caught on Camera.