Features
Conjuring Family Reunites for Kindred Spirits Ghost Hunt
The real-life 'Conjuring' family are reuniting for the Kindred Spirits ghost hunt. We have an exclusive clip.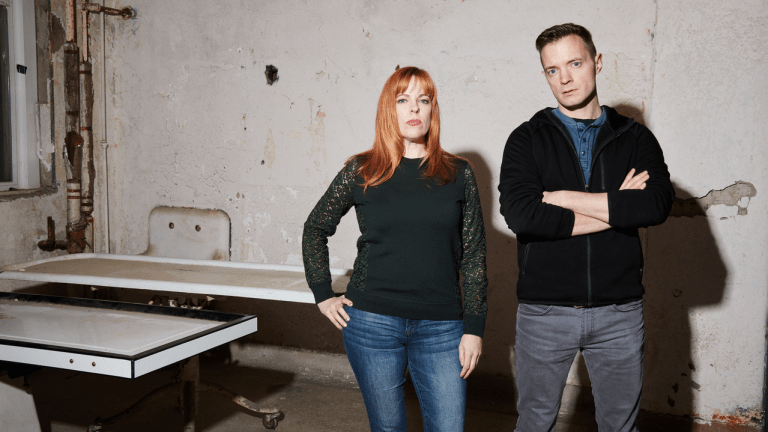 When The Conjuring debuted in 2013, the $20 million modestly-budgeted haunted house horror flick directed by James Wan became a $319 million juggernaut, and re-introduced famed paranormal investigators Ed and Lorraine Warren to modern audiences. But the core of the story revolved around the real-life Perron Family who lived in the Rhode Island home, and were allegedly tormented by evil spirits. 
Though the Perrons moved out of the house nearly 40 years ago, having lived with paranormal activity for a decade—and claiming to experience the ghost of a woman with a broken neck, being possessed, or levitated—the so-called Conjuring House still stands. And it remains occupied by the living, and perhaps also by spirits of the dead.
Which is why paranormal investigators and producers Amy Bruni, Adam Berry, as well as psychic/medium Chip Coffey, head to the location in the new episode of their Travel Channel docu-series Kindred Spirits. When the current residents of the home—also ghost hunters—claim their family has experienced unexplained phenomena since moving in, they reach out to Bruni and Berry to search for results. In and of itself a notable case for the unscripted series, now in its fourth season, this Friday's episode, "Hell House," enlists the Perrons to return to the home for the first time since leaving.
What results is an intriguing story of a frightened young family as well as the adult family of father Roger, and his five daughters Andrea, Nancy, Christine, Cynthia, and April. Throughout the course of the episode, Bruni, Berry, and Coffey use both family's experiences to guide their investigation.
read more: The Best Haunted House Movies and Shows of All Time
Along with footage of a black mass they claim they captured during their case, the team also tackles the controversial (and incorrect) connection drawn by the Warrens to the ghost of a local woman named Bathsheba.
In the following exclusive clip, the Perrons discuss the "bent-neck lady" (as a similar entity is referred to in The Haunting of Hill House).
Meanwhile, in the following interview, the duo discusses this episode where they return to The Conjuring house.
As paranormal investigators, how is your approach different when it is a case this famous, and influenced by a popular film?
Amy Bruni: There's this extra pressure to make sure that everything you're doing is historically accurate, and not necessarily influenced by the Hollywood side of the story you've heard. We went out of our way to make sure we had all of our history and facts straight… I love The Conjuring movie, I love the Perrons but then you actually have this house that a very real family lives in. And so you have to kind of separate everything you've heard about this home from the case.
Don't you think it is reasonable for a person to think it's convenient when paranormal activity kicks up after all this time just when a family of ghost hunters moves in?
Amy Bruni: We obviously thought the same thing, but as we were investigating, we started wondering, "Is it the house, or is there some sort of combination of a certain person, or personality type in the house, plus the house, that equals activity?" That's why we brought the Perrons back because we wanted to know if they somehow influenced the activity when they lived there.
It is also kind of controversial because the former owner is adamant nothing happened there. But she was on a reality television show saying the house was haunted a number of years before. So we couldn't quite rule out the idea that maybe she had experienced something.
Adam Berry: And when she left, when she sold the house, she left all of her husband's documents. He was some sort of doctor, or PhD. But she left all of his writing, his entire library on studies of transcendental meditation, the afterlife, books on the devil, and the occult. So he was very into different types of religions, and what the afterlife meant.
When someone like this current family of ghost hunters goes and looks for something, does it increase the likelihood that they're going to find it?
Amy Bruni: I think so. It's kind of like playing golf in the middle of a lightning storm. A lightning strike is very rare, but if you put yourself in a situation where you're more vulnerable to it, it might strike you. Yes, I think they put themselves in that position. I also think, like you were saying, they're in there looking for it. Even some of the activity they described to us in the beginning, if it was at any other house, we would have said, okay, this is a typical haunting. But because it was coming from The Conjuring house, I think everyone was very hyper-aware of everything that was happening at that point. So I think that definitely kind of influenced the activity that they were noticing and experiencing.
Do you believe that humans can manifest the activity and create it ourselves?
Adam Berry: We have encountered spirits that have been created by intention. We're very big on intention. So people going into a space and saying, "Oh, this place is extremely haunted; it's got demonic entities in here." It's like putting that intention out there…
I think the episode plays a lot with certain personalities in the space, and what that creates and what that does. I don't think we've figured out how to determine exactly that, that is exactly what's happening yet because that's such a fresh idea. We've thought about it before, but it's one of the things that we still have to investigate and delve into a little bit deeper to really figure out if that's actually the case.
After what they went through, why would the Perrons agree to coming back?
Amy Bruni: It was not easy to get them back there. Some of them were a lot more willing than others. And I think what it came down to is that Andrea is also very close with [the current homeowners] Corey and Jenn. Her siblings, especially Cindy, who was just terrified to be there, was genuinely concerned at the idea of a family being there. They kind of felt like whatever they can do to help us get to the bottom of this for them, they were willing to do.
Then it also kind of turned into a reunion moment. They walked through that house and we got to witness them having some really incredible memories of really good times. But then sometimes you just kind of see a little flash in their eyes when they'd remember something really bad. It was a really interesting dynamic to watch happen.
Amy, your six-year-old daughter Charlotte was at the house at one point, and Cynthia Cindy) did not approve?
Amy Bruni: Cindy was there, and she was walking up to the house. We were chatting, and she was talking about all these beautiful childhood memories that she had there. And I said, "That makes a lot of sense; Charlotte was here all day yesterday, and she just loved it here. She was running all over." Cindy just stopped in her tracks, and she just looked at the house and she just got really serious and said, "Well that's nice, but this is not a site for children."
It is interesting that you also talk about the happy memories the Perron family had at the house.
Adam Berry: The whole walkthrough with them was happy memories about, "Oh, this is where we had… Where we would play." Or, "This used to be my room." But then in almost an instant, it would flip immediately to something paranormal that happened because they would just recall. At one point they were like, "Oh yeah, we used to play right here and we used to play inside this little attic." And then it switched to, "Oh my God, do you remember the day that you went in that attic, and that entity would not let us out of that attic? It kept the door shut. We couldn't get it open." And then there was like, they would cry a little bit. And then they would move on and talk about it. And it happened to be Roger's birthday that day.
Amy Bruni: So we had a birthday card for him there, and it was just so strange.  We all sang to him, and we got him cupcakes and everything. They all were just looking at each other because they were having just kind of one last party with their family in that house. It was a really strange but tender moment.
Do you think that there's something in that house that wanted them back?
Amy Bruni: I think that there's something in that house that's hungry for a family with children. And I don't know, I don't want to speak to it until people can see the episode, but I think it is that energy of children in that house that really does bring out activity. We have an idea of who it is. It's probably one of the only houses we've ever been in where we genuinely told the owners you need to tread lightly here.
In the attached clip you reference the bent-neck lady, and some sketches you discovered. What is the story behind this, which obviously shakes each member of the Perron family?
Amy Bruni: The woman who was there before, she had a daycare she ran there. The daycare kids drew the same picture of what the Perron kids saw, and they were kids of this woman with a broken neck. The parents very much remembered this entity. So it's strange that these little kids who were there in a daycare of all things were drawing the same woman. That was a really crazy moment for us.
How do you think that you contributed to the overall story and understanding of the so-called Conjuring House?
Amy Bruni: I think it's really important for the world to know, and for us to get the word out, that Bathsheba had nothing to do with that house. She was never convicted as being a witch. She never committed the crime she was accused of. Her gravestone has been defaced to the point where they can't even put her grave in the cemetery anymore. You won't even hear the name Bathsheba during our investigation because she had nothing to do with that house.
Adam Berry: People are going to be very surprised at what we find. Focusing from the ground up, going in neutral, using our research and our history and just starting from scratch was a better thing than being influenced by folklore and legend.
Do you walk away from this case having a clear sense of what this activity is, or who it is?
Amy Bruni: We have a handle on the type of activity it is. I think there's still more to be learned about that house. There are still unanswered questions there. But I feel like we left Corey and Jenn in a place where they know how to handle what's happening there.
Adam Berry: And I think Corey and Jenn are the two people that can own that property and actually do their due diligence. If it were just a normal, regular family I think they would be in for a complete surprise and shock.The house is currently in good hands. But the case book has been re-opened. We started that process, and I hope it continues because there's a lot to learn about that house.