Reviews
Katy Keene Episode 7 Review – Chapter 7: Kiss of the Spider Woman
In its first-ever musical episode, Katy Keene finally figures itself out.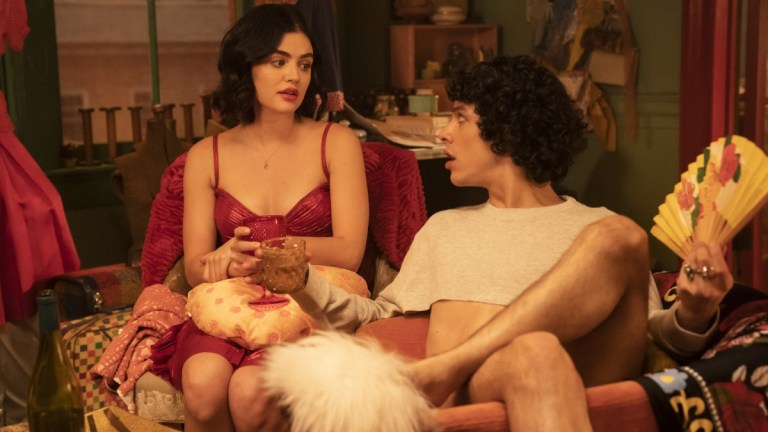 This Katy Keene review contains spoilers.
Katy Keene Episode 7
"It's the perfect showcase for my drag and Broadway careers."
In my previous reviews of Katy Keene, I've lamented the show's lack of clearly defined identity. At times it is a breezy New York City fairytale that is as edgy as a circle. Often it is a lightweight romantic comedy. And sometimes there's musical numbers randomly thrown in. It's a televisual hodgepodge to be sure, one that is the exact diversion that is needed RIGHT NOW. That said, it's been a bit of a, um, drag that all of these factors of the series have never congealed properly. 
This latest episode combined all of these issues into a cohesive whole, resulting in an hour of television that had moments of tangible grace among all of the music. Written by Archieverse maestro Roberto Aquirre-Sacasa, it presents a bravura (if truncated) version of Kiss of the Spider Woman that allows that musical's themes of love, fate and danger to be mirrored by the experiences of our leads.
The once irksome Jorge (Jonny Beauchamp) has become a much more sympathetic character in recent weeks. This time around he is determined to put the work in to see his one-man performance of Kiss of the Spider Woman transformed from a dream to a reality. But the presentation for potential investors is a disaster, and he is forced to deal with that most loathsome enemy to creativity – compromise. Beauchamp does a fantastic job of portraying how his admiration if Josie co-exists with his resentment of her co-opting what he feels is his star role. With so much ground to cover in this episode, it is a plot point that isn't given time to breathe — so he does so with complex emoting that illustrates how gifted of a performer he is. The Ginger sequences have always showcased this, but recent episodes have truly given Beauchamp the chance to shine as Jorge.
Speaking of which, his journey to be truly himself despite his fears of losing his father's fragile acceptance takes a bold leap forward this week. Despite being a frothy show it appears that Katy Keene will be focusing on LGBTQ+ issues in a more grounded way from this point forward. Addressing issues of homophobia and the fear of losing love that so many LGBTQ+ individuals (this writer included) face throughout their lives could be easily ignored by a show that joyfully declares itself to be a "fashion fairytale." The fact that it is confronting these concerns at all is worth celebrating, and will prove to be a beacon of hope for marginalized viewers.
With Jorge's show prep getting the majority of screentime, Katy's ongoing royal love triangle gets thrown to b-plot status. Her moral objections against designing a dress for a woman whose fiancé she just slept with are certainly noble. Just utterly unrealistic. Remember kids, idealism doesn't pay the bills! Again, this is just the sort of in-universe contrivance Katy Keene wants you to go with. But some encouragement from Josie and Pepper (both of whom know how to hustle and compromise) for Katy to design the dress despite her misgivings would have been welcome here.
At the end of the episode, Josie has her slot at the Apollo Theater, Katy enlists Guy's help to solve the wedding dress dilemma, Pepper has pulled off another successful con, and Jorge's career heads to the next level. But it are the closing moments of Jorge and Bernardo being menaced by gaybashers that irrevocably changes the potential of the series. Danger has come to Katy Keene's Camelot metropolis. And in that moment, the show proves that it can skillfully jump genres and provoke general shock. Did Katy Keene just become great? It feels like this is the case.
Fashionable Facts
Showrunner Roberto Aquirre-Sacasa has a considerable history with theater. His play Archie's Weird Fantasy (a queer revising of life in Riverdale) garnered him much notice…and a cease-and-desist from Archie Comics years before he would help usher the company into its current golden age. More mainstream works include writing the book for the American Psycho musical and helping to rewrite the infamous Spider-Man: Turn off the Dark — humorously referenced here as the show that K.O. that he was seeing with Alexandra.
Like the musical episodes on Riverdale, this installment ended in tragedy when Jorge and Bernardo fall victim to a gay-bashing as the credits roll. (A moment that is visually depicted as an arachnid's silhouette attacking its prey, carrying over the themes from Kiss of the Spider Woman).
The Kiss of the Spider Woman was based on Argentine author Manuel Puig's bestseller of the same name. Previously adapted into a well-received 1985 film starring Raul Julia, the musical adaptation professionally debuted in the UK in 1992 (following a shaky trial period in New York City) before transferring to Broadway where it won the 1993 Tony Award for Best Musical, eventually running for over 900 performances. It closed in 1995. The show was adapted for the stage by musicians John Kander and Frank Ebb (who also gave us Chicago and Cabaret), book writer Terrance McNally and was directed by iconic Broadway legend Harold Prince. This incredible group of artisans helped craft one of the 1990s best shows, one that deservedly will have another surge in popularity thanks to this episode.
Daphne Rubin-Vega, who portrays Jorge's mother Luisa, finally gets a chance to sing on this episode, performing "You Could Never Shame Me." Rubin-Vega is best known for originating the role of Mimi in another hugely influential '90s musical, Rent.
This episode was a bit heavier than usual, but it did allow Gloria to release the zinger "I don't speak bohemian."
As dumb as he is, even K.O. realizes how much of an opportunity designing the dress for a royal wedding would be for Katy. He also picked up on the vibe between Katy and Prince Errol. The old cliche about even a broken clock being right twice a day applies here.
The only disappointing aspect of this episode is that André De Shields (a Broadway vet who plays the role of Chubby) didn't appear. It would have been incredible to hear his take on a Kiss of the Spider-Woman song.
Josie performing at the Apollo? Please and thank you!
A relationship between K.O. and Alexandra is again hinted at in this episode (along with a potential modeling career for the former). I sincerely hope that this is the case, as while I guess I'm fine with the character remaining on the show due to his importance in the comics, he's way too much of a dullard to be paired up with Katy. He and Alexandra though, absolutely?
Will Alan M. show up at some point to complicate the Josie/Alex relationship?
The potential investors leaving the showcase was super accurate if you've ever had the experience of attending one of those staples of NYC life.
We know that Pepper is a con artist, but could her feelings for Didi be real? Their musical number together seemingly supports this theory. Where does this leave Raj?
Pepper's scheme to trick both Alex and Alexandra into financing Jorge's performance (and pocket some cash for the Pepper Plant) was her best plan yet.
While working on the second iteration of Patricia's wedding dress (just before the flower delivery man arrives) a sketch can be seen that looks exactly like one of artist Bill Woggon's illustrations from the Katy Keene comic.
Need more Archievere musical magic? When Riverdale returns on April 8th it will be with a special Hedwig and the Angry Inch-inspired episode.
Keep up with all the Katy Keene news and reviews right here!