Reviews
Katy Keene Episode 5 Review – Chapter 5: Song for a Winter's Night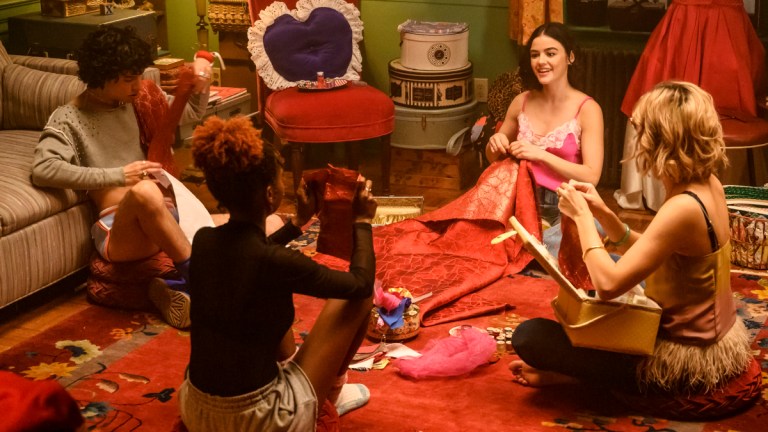 This Katy Keene review contains spoilers.
Katy Keene Episode 5
"You broke the last part of her that I had left."
In its most effective episode to date, Katy Keene delves deep into the history of the show's characters and presents some relatable conflict for the first time. Even fairytales have villains, and the closest thing the series has to one of those is Gloria. She has softened considerably since the pilot episode (I'm guessing because Katherine La Nasa's performance is too charming to be sinister), yet still remains the driving force behind the majority of tension here. This installment is no exception…yet there's other drama to be found, sparked from our leads, which makes this the best episode so far of the young series.
Needing a letter of recommendation so that she can get into Parsons Art and Design School, she turns to Gloria for help. But nothing involving Gloria is ever simple, so she tasks Katy with crafting an impressive dress for her to wear to Lacy's latest gala. One which happens to be less than a day away.
With a polar vortex shutting down New York City, Katy is unable to get the materials she needs. Worse still, she isn't even sure what type of clothes Gloria likes to wear socially. (Which is a massive contrivance given how long the pair have worked together). So she turns to an interview with Gloria to learn more about her likes.
Meanwhile, Jorge is still dealing with stress from his parents not knowing about his Ginger drag persona. Further frustrating him is that Katy hasn't finished working on a dress he plans on wearing to a Molly's Crisis performance. Taking matters into his own hands, he attempts to hem the outfit himself, and breaks the sewing machine Katy has used her entire life — and is one of the remaining connections she has to her dead mother — in the process.
This sets the stage for a raw and very real confrontation between the pair. And it's not the only tension in the apartment either. Someone leaked the truth about the Cabots dating to the Daily Hail, the paper Pepper works for. Facing a potential lawsuit for violating the Cabots' non-disclosure agreement, Josie (rightfully) assumes gossip queen Pepper is the culprit. Josie's background in Riverdale has given her a bullshit detector, and Pepper is dinging it big time. After learning that Pepper has been kicked out of the hotel she was living at, Josie confronts her. This leads to the revelation that Pepper's father is a business magnate who doesn't aprove of her big city lifestyle and has subsequently cut her off. Josie and Pepper call a truce and reconcile. But with everything involving Pepper, you don't know if she is telling the truth or not.
After a heart-to-heart with Jorge, we learn just how raw Katy still is about her mother's death, something that is exacerbated by the broken sewing machine. (One, it turns out, was a gift from a mysterious Lacy's employee years ago). They patch things up, and Katy provides Jorge with the courage he needs to tell his mother about Ginger.
With Gloria's dress shaped together by Katy, Jorge, Pepper, and Josie, all is well. Gloria turns down wearing the dress to the gala (opting for a custom designed Donna Karan piece instead) but Katy's work was impressive enough to get the letter of recommendation. 
Elsewhere, Jorge comes out to his mother about Ginger. Mrs. Lopez is understanding and even has pride in what a beauty Ginger is. "You remind me of me at your age," she compliments Jorge. They decide to continue to keep the secret from Mr. Lopez, but the pair's relationship hasn't been strained.
As the episode ends, Katy tries to figure out who L.L. is, and contemplates the very-real possibility that her mother had a secret life that she knew nothing about.
All in all this was a solid outing that finally introduced some real-world problems to the group. TV friendships need drama to thrive, and we got a taste of that here. Let this be the template for future episodes — some relatable issues mixed together with the welcome escapism that has become this show's trademark.
Fashionable Facts
This episode establishes that Katy's mom died on July 21, 2016. (It's labelled on the box of Mrs. Keene's positions). This is interesting because it provides some context to the chronology of the Archieverse. Katy Keene is set a few years after the events of Riverdale, and when Katy made a cameo on that series earlier this season, her mother was sick but still alive. That dates the events on Riverdale at some point in either 2015 and 2016. Which in turn means that everything that happens on Chilling Adventures of Sabrina is also set during this same time period. So Bowie is still alive and Obama remains president for Archie and the gang. Those lucky bastards.
Josie is apparently a big fan of The Mary Tyler Moore Show, which is completely on brand for her character.
Parsons is a real, and very prestigious, school in New York City.
Josie's Pepper impersonation was spot on.
Keep up with all the Katy Keene news and reviews right here!