Features
Ted Lasso Season 3: What to Expect From the Plot and Cast
We dive into everything you need to know about the return of Jason Sudeikis' righteous 'stach in Ted Lasso Season 3!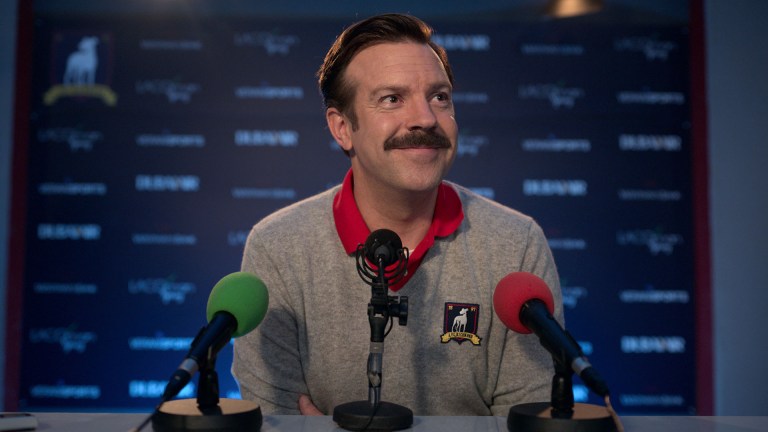 Can you BELIEVE that season 3 of Ted Lasso is right around the corner? Apple TV+'s feel-good, fish-out-of-water sports comedy that inexplicably began life as a series of commercials for NBC Sports has become maybe the most beloved new show of the 2020s. Jason Sudeikis' mustached titular character is a beaming light of optimism and a balm in increasingly depressing times.
Season 2 found the overmatched football coach struggling with his mental health and unresolved trauma from his youth while the AFC Richmond squad battled to get promoted back into the Premier League. The season ended with Richmond successfully ascending to the top flight of English football, but in the process, the team lost "wonder kid" coach Nate (Nick Mohammed), who after feeling neglected by Ted all season defected to West Ham United, now owned by Rupert Mannion, the ex-husband of Hannah Waddingham's delightful Rebecca Welton.
As of now, the cast and crew of Ted Lasso are adamant that season 3 will conclude the series, remaining firm that the show was always envisioned as a three-season story. Jason Sudeikis told Entertainment Weekly, "The story that's being told—that three-season arc—is one that I see, know, and understood. I'm glad that they are willing to pay for those three seasons. As far as what happens after that, who knows? I don't know."
However, show co-creator Bill Lawrence is holding out hope for more, telling Comicbook.com, "Ted Lasso is a three-season show. After the third season, I will desperately try to get Mr. Sudeikis to do a… [fourth season]." However, don't get your hopes too high. Lawrence added, "The only way I think a fourth season of Ted Lasso exists would be if TL went and coached a soccer team that played about a block from Jason's house in real life, you know what I mean?"
Ted Lasso Season 3 Cast
Before we get into official casting announcements of note, it seems safe to assume that all of our central characters will be returning for this possible last hurrah. That means Sudeikis will be growing his mustache for a third go-round as Ted, Brendan Hunt will be back in the saddle as Coach Beard, and everyone's favorite foul-mouthed member of the Diamond Dogs, Roy Kent, will once again be portrayed by Brett Goldstein.
Also based on the way season 2 ended, we can rest assured that Mohammed's Nate and Anthony Head's Rupert will be back to stir up trouble at West Ham. And what would Ted Lasso be without Hannah Waddingham as Rebecca and Juno Temple as Keeley Jones? Their friendship has been the secret heart of the show.
Expect the rest of the cast to be rounded out by the following:
Phil Dunster (Jamie Tartt)
Jeremy Swift (Higgins)
Toheeb Jimoh (Sam Obisanya)
Cristo Fernández (Dani Rojas)
Kola Bokinni (Isaac)
Billy Harris (Colin)
Annette Badland (Mae)
As for new blood, Deadline reports that For All Mankind's Jodi Balfour will be joining the season as Jack, "a charming venture capitalist." Considering her profession, perhaps she'll serve as a new antagonist?
Ted Lasso Season 3 Plot
While Sudeikis, Hunt, Goldstein, Lawrence, and the rest of the writing staff are the only ones who know for sure at this point, we can expect that Nate's villainous turn and the club's rivalry with West Ham will be one of the big plot points for the upcoming season.
There are also several relationships that will need attention in season 3, like the one between Rebecca and Sam, as well as what feels like a splintering relationship between Roy and Keeley, and the reemergence of Jaime Tartt to complicate things further. Also, with the help of Sarah Niles' Dr. Sharon Fieldstone, will Ted be able to keep everything together?
We'll hopefully have all of the answers, with everything wrapped up in a tidy bow, when season 3 of Ted Lasso starts streaming.
Ted Lasso Season 3 Trailer
Sorry, Greyhound fans. There's no trailer for Ted Lasso Season 3 yet, but we'll be sure to update this page as soon as one is released.