Reviews
Evil Season 3 Finale Review: A Tale of Three Fathers
The Evil season 3 finale commits a very original sin to appease "The Demon of End."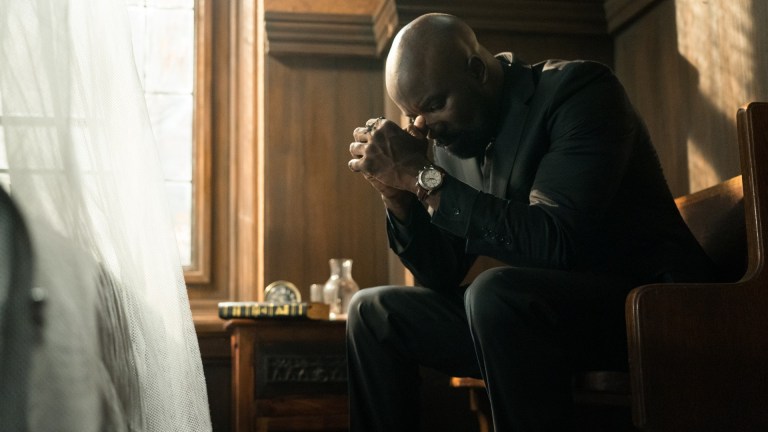 This Evil review contains spoilers.
Evil Season 3 Episode 10
Evil season 3 ends at a crossroads with only one destination. According to The Pop-Up Book of Contemporary Demons, the chapter is both "The Demon of End" and "The Angel of Beginning." This, however, is a subversion of the dark and light designations. The upcoming birth of a child is being celebrated. It appears to be the product of an inception so immaculate one might call it sterile. But, in an original twist on original sin, the child's lineage goes straight back to RMS Fertility.
The episode opens in the direct aftermath of "The Demon of Money" conclusion, which saw the death of Monsignor Matthew Korecki (Boris McGiver). The camera doesn't troll, but the episode expertly shows Leland's (Michael Emerson) world getting smaller. It is by sheer coincidence, Grace Ling (Li Jun Li) didn't recognize his face, and tells Father David (Mike Colter) she is under the impression Leland was there to kill the monsignor. But the monsignor died defending her in an apparently unplanned fall down the stone steps. Leland chided the unseen mystic all the way up the circular stairs. It is premeditated, and took root when Sheryl (Christine Lahti) put the picture together, and Leland's first reaction was "This girl is going to be trouble."
It is almost unbelievable to accept Leland is not known as the killer of Monsignor Matthew. Leland is so close to everyone in the small circle, it is a wonder Grace Ling didn't draw his wedding portrait. At the very least, she could have decorated the cake at the DF office party.
The song Leland is listening and pleasuring himself to is "You Can't Roller Skate in a Buffalo Herd," sung by the king of the road Roger Miller, a prolific songwriter who suggested people should "Hang Me." By all appearances Leland is headed to the highest tree, but he's happier to hedge his bets plunging headfirst into a baseball pool.
The other witness to the extent of Leland's potential danger, clueless as he may be, is Andy (Patrick Brammall). At one point, he appears to be an unwitting collaborator, but is still on the verge of recovering his memories. Sheryl apparently brainwashed him, implanting new realities, and altering his memories. He may very well remember Andrew is the male version of the name Andrea, and Sister Andrea (Andrea Martin) proves herself to be a ninja nun of the highest order.
Every actor on Evil brings a natural ability to bend the story with a line read. Kristen (Katja Herbers) puts so many conflicting emotions into a pause during a true expression of gratitude, the subtext condenses chapters. The most economically effective actors on the series are the new veterans. Sister Andrea's act of pushing back a painting to its originally lopsided perch after straightening it sums up both her character and its understanding of the reality of the situation. Sister Andrea is probably the only individual on the east coast who can quiet one of Kristen's daughters with a simple reminder, "That is not how young ladies act."
Andrea Martin continues to provide Sister Andrea with multiple realities the audience, and her fellow players, can accept as an absolute truth. Sister Andrea is a believer, knows what she sees, in both her infestation assessment of Kristen's house, and of her daughter Lynn (Brooklyn Shuck), and never loses focus on the perilous present. We almost wish Martin could throw in an overly dramatic doubletake which might have adorned her days at SCTV. But Martin taught how to do the "Hokey Pokey" on Sesame Street, and never strays from the delicate dance when burying her shovel in demons' heads.
With the death of Monsignor Matthew, Father Frank (Wallace Shawn) returns to the parish to continue the work his friend began. Seeing Shawn break down and cry is heartbreaking, his lead up to it is devastating. Monsignor Matthew's last words were of love for Frank, and the new case load handler throws that love into the job. His curiosity and ambiguity will bring a new dimension to the investigations moving forward.
Shawn's utterly vulnerable approach to this character sets a promising dynamic. Father Frank's connection with the team is immediate, because it is unfiltered. He speaks openly and with great admiration for David's faith, and Michael Colter responds as a welcoming canvas eager for new colors. Their second big scene together, when Father Frank says he wishes he found comfort in God, is an acting showcase. There is so much space in the room and in time during the sequence, every question is allowed to hang in the air long enough to be rendered unanswerable, but infused with the promise of answers.
David's extended conversation with Kristen (Katja Herbers) similarly takes place in a spacious emotional landscape, even though it begins and ends in the claustrophobia of a room too small for all its secrets. The prayer sequence is fun in spite of its jarring presentation, especially when Kristen admits praying, and Ben (Aasif Mandvi) asks "am I losing you to the father?" When David angrily chides Demon-Kristen for blasphemy during prayer, it is lighter both because it shadows a tender, though embarrassing, similar moment, and Sister Andrea gives him a mosquito net, like a prop comic gimmick. It would be interesting to see what a big can of Raid would do.
This ironic temptation to faith culminates in broken vows when Lynn thinks about picking up a new habit, and her mother crushes the foolish teenage rebellion underfoot in heavy Doc Martens. "You want to get a nose ring and tattoos, we can talk about it," Kristen promises, but turns a deaf ear to patriarchal peonage and righteous renunciation.
"What's the matter with kids today," sings Paul Lynde in the film Bye Bye Birdie, and is revived by Leland and Edward (Tim Matheson) as they drag Andy's prone body around, effectively in circles, after reporting him missing in an R3 avalanche. This is a medium sized fall, one which might not get reported right away, but Kristen's kids earn their allowance in this episode. They are more inventive than the grownups, and astute enough to pass their information to Ben, the Magnificent, because he has the expertise to make the most of their information.
It is nice to see the return of the floating eye, a recurring character now, which has been moving the arc forward on several fronts. Andy flushed it, Ben almost quit investigating strange phenomena after a peek, and now it is keeping watch on the Gibson family. Kristen's neighbors are obviously experiencing bleed-over from the adjoining house, and the major takeaway is that a particular forensic psychologist brings too much of her work home.
The reverse nativity scene is a marvel of ritualistic perversions, and artistic tributes. Even the Ifrit is impressed, though George apparently makes a speedy exit, stage left. When Dr. Boggs (Kurt Fuller) enters it completes the Rosemary's Baby vibe. His appearance makes it seem anyone could be a member of the cult. The child, the same one Kristen saw in her premonitory dreams, is being heralded as the second coming. This seems like too great an honor for Leland, even though he's proven he can single-handedly offer sacrifice from a god, in a holy place, and get off without spilling a clue.
The most horrific concept in the installment is how, if the embryo which was ripped from the mother in "The Demon of Money" did not come from Kristen, that death may have been avoidable. Kristen's guilt runs deeper, because she found relief in what she believed was closure. It is now another open wound.
The concluding sequence is set up with a mystical montage of dire warnings and mistrustful maternal instincts. In a vision, the Black Saint proclaims to David "38 days, woe to Babylon," which means Kristen's impregnated egg is farther along in its development than has been indicated. The good news is Leland will make a very supportive surrogate father of the unholy representative of Hell on Earth. The bad news is Evil season 4 may veer into the kind of apocalyptic storyline which has become obligatory on biblical series TV. We hope Evil continues to confound expectations.
"The Demon of End" or "The Angel of Beginning" is a perfect season conclusion for Evil, expanding the universe and the characters, just as the disparate meanings of the titles foretell an impending choice. Let's hope it doesn't meander into the foregone conclusion of so many spiritual horror series, a deluge masquerading as a baby shower.
Evil airs Sundays on Paramount+. Evil season 4 has been confirmed but does not yet have a release date.