Features
Gen V Fans Predict a Major Cameo from The Boys
One of Gen V's young supes might be destined for bigger things.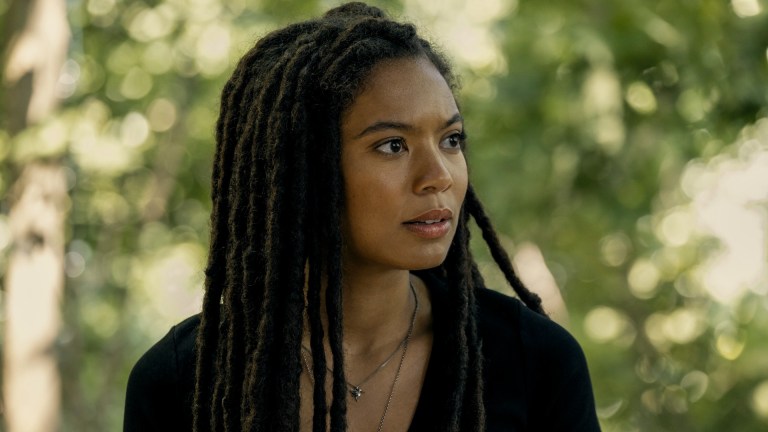 This article contains spoilers for Gen V episode 5.
Class is in session over at Godolkin University, as Eric Kripke's world of The Boys expands into Gen V. Based on the "We Gotta Go Now" arc of Garth Ennis and Darick Robertson's The Boys comics, Gen V is also inspired by Marvel's X-Men and introduces us to a young crop of wannabe supes. 
We're five episodes into Gen V season 1, and as we head into our final exams, there are enemies coming from all sides at Marie Moreau (Jaz Sinclair) and her classmates. Although we know Jensen Ackles' Soldier Boy is on the way to cause trouble, viewers have used their Tek Knight-inspired powers of perception to sniff out another potential crossover between Gen V and its bigger brother. 
While we're still no closer to figuring out what's going on in The Woods and what Dean Indira Shetty (Shelley Conn) is doing with those doomed junior supes, at least Godolkin's head honcho is looking out for Marie – even if it is for her own nefarious reasons.
During "Welcome to the Monster Club," Dr. Cardosa (Marco Pigossi) said he wanted Moreau because the rarity of her blood powers could speed up his work. Shetty shut it down, saying that Marie is off limits due to a mysterious "benefactor." Some took this to mean Shetty herself is backing "Bloody Marie" for a place in The Seven, whereas others have cooked up some theories for a major cameo from The Boys. 
Over on the Gen V subreddit, there was plenty of chatter about Marie's benefactor. The most popular choice is Giancarlo Esposito's Stan Edgar. The former Vought CEO was ousted in season 3, betrayed by adoptive daughter Victoria Neuman (Claudia Doumit), and hasn't been seen since episode 4. Tying things together, we know that Marie was living at the Red River Institute after gaining her powers and accidentally killing her family. Marie was actually teased in the background of Red River during The Boys season 3, and it just so happens that the super orphanage is where Edgar adopted Victoria from. 
Even though there's been no official word on Edgar's return in The Boys season 4, Esposito telling TVLine there's a "great chance" he'll be back is good enough for most. As for what Egdar is up to, u/SaltyPeppermint101 noted that if all supes have regular blood, Marie's powers would be on a similar level to Neuman's head-popping ability. In The Boys season 2, we saw Neuman rise to the top by blowing up the melons of anyone in her way, while season 3 saw her threaten both Starlight (Erin Moriarty) and Homelander (Antony Starr) with her unique set of skills. 
After killing a civilian in broad daylight in The Boys season 3 finale, Homelander is expected to be even more unhinged in the next run of episodes. It's rare that we see Homelander scared of someone, but imagine the dynamic duo of Edgar's stare and the threat of Marie exploding your genitals to keep him in check. Edgar was backed up by u/ConnectedLoner, suggesting that Marie will be used to threaten Homelander, also being the first Black woman in The Seven while supporting Edgar's return as CEO. Now that Neuman has gone rogue, Edgar could do with someone like Marie to help him intimidate the wayward supes. 
Don't be too quick to think this is a cut-and-dry spoiler. Redditor u/Justausername1234 points out that we see Neuman say, "This is your shot at real power," to an unknown character in the Gen V trailer. Patrick Schwarzenegger's Golden Boy was a likely candidate for this exchange, but as he went down in a blaze of glory in the first episode, Marie seems like the logical choice. Neuman is on the path to becoming vice president of the United States in The Boys season 4, and with Marie not exactly showing an interest in politics, Neuman's plans for her could help take down Vought.
It's true that Marie and Neuman could be sisters in arms, with u/Forosnai concluding, "Might be the dick popping was foreshadowing that as well, since Marie apparently doesn't know how she did that and doesn't know the extent of her powers. Technically, a head DID pop." Whoever is supporting Marie from the sidelines, it's not looking good for Vought in season 4. Marie is climbing the rankings toward The Seven, and with several open spots on the team, "Bloody Marie" could be a mole from within to support The Boys in taking out those corrupt spandex-clad heroes.
To be honest, it could be anyone stumping up the cost to keep Marie safe, although they've almost definitely got an ulterior motive. Whether it be out-there options like the surprise survival of Professor Brink (Clancy Brown), Homelander trying to get a powerful supe on his side, or The Boys themselves, someone has Marie's back..for now. Just act surprised when we see Esposito or Doumit stop by in the Gen V finale. 
Five episodes of Gen V are available to stream on Prime Video now. New episodes premiere Fridays culminating with the season 1 finale on Nov. 3.