News
Gen V Episode 5 Release Time and Season Recap
Here's everything you need to know before diving into Gen V episode 5, including when and where to watch.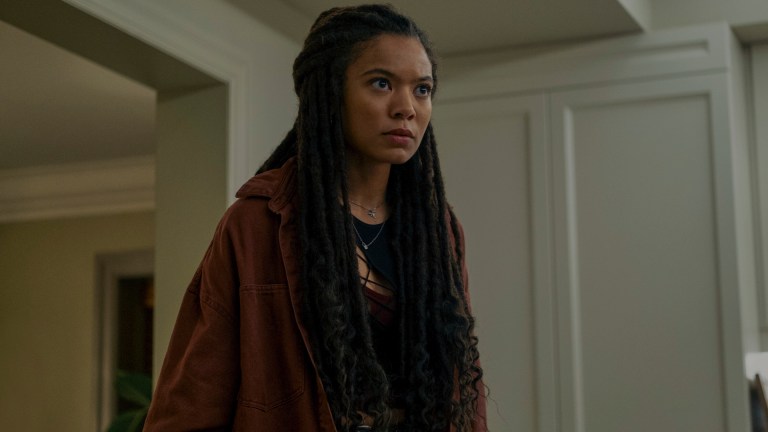 This article contains spoilers for Gen V through episode 4.
The Boys spinoff Gen V is proving to be just as explosive and bloody as its predecessor. Set at Godolkin University, a college for young supes, we've already seen the school's top student Golden Boy a.k.a Luke Riordan (Patrick Schwarzenegger) burn himself in front of everyone, an exploding penis, and Little Cricket a.k.a. Emma (Lizze Broadway) diving through the ear canal of a guard in the mysterious facility known as The Woods.
As if trying to survive the cutthroat politics of God U wasn't enough, the young supes also find themselves embroiled in a mystery involving Luke's brother Sam (Asa Germann) and the Vought facility that's been keeping him prisoner. Now that we're halfway through the season, things are bound to only get bloodier and wilder from here, especially now that collective memory loss has been thrown into the mix.
Here's everything you need to know before diving into episode 5 of Gen V.
When and Where Will Gen V Episode 5 Be Available to Watch?
Even though the series was originally scheduled to drop new episodes on Fridays, Prime Video dropped episodes 1-3 and episode 4 the night before at 8 p.m. ET/5 p.m. PT for U.S. subscribers. Episode 5 of Gen V is officially scheduled to come out on Friday Oct. 13th, but will likely be released early on Thursday Oct. 12th at the time listed above.
Gen V Episode 4 Recap
Episode 4 begins with Sam and Emma cleaning themselves up after their bloody escape from the woods. They've taken up refuge in an abandoned drive-in theater that Sam and Luke used to go to as kids. Sam and Emma connect over their shared trauma before Sam's delusions once again take over and convince him to kill Dr. Cardosa (Marco Pigossi), who was responsible for his treatment in the Woods. Emma returns to God U to warn Marie (Jaz Sinclair) and the others.
Meanwhile, Vought has sent Robert Vernon a.k.a. Tek Knight (Derek Wilson) to God U for his True Crime series The Whole Truth. Tek Knight originally sets out to frame an unsuspecting student for Luke's death to keep people from digging into the Woods, but instead decides to pin the disaster on Dean Shetty (Shelley Conn). However, Shetty isn't one to go down without a fight, and threatens to release security footage that involves Knight sticking his penis in a variety of different holes if he doesn't back off of her and leave the school alone.
Marie spends most of the episode trying to avoid Tek Knight's lie detection skills while also doing what she can to find Emma, who has been missing since Andre (Chance Perdomo) sent her into the Woods to find Sam. During an interrogation by Knight in the middle of class, she admits that Jordan (London Thor and Derek Luh) was really the one who stopped Luke's rampage, not her. Jordan and Marie finally give into the tension between them right as Emma returns.
Marie, Jordan, Andre, and Cate (Maddie Phillips) learn of Sam's plan from Emma and decide to try and stop him. They arrive at Dr. Cardosa's house in time, but after Sam recognizes Andre and Marie from the last time he escaped in episode 1, he doesn't trust them enough to stop. Emma gets real big and tackles him, but then something happens and suddenly Marie and Jordan find themselves in bed together with no recollection of how they got there. Did Sam do something to their memories? Or is there something more sinister and Vought-related at work here?