News
Doctor Who: What Jodie Whittaker (Literally) Took Away From the TARDIS
Like many Doctors before her, Jodie Whittaker took more than just memories away from the Doctor Who set…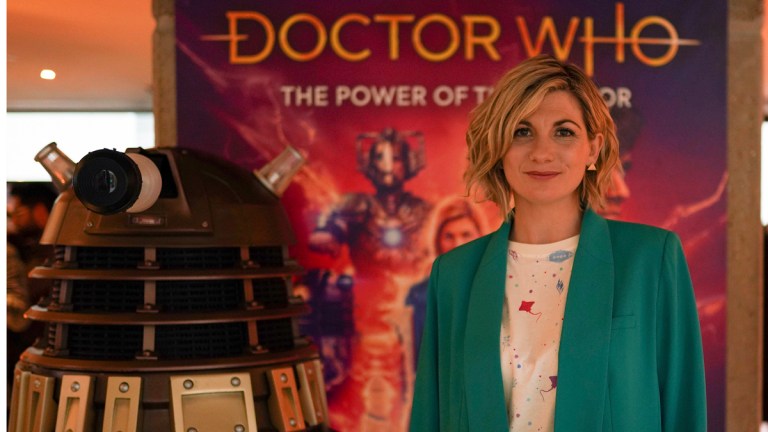 It's almost a year since Jodie Whittaker filmed her final scenes in the TARDIS, which means the coast is clear for her to own up to pocketing the odd souvenir from set. It turns out that Whittaker has something of a reputation for spiriting away Doctor Who props, and some items that made their way into her possession when she wrapped on the show accidentally caused a wee bit of bother.
Whittaker was answering questions at the post-screening Q&A for her final episode, 'The Power of the Doctor', held in London on Tuesday 11th October, alongside co-stars Mandip Gill and Sacha Dhawan and showrunner Chris Chibnall.
When an audience member asked Whittaker: 'What did you take as a memento and why?' Mandip Gill's teasing response was: 'What didn't she take?'
'Can I just check you're not from the police?' Chris Chibnall quipped, prompting Whittaker to add 'Or the art department, because they're probably furious!'
Whittaker went on to tell the story:
'So when me and Mandip wrapped on the TARDIS, we heard 'That's a wrap on the TARDIS' so we went all out!' Laughing, she admitted: 'We were yanking stuff off. When the TARDIS flies, there's a mini TARDIS that spins that has a light inside – I snapped it off. I also took the [redacted for spoiler reasons] but I actually stole the one from season 12 so they were probably panicking when they needed it for that episode because I'd got it! So they obviously had to make another one because I'd stolen that.'
Whittaker and Mandip soon realised their mistake, as she amusingly explained that while their roles were over, the rest of the crew weren't quite finished: 'But then, it wasn't a wrap on the TARDIS, it was a wrap on us on the TARDIS – they were going in for pick-ups and we were like "Errr, awkward! You'll have to shoot around that".'
Answering the question of her Doctor Who mementos more seriously, Jodie confirmed: 'I've got my costume. Ray [Holman], the costume designer has given me other bits of the costume as well, and I've definitely got my Sonic.'
She certainly isn't the first Doctor to steal their Sonic Screwdriver: both David Tennant and Matt Smith admitted to keeping theirs too, whereas Jenna Colman fessed up to stealing a piece of the TARDIS, as well as the neon police box sign. 'I've got that in my dining room and it lights up,' she said.
Jodie Whittaker's habit of rehoming Doctor Who set pieces and props dates back long before her final episodes. 'I nicked quite a few things early on,' she said at the Q&A. 'Like random things. I've got quite a bit of furniture. When we wrapped on a set I'd be like, "'is anyone using that chair? I love that chair!'" So I've got loads, I'm a right hoarder!'
'It would have been easier to ask what she left!' Mandip Gill added.
Let's be honest: given half the chance, we'd all love a bit of Doctor Who memorabilia. Or several.
Jodie Whittaker's final episode and BBC Centenary Doctor Who special 'The Power of the Doctor' will air on Sunday 23rd October at 7.30pm on BBC One.