News
Disney+ New Releases: May 2023
We have a list of the new Disney+ movies and shows arriving in May 2023 including another round of Star Wars: Visions.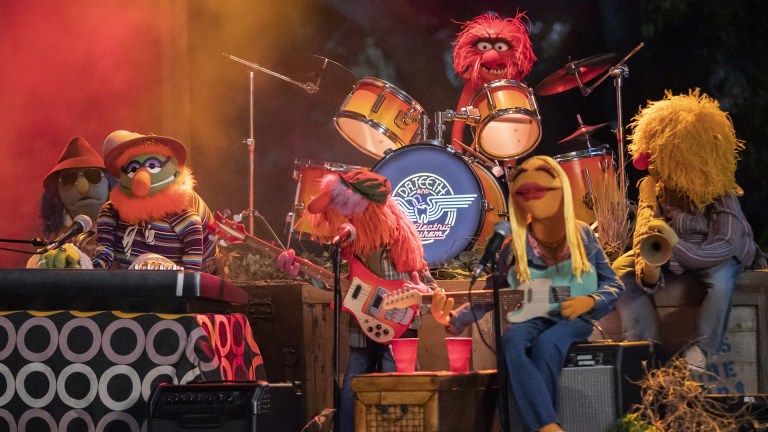 As summer creeps closer, Disney+ is both honoring its sturdy franchises and trying something new.
The streamers list of new releases for May 2023 is highlighted by none other than The Muppets! The Muppets Mayhem premieres May 10 and will, of course, follow beloved musical act Dr. Teeth and the Electric Mayhem. The plot reads "Junior A&R executive Nora must deal with the madness caused by Dr. Teeth and the Electric Mayhem, who come face-to-face with the modern musical business as they try to record their first-ever platinum album." But really all we needed to hear is that there will be Muppets singing.
Also arriving in May 2023 will be two new Star Wars titles, and wouldn't you know it they're both premiering on May 4 a.k.a. Star Wars Day. The lush animated collection Star Wars: Visions will be returning for its second volume while Star Wars: Young Jedi Adventures kicks off with seven episodes.
Rounding out the month will be a fresh swing for Disney with American Born Chinese on May 24. Based on the genre-hopping graphic novel, this ambitious series will star Everything Everywhere All At Once's Michelle Yeoh and Ke Huy Quan.
Here is everything else you can find on Disney+ this month.
Tuesday, May 2
New Library Titles
A Small Light (2 episodes)
Wednesday, May 3
New Library Titles
Disney+ Originals
Ed Sheeran: The Sum of It All (All Episodes Streaming)
Thursday, May 4
Disney+ Originals
Star Wars: Visions – Volume 2 Premiere (All Episodes Streaming)
Star Wars: Young Jedi Adventures – Season 1 Premiere (Episodes 1 – 7 Streaming)
Friday, May 5
New Library Titles
Charles: In His Own Words
Disney+ Originals
Tuesday, May 9
New Library Titles
A Small Light (S1, 2 episodes)
Wednesday, May 10
New Library Titles
Life Below Zero (S20)
Secrets of the Zoo: Tampa (S4)
Disney+ Originals
The Muppets Mayhem (All Episodes Streaming)
Friday, May 12
Disney+ Originals
Tuesday, May 16
New Library Titles
A Small Light (S1, 2 episodes)
Wednesday, May 17
New Library Titles
Critter Fixers: Country Vets (S5)
Saturdays (S1, 4 episodes)
Tuesday, May 23
New Library Titles
A Small Light (S1, 2 episodes)
Wednesday, May 24
New Library Titles
Kiff (S1, 4 episodes)
Spidey and His Amazing Friends (S2, 5 episodes)
Disney+ Originals
American Born Chinese (All Episodes Streaming)
Chip 'n' Dale: Park Life – Season 2 Premiere (Episodes 1 – 6 Streaming)
Friday, May 26
New Library Titles
Wednesday, May 31
New Library Titles
Firebuds (S1, 6 episodes)